When we planned our trip to Venice in 2019, I was envisioning plates of hot Cicchetti Tapas filled with eggplant and hopefully some goat cheese. Or maybe delicious espresso coffee drinks and raisin filled zeppole just like the ones I had in February 2002 when I roamed Venice's alleys and canals with six friends. In 2002 we spent five days exploring a serene Venice enjoying gelato, face painting and trying exceptionally great Pinot Grigios at tiny restaurants. It was a nearly perfect Venice experience.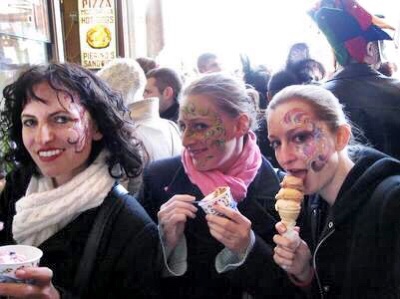 Now here we are in 2020 and I never imagined spending my first thirty-six hours in Venice crying on the toilet and with my head in a bucket puking with one of the worst stomach viruses I have ever had in my life. Seriously, I made it through two weeks traveling about India, living life on the edge; Riding a road hike without a helmet through the jungle backroads of going, eating amazing street food and using absolutely unsanitary bathrooms and I never got any kind of stomach problem. (And almost nearly did not have a panic attack on the back of a road bike, I swear)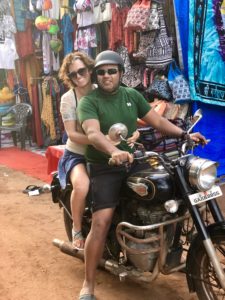 There is no soap to be found anywhere in these shit shack dirty bathrooms in rural southern India; I survived by using hand sanitizer and when that ran out, yes, I used a Tidestick to sanitize my hands and I never even had a sniffle while out about traveling in southern India. Welcome to Italy and I'm sick as a dog after roaming Borough Market in the UK one chilly afternoon, apparently drenching my hands in some sick person germs between trying unique goat cheeses and spreadable spicy salamis. Everyone in our group came down with the dreaded Borough Market Flu. You know what they say, friends who shit together stay together! Isn't that the saying?
It's 2 p.m. in the outskirts of Venice, somewhere near Santa Cruce. I'm currently sitting on a bench in Campo San Paulo surrounded by pigeons cooing in the sunlight. It should be calming and zen-like but I'm just trying not to throw up again and reclaim my holiday. I've got news for these wacky birds, I have no bread crumbs, just germs, but there cooing is comforting as I contemplate the mile walk to join the rest of my family in St Mark's Square. I used to be a distance runner, running half marathons and still today I'm a long-distance hiker. I think it's fun to hike fifteen rugged mountain miles on my day off. But here I sit, thanking God for this sturdy park bench, the haze of foggy Venice weak sunlight trying to warm me and trying to convince my body I can walk a mile through the streets of Venice. It just seems ridiculous to me; Three months ago I attempted to summit Mt Whitney, the highest peak in the continental U.S. and now I'm panting and sweating trying to climb the twenty steps up the Rialto Bridge.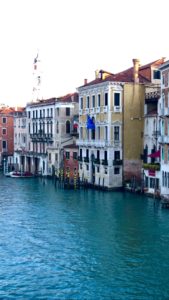 As I reached the top step and looked down at the blue waters of the Grand Canal and the happy tourists with their selfie sticks milling about I thought, please God don't let me puke here. I wanted so badly to just sit for a few minutes, sip the cold water I brought from our Air B and B (I'm in Italy! I should be sipping wine!) and try to calm my stomach. Unfortunately, there are signs all over the streets of Venice saying no sitting on steps. What's so wrong with sitting on steps?!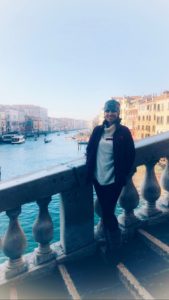 So many years ago when I first explored Venice on those chilly February mornings we planned our trip right before Carneval began. We planned to leave Venice on Saturday right as Carnevale was commencing and the hordes of tourists showed up. This was an awesome plan as on our adventures through the alleys were not crowded what so ever. There were not a lot of vendors selling trinkets in the streets and it felt like such a calm and serene way to explore Venice. (Until the Friday evening before Carnevale began when all the water taxis showed up loaded with tourists just as we were leaving. Madness. Not my idea of fun travel times, especially when lugging heavy suitcases through swarms of tourists towards the water taxis.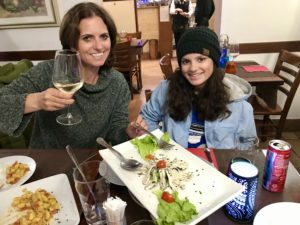 On this trip to Venice in 2020, I was shocked by how crowded the streets were! There were hordes of tourists everywhere! We actually stayed in an Air B and B a twenty-minute walk from St Mark's Square in the heart of Venice and I'm so glad we did. Our awesome Air B and B in a local neighborhood was quiet and peaceful and we ate meals at a few great restaurants that really seemed locals only.
I mean before the flu from hell hit me. Then I couldn't touch food for forty-eight hours.
But here's the thing. We flew halfway around the world for our international holiday travels and I'll be damned if I don't enjoy every minute of it! We had a quick forty-eight hours in Venice before we high tailed it to Rome to continue the adventures and even if I was clenching my butt cheeks on this afternoon walk, I would make the best of it and see the sights and take some selfies. Because I'm in Venice, Italy damn-it. I will see canals, I will bask in the glory of St Mark's Cathedral and I will not puke again today!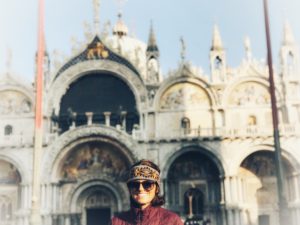 It's just crazy to think I spent two weeks in India, eating every butter chicken and all the street food that came my way and had no stomach issues what so ever. I don't think I even burped! I get to the EU, hope on public transportation and the germs just find me! I must be the only person on earth to go to Italy and actually lose weight!
Thursday afternoon after checking into our awesome Air B and B I found myself bundled under a quilt freezing in the late afternoon ( not even realizing I was already under the influence of the flu from hell) We tried desperately to turn up the heat in our Air B and B and just couldn't get it to work. Two days later we found out there is actually a national law in Italy that the thermometer can not be set over 22 degrees Celsius! Isn't that nuts? It really is a pain in the butt when you are coming down with a fever and freezing. Five hours later when I was sicker then I've ever been in my life a tiny little fever was the least of my worries.
Flash forward to the next afternoon; As I forced myself out of bed and stumbled along the canals and alleyways of Venice and also tried not to puke in public I tried to take in the sights of Venice. I really did. I might have had to take breaks, I might have to buy my zeppole in the late afternoon and try them tomorrow for breakfast but I will enjoy my few hours in Venice, stomachs bug be damned!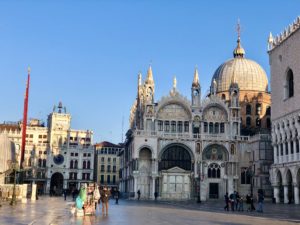 After my trek through the streets of Venice that should have taken me twenty minutes but ended up taking me fifty because I had to keep taking breaks to hang out with the pigeons, I finally managed to join my family in St Mark's Square and enjoy a little Venice cappuccino in the sunlight. I was just starting to feel alive again.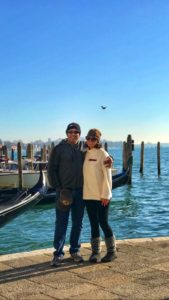 The square was amassed with tourists, most of them hand-feeding the pigeons and letting the dirty birds land on their sweaters and jackets. I was ready to hurl again. (I really don't like birds) Even if I was delusional with fever I would not let a dirty disease-riddled bird land on me. It made me wonder how many tourists are pooped on by pigeons annually in St Mark's Square. As I starred at the happy tourists taking selfies with dirty birds and hand feeding them I swear my stomach turned more. Can you tell I'm not a fan of birds?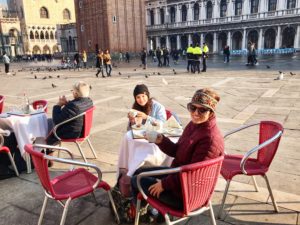 I was feeling pretty disgusted with my stomach bug and the dirty bird people and needed something to cheer me up fast. Luckily my boyfriend then decided to buy a painting from Donald Trump.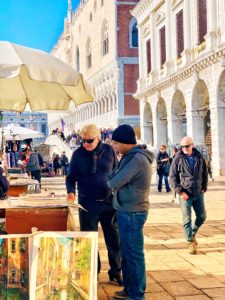 Apparently The Donald has given up on American politics and retired to Italy to paint. That might be a better life choice. So the question is, did any of this really happen or was I delusional with the bird flu?
Did a million silly tourists let disgusting pigeons land on their hands in St Mark's Square?
Did my boyfriend buy an original Donald J Trump from our forty-fifth president?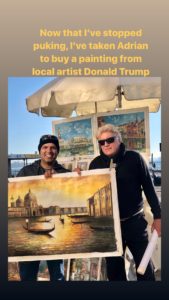 Did the Hungry Mountaineer go thirty-six hours without eating?
Or was it all just a magical fever-induced dream amid the glittery masks, gondolas and canals of Venice, Italy?