It's the most magical time of the year in Big Bear Lake! That spectacular fall leaves crunching underfoot month of the year when you can go for a fantastic autumn hike, it's not too hot, the colors on the oak trees are extraordinary and best of all, you can enjoy a German pilsner outdoors after the hike! Any excuse to drink beer outdoors by the lake is always good with me. October just happens to be that time of the year when the leaves are all turning beautiful auburn and golds and the smell of beer is in the air. Does life get any better than this at seven thousand feet? Here in our hometown of Big Bear Lake, California, we do host one of the best Oktoberfests this side of Munich (And in our household we do kind of adore that it happens to take place walking distance from our home)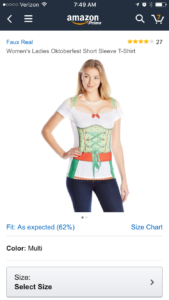 Yes, it's that magical time in Bavaria, that we also celebrate here in Southern California and if you're in Big Bear Lake for the fall then you must visit our fantastic Oktoberfest! Here in our golden oak-covered mountains we have the absolute best Oktoberfest in the United States.
Proust! Its time for the annual Big Bear Oktoberfest!
But how do you decorate all your frauleins and maybe your household as well? Relax and have another hefe wheat beer, decorating your home for Oktoberfest is easier then you think thanks to Amazon.com! Thanks to Amazon Prime you can have lederhosen and maybe a fraulein apron shipped straight to your doorstep in just two days!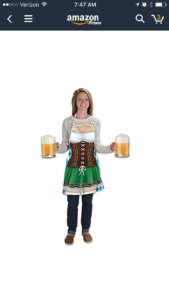 Amazon.com has some absolutely fantastic Oktoberfest costumes and prop ideas if you are hosting your own Oktoberfest celebration or Reinsen (traveling) to a local Oktoberfest for a day of Frohlichkeit (merriment) bier and brats. Before you start dancing to your favorite polka beats, make sure you are prepared this autumn with a selection of fun Oktoberfest goods! Amazon.com has some awesome household decorations for your Oktoberfest shindig if you decide to host your own partei (Party). Check out these wonderful bier streamers and Oktoberfest beer koozies. The bier koozies are only $1.59 each on Amazon.com! They make a great gift to hand out to guests if you host your own Oktoberfest party!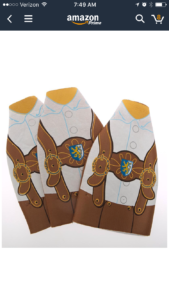 Have a pup? In Germany hundri (dogs) are very welcome at biergartens. Check out this fantastic costume for your mutt. One thing about our Oktoberfest in Big Bear lake, it is not a dog-friendly event and that does make me a bit sad, but that is why hosting your own Oktoberfest at home is a great option. (And have all your friends invite their pups in true Oktoberfest spirit)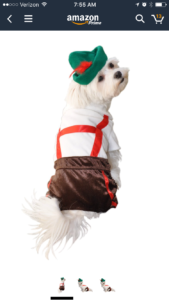 Decorating your home in the blue and white colors of Germany is a great way to Oktoberfest festive up your home this fall for a beer-filled shindig. Oktoberfest decorative whirls are just $5.09 for a package of 5.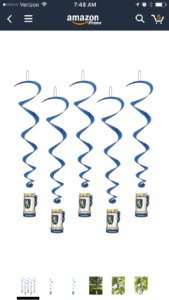 Best of all check out this great Oktoberfest photo prop! Yes, your guests can take their photo in this to post to Instagram or Snapchat and this awesome prop is under eight dollars on Amazon!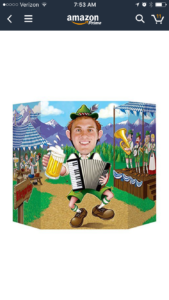 Feel you need a little German bling bling for your face? Check out these super cute pretzel earrings ($4.49) Okay, these earrings are kind of cute but then they also kind of look like poo. You decide.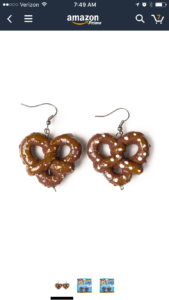 If you know anyone bringing toddlers to Oktoberfest than you must check out this super cute Oktoberfest shirt, starting at $10 each.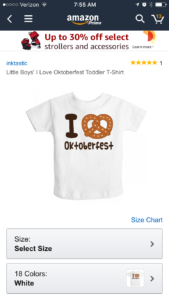 And don't forget the beer goggles (Okay pretzel sunglasses) only $7.14.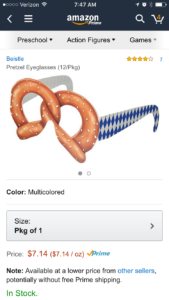 Don't feel like wearing the whole fraulein getup? Try this sexy shirt that is super affordable. This plastic fraulein vest is $5.34, such a deal!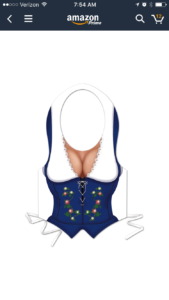 With these helpful tips you can host a really great Oktoberfest party with costumes and props for around $100! Need an easy German meal to feed your hungry guests to go along with all that beer? Check out Crock Pot Brat Extravaganza (Your guests will love it and it's beyond easy! For an easy Oktoberfest appetizer try Edam Cheese Stuffed Bacon Wrapped Brats. The name says it all! Just throw them on the bbq; so easy! Find some good oompah music, practice your chicken dance and have a great beer-filled Oktoberfest wherever you are located around the globe!
Love this post? Don't forget to pin it!