As someone who enjoys mostly a keto diet, German food is not exactly something I enjoy every day, but in the autumn months, I can't say no to a brat, a knockwurst and especially nin to German-style potato salad. Especially if we are camping and we finally, after the longest, shortest drive ever finally made it to happy camping times.
The happy campers have arrived!

Last night was the longest ninety-minute drive of our lives. Our brand new LED lights in our motorhome decided to put on a light show for us on highway 395 north and no it was not as fun or as touristy as the Disneyland light show. The sun had just barely set over the foothills of the high Sierra Nevada near Ridgecrest California when our headlights started flashing like a strobe light. I'm not a fan of raves, weed, CBD or any of those things that might make strobe lighting fun, especially when we are cruising up Highway 395 toward Diaz Lake and our first evening of vacation bliss. Or so we thought.
Just north of Ridgecrest, our brand-new LED headlights started going just nuts, blinking on and off constantly. It was headache-inducing after the first ten minutes. We had almost two hours of this as we chugged along Highway 395 at fifty-five miles an hour, the speed limit while towing in southern California. Truckers like my dad probably muttering under their breath at us and flashing their brights at us every chance they could get from the opposing direction. I don't know how all these people were so unaware we were having technical difficulties and we were just not jerks who were flashing every single person on the 395. And now my boyfriend's new nickname is the Friday Night Flasher.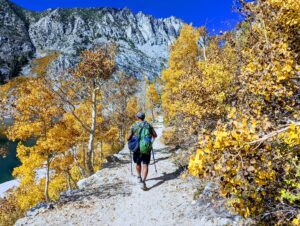 All this Friday night flashing has me craving… German-style potato salad in a bad way. We did eventually make it to Diaz Lake last night just before nine p.m. and that had to be the longest ninety-mile drive of my life. I mean we had to roll along at the speed limit because we were already having technical difficulties and were just so desperate to get to our campsite for the night. We were just praying we would not get pulled over last night. The issue is probably shoddy new LED headlights and they basically need to be sent back to the manufacturer. (Not easy to do when we just drove three hundred miles from home) Luckily this was the only night driv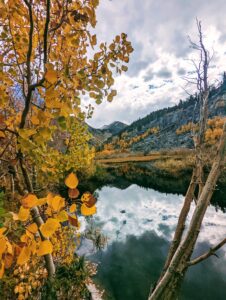 e of our trip but those ninety miles were all the stress we need for one vacation.
So this morning we escaped up Bishop Pass for all things orange aspen and zen. We spent a morning hiking above South Lake amongst the aspens and the fall colors. It was an awesome first day of hiking and fishing shenanigans embracing everything autumn in the eastern Sierras.
Why camp in Bishop in the fall?
Bishop is a lovely place to overnight it in October, especially if you like all things German food. Schatt's Bakkery is the place for all those German delicacies and desserts. But don't stay in Bishop in July for the love of God. When we stayed here a few nights in July it was still ninety-five degrees at seven p.m. That is just too hot to even enjoy being outside in the evening. Bishop in the autumn is just a lovely little town off of Highway 395 and a great base camp to get away up to the Sabrina Basin. Before we drove up to Bishop this fall I stocked up on brats, knockwurst and smoked cheddar sausages at our local German deli in our hometown. Our first night camping in Bishop we had plans to have a full German Oktoberfest meal after a day of hiking. Once upon a time, before a global pandemic brought worldwide travel to a screeching halt, I used to holiday at Oktoberfest in Munich in the fall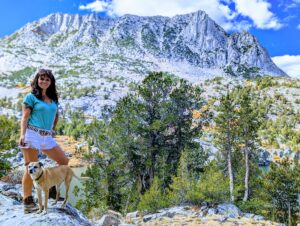 There are so many fantastic things to enjoy at Munich's official Oktoberfest. One day we will visit Germany again and the lovely town of Munich and all those delious German foods. I would have to say the roasted nuts and the scent of nuts roasting on the cool autumn air has to be one of my favorite delicacies in Germany. Or maybe its the apple strudel. Or maybe it's the potato salad.
German-style potato salad may actually win this one as one of my favorite German foods of all time.
One of my favorite parts of Oktoberfest is their incredible Bavarian Style potato salad. I know, that is the most random part of Oktoberfest to enjoy but I just love a good vinegary bacon-filled spud salad! It's definitely the German in my heritage sneaking out! So how you create a simple German-style potato salad at home? It's quite simple fraulin.
German-Style Potato Salad with extra Bacon
3 large potatoes, cut into pieces and boiled
4 slices raw bacon, chopped into pieces, and cooked
3 tablespoons extra bacon fat. Trust me, you need the extra bacon fat.
1/4 red onion, chopped very fine
3 tablespoons red wine vinegar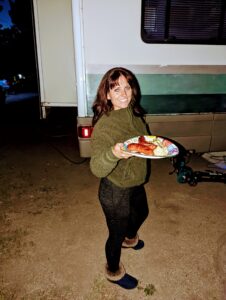 1 teaspoon Dijon mustard
2 teaspoons honey
2 cloves roasted garlic, chopped very fine.
1/2 teaspoon sea salt
1/4 teaspoon fresh ground pepper
1/4 cup fresh Italian parsley, chopped
Put the boiled potatoes in a baking dish with the bacon fat. All the bacon fat you can find. Or at least three tablespoons. Mix in the red onion. Cook in the oven at 425 for fifteen minutes. Give a good stir and put back in the oven until your potatoes are roasted to perfection. Mix in the roasted garlic. Cook an additional ten minutes until the potatoes are crisp and the onion is cooked. Mix the red wine vinegar, Dijon, salt and pepper. Dress the salad with this vinaigrette.
Mix in parsley. You can serve this warm or let it sit in the fridge a day to let the flavors come together.