My boyfriend dared me to take this book on vacation with us.
I always except a dare. Even if it involves Comrade Obama.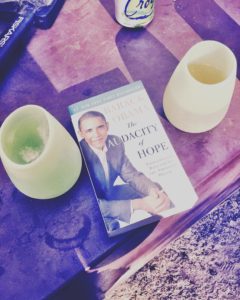 Our first night of camping I was tempted to leave this book on our 45th president in the porta potty where it belongs but then I reconsidered and thought how fun to take Barry with us throughout our eastern Sierras vacation.
And now you can find us at happy hour; Adrian and I and Barry.
Here is to a fun-filled vacation in the eastern sierras!
Hope!
Change!
Vodka!