Welcome back to the Adventures of The Hungry Mountaineer and adventure dog! Episode 395, Carly Vs Bob the Show Jumping Mule
Well, it just wouldn't be an eastern Sierras holiday if my dog did not get up to some kind of wilderness shenanigans. This dog has no common sense most days but this morning I also realized she has no horse sense. And also she does not know better than to get in a fight with a moody mule deer.
What happens at adventure dog fight club stays in the eastern Sierras
This morning she tried to fight a deer. Yesterday early a.m. she was so close to being kicked by a mule. Five a.m. camping, breaking down camp and barely making due with instant camp coffee does not have me full of the energy or the patience to deal with an adventure dog with no common sense.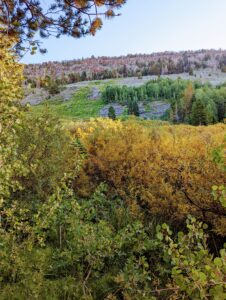 This was day two of our outdoor adventures vacation and I had literally already worn all of my camp clothing because it's been so cold since I've been camping with the pack mules at Agnew Campground. As I sat by my campfire shivering last night, I knew it had to be colder already than the predicted forty-four degrees which was supposed to be the low. The entire time I was camping in the Mammoth Lakes area. I wondered why I didn't bring a jacket with me on this camping trip. The simple answer is I do the same camping trip right before Labor Day weekend every year and the weather is always pleasantly warm and Indian summer-like. The aspen trees changing to yellow above ten thousand feet and needing a jacket around the campfire at seven p.m. is just unheard of in late August.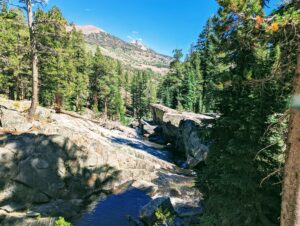 When I unpacked my Subaru at Agnew Campground, I could already see that the Aspen trees on Nipple Ridge above me were already turning yellow, which is extremely odd for late August in the high Sierras. Maybe that should have been a sign. When I woke up this morning at five thirty a.m. to break down camp and get a very early start on my Thousand Islands Lake hike there was actually frost on my tent. My fingers were freezing and numb as I brushed my teeth and hurriedly threw everything in the car. Breaking down my tent as fast as I could in the surprisingly chilly morning. And yes, there I was breaking down my pop-up tent without watching the youtube video ridiculously and as embarrassingly as possible. That's when I noticed that the escape artist mule was watching all of my shenanigans.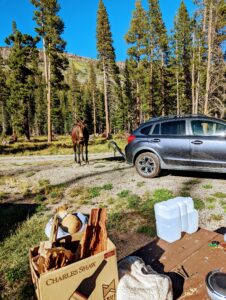 This is the same mule that joined us for dinner last night. Bob hung out with us by the campfire for hours as I read my book, sipped my beer and started to shiver as Agnew Meadows campground became much chiller than I expected. I named our vacation mule Bob and decided he is our official vacation pet. When the camp host came by to give me my change for the campsite Bob had just jumped back over the fence and rejoined the other mules and horses for the evening. I honestly had no idea that mules qualify as show jumpers. I've never known a mule show jumper before. The camp host was utterly shocked that that was how the mule has been getting out. And he said it's a regular thing at this campground and there's another mule just down the road that is also loose. Mules are known to be very wily but I dint know they are also known to be show jumpers.
Mules are part of the equine family and therefore when the sun starts going down they look for their family of horses and the other pack mules to rejoin up in case there are coyotes or mountain lions out and about in the area. So Bob headed home as the sun set on our first day in Mammoth Lakes. But he was standing by my Subaru again at five forty-five in the morning as I wrestled with that darn tent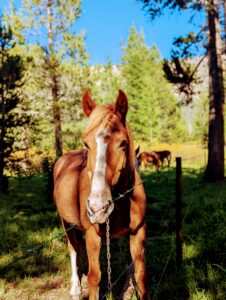 . I'm sure other campers in this area probably feed the mule train, equines and horses, but I abide by a strict do not feed other people's equines or wild animals policy.
Somehow I went on this twenty-mile hike with no chapstick. How did I even manage that you might be asking? Well, thank God I had a Banana Ginger Muffin made with coconut oil packed for my trail breakfast. I ended up wiping the leftover coconut oil from the wrapper on my lips and bing bang boom, I no longer had the worst chapped lips for an eight-hour day on the trail.
After a twenty-mile trek to one of the most scenic hikes in all of the eastern Sierras one would think my trail dog, my old lady trail dog would be too tired to get up to any shenanigans. I was enjoying a to-go Fresca cocktail and some traditional German fare, a poke salad, for my dinner from my favorite German restaurant in Mammoth Lakes, Austria Hof when the local mule deer decided to entertain me. This was at our campsite for the rest of the trip in beautiful Silver Lake. I love the peace, quiet and solitude of Silver Lake among the aspens. Unfortunately on this trip, I had exceptionally drunk ra-ra's (Former ditzy blonde cheerleaders) being ridiculous and trying to get some at the campsite next to me.It was not the zen camp experience I was expecting from scenic Silver Lake. What happened to family-friendly camping? I wasn't expecting very loudly break out the Barry White Family-conceiving camping.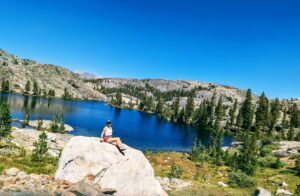 Luckily a group of mule deer arrived to distract me from the sexy shenanigans next door to my campsite. I'm not a mule deer expert but this is what I think was going on. There were five deer; three adults and two older fawns. The two mama deer seemed very perturbed that the other random adult deer, I'm assuming it was an older adolescent buck, wanted to be part of their deer family. I spent a good twenty minutes watching the deer shenanigans as the mama deer took turns chasing him off, getting more and more aggressive until the deer shenanigans were basically happening at my campsite.
My tired old lady adventure pup had been sleeping in my tent after the hiking shenanigans. When the deer began fighting in our campsite, this deaf dog of mine somehow heard and came racing out of the tent, teeth barred at the male deer. The male deer at first was ready to fight her, pawing at the ground. Then he took one look at her sweater and seemed utterly confused. I mean he was a pretty young adolescent but I don't think he had ever seen a dog in such a ridiculous sweater before.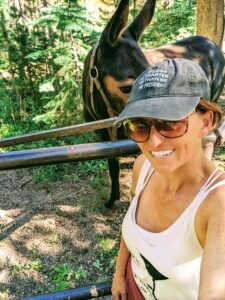 So how was the hike?
This was probably the seventh time I have trekked to Thousand Island Lake. This trek never disappoints and I highly, highly recommended doing the Garnet Lake loop. I was one of the very few day hikers on the trail on this chilly morning. I actually planned to take my time and swim in the lakes along the way but fall decided to show up way early.
If you are looking for an easier trek to Thousand Island Lake via Garnet Lake the PCT North loop is the easiest elevation-wise. The vies don below on the river trail are epic as you make your ay towards the back country.
When I returned to my SUV at the end of the trek, Yes Bob was back in his enclosure but as soon as he heard the sounded of the adventure dog and I made our way back to my car he began braying up a storm. So obviously I had to stop and give him a few pets before we took off for a much-deserved dinner and camping in Silver Lake.