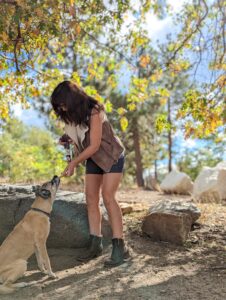 Today we took the old lady on a leisurely stroll through the fall leaves. Some might call it a hike. After a stroll through autumn, or a hike or whatever you may call it, the old lady loves some homemade dog treats, especially if they are full of homegrown pumpkin. Once upon a time, my pup would run circles through the leaves, chasing her husky friends and being a real menace. These days she is twelve years old and has slowed down a bit. It's crazy to think I had a young dog when this pandemic began!
Now that the pandemic may be finally over and we are all trying to move on with our lives, let's talk about how crazy expensive it is just to live in 2022. Are you also a dog mom? Well, then it is extra expensive! Here at our mountain home, somewhere deep in Joe Biden's America, we are always trying to save a buck or two because groceries are so out-of-this-world expensive. When I buy our monthly groceries we eat a lot of chicken these days. I actually prefer chicken to beef anyways. Sometimes I can find goat on sale at the ethnic markets near Los Angeles and our family actually loves goat meat in a spicy curry. For whatever reason Costco is always dependable for their $4.99 rotisserie chicken and I swear to you it is the absolute best-tasting rotisserie chicken on the market. Yes, it's a loss leader but I can never say no every two months when we get to the big city and shop at  Costco. I can buy us a rotisserie chicken to shred into my salads, dip in Bitchin Sauce or feed to our pets with their sad eyes.
Seriously, every time I come home from Costco, arms full of a fresh and hot rotisserie chicken, organic barbacoa beef jerky and the best macadamia nuts for snacks, my pets are lined up waiting. And while I go out to the car for another trip of Costco avocados, Milkamadia nut milk and macadamia nut butter by the time I'm back in the house our very sneaky Russian Blue fellow is on the counter smelling the chicken. Every damn time. Russian Blue's are known to be the smartest cats around and ours has no patience at all when I show up with a Costco rotisserie chicken.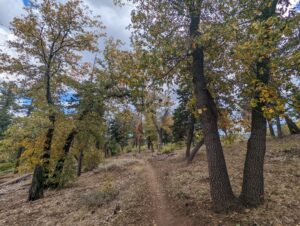 A sure sign of a recession on the horizon is when pet owners start rehoming their dogs and cats and the animal shelters are once again full. You know the pandemic is over when pet owners start returning their pandemic pets. It's heartbreaking to me. In a world where groceries and pet food have become so outrageously expensive what are pet owners on a budget to do? I mean that is when you can even find the pet food you used to buy before the pandemic on grocery store shelves. Here in California, we have barely been able to find wet cat food in three years. Sometimes over the past three years, I have made my own wet cat food for our felines but cats need taurine in their diet so they won't lose their vision. So I have to hunt and search so many grocers to find enough food for our three felines. Three years of this bullshit; Can't life go back to normal already?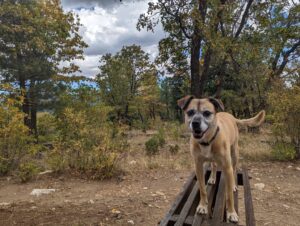 This appears to be our new normal as 2022 rolls on, Donald Trump just won't go away, Elon Musk says, let's all just move to Mars, and my pup is growing older by the day. Meat may be expensive in 2022 and pet food is a ridiculous price but I have a few tips up my sleeve to be a more sustainable pet owner and save a few bucks while not rehoming your pet.
I always, always make bone broth with chicken carcasses or any meat bones we have. This is a game changer for you pet owners! All that natural collagen that comes out of the bones when you steep and steam them in your pressure cooker is so great for your elderly pup or dogs who are very active. As a sustainable shopper, pet owner and just overall human being, if I can reuse and recycle that chicken carcass it makes me feel like a more responsible human being.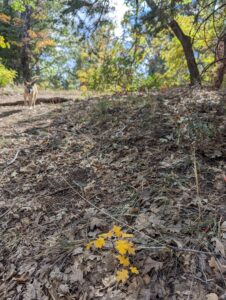 Any time we have a rotisserie chicken carcass I steam it up for some bone broth. It's almost like free food as I save that bone broth for curries, soups and to drizzle over our pet's food. I even pick the carcass clean after steaming it, blend this up with some broth in the nutribullet and serve this gravy to all our pets. They all go nuts for it!
Did you know that most store-bought dog treats are full of fat and high in calories? They are really not the best healthy choice to keep your dog trim. It's nuts how so many pet owners do not realize these storebought dog treats are chock full of corn also. Corn is so unhealthy for your pet. It's just a filler, the same thing farmers feed cows to fatten them up to send to market! These homemade dog treats are chock full of pumpkin, homemade chicken bone broth and oats, healthy ingredients for your pup.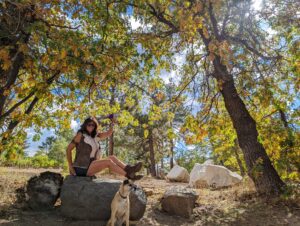 Are you like me and have so many homegrown pumpkins decorating your front porch? This recipe for homemade dog treats is a great use for all those pumpkins come November first. Honestly what with the homegrown pumpkins and the homemade chicken broth, this dog treat recipe is almost free food for my pup and that is hard to find! These treats also freeze very well. I make a few hundred of these in the late fall. I give some to my dog mom friends but I do freeze most of them for later use.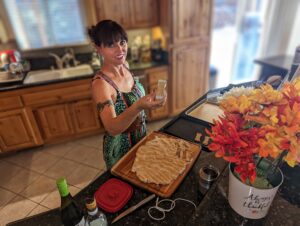 Pumpkin and Chicken Homemade Dog Snacks
2 1/2 cups oats
2 cups pumpkin, baked, cooled and mashed
1 and a half cups rotisserie chicken stock with some chicken pieces thrown in too
Firstly, in a pressure cooker, cook your rotisserie chicken with three cups of water. If you have extra celery or carrots in your fridge throw those in too. Let the chicken stock steam for fifteen minutes. Turn off and let cool for ten minutes then reduce the steam, open the lid and let fully cool. Freeze most of this delicious homemade stock for later use in soups and curries. Reserve one cup for the homemade dog treats. When the chicken carcass is cooled, remove any leftover chicken from the carcass and add that to your stock for the dog treats. If you added celery and carrots to your broth add them in to your blender or nutribullet as well. Grind this all up in your blender or food processor. If you have cats, set a bit aside for a treat for them. I usually give my dog about a quarter cup of this delicious food as well as a snack.
To make the homemade dog treats, put the oats in the food processor until smooth. Mash the pumpkin and add to the oats.  Add the chicken stock mixture and mix all the other ingredients together. Form into a ball. Refrigerate for thirty minutes. You can roll this ball out onto a baking sheet using wheat flour to make it less sticky if your pup does not have gluten sensitivity or you can just use extra powdered oats. Using cookie cutters make the dough into fun shapes.
Bake at 350 for twenty minutes.
You can also add some CBD oil, powdered glucosamine or coconut oil to your dough, depending on what your personal Fido needs in their diet.