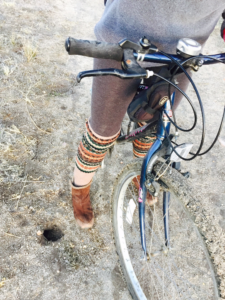 I definitely offended some desperate housewives today.
One thing is for sure and that is you can take the mountain girl out of the mountains but you can't take the mountains out of the girl.
At 6 AM this fall morning I got up before the sun and slurped my coffee with some protein powder mixed in. Sleeping at a friends house in the city, I normally don't sleep very well and last night was no exception. I just can't get used to being in the city, and an apartment with neighbors above me. I'm pretty sure those city neighbors were rolling around bowling balls all night, that's the only explanation for all the noise from upstairs I heard all night long. I don't know how anyone in the city gets used to the sounds of neighbors above you. I'm so glad my days of living in an apartment are over.
I am just not the kind of girl to live in the city. When I go to work on the weekends I'm always in the city for a few days staying with friends to be closer to work. I've been staying with my friend in the city during my work week for over a year now and just this week I discovered there is an awesome cycling trail in her neighborhood! This morning was my first time checking out this awesome cycling trail. I'm so excited to stay in the city again during my work week now because normally when I work on the weekends I don't work out at all. I say I will and that ends up being drinking beers in the Jacuzzi after work and possibly maybe swimming for five minutes in between beers so I was very excited to go for a bike ride even though I was in the valley.
As I started out on my bike I was surprised to see the trail and the road that I've been driving on for years actually went slightly uphill and the ride was harder than I expected it to be. I was actually getting really sweaty and that made me happy.
Sweat is good.
Until I realize that I was going to have to blow a snot rocket because I did not bring any tissues for my leaking nose; yea for exercise induced asthma.
I'm pretty sure all the soccer moms and desperate housewives in their BMWs and Nordstrom yoga pants were looking at me in absolute horror.
But you know what, I just don't care as I had an excellent city workout this morning!