Well, that is the first time I've trekked back from a hike with a backpack full of deer parts. My heart was sad I have to admit and not because I had a backpack full of deer femurs and rib bones. My heart felt melancholy as I left for my hike this morning when I knew I wouldn't be able to be back in this alpine setting for forty-five days. I might have felt just a bit of sorrow this a.m. as I began my trek past Long Lake but just let me tell you the South Lake area has put on a show of scenic colors, and adventures. And yes, even animal body parts on this July morning.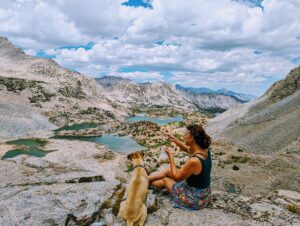 But first, my equipment had to go haywire and of course, I had to have a communication snafu that put back the start of my trek back by an hour. I believe in life everything happens for a reason and this morning I actually had my heart set on hiking Lake Dorothy, finally, out of Convict Lake. Which I know would have been a very tough uphill slog in the hot eastern Sierras sunshine. I absolutely definitely have to one-day hike Lake Dorothy and I'm hoping to do that in the fall. That lake has a special meaning for me since my grandma Dorothy passed away when she was so young.
But unfortunately, I had some communication issues this morning with my family and I drove all the way up to Convict Lake and then realized I had their golf clubs in the back of my SUV.  Wopsy. And then I had to drive the golf clubs down to Bishop so I thought what the hell I'll just hike Bishop Pass today instead.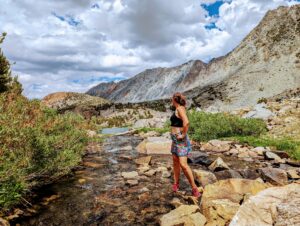 That was all of course before I began trekking up the Bishop Pass Trail under grey thunderheads just starting to build before nine a.m. That was when I realized my brand new Camelbak bladder was leaking. It had a bad leak and I had lost half of my two liters of H2O for the day. I managed to catch the issue early and I turned my bladder upside down in my pack and that seemed to fix the issue. I would just have to stop, and turn my pack upside down anytime I wanted to drink my last liter of fresh water. But this right here was going to be an issue for me. One litter of water is not enough for a twelve-mile trek and ten hours on the trail. I made the game-time decision that when I ran out of water I would just fill my bladder from one of the higher elevation lakes.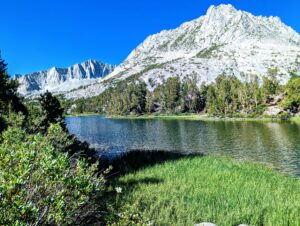 Now, this might sound like a bad idea to some people but here is the thing; I did Keto for three weeks. No sugar, no carbs. I worked out so hard every day. I cleaned my house a lot. Some days I drank bullet coffee and snacked on rotisserie chicken and that is all the nutrients I had all day long! I was hardcore on the keto kraze for three weeks. I didn't lose a pound so I guess I'll give the Bishop Pass cleanse a try. If I get giardia from the lake water I pumped then I guess that tiny parasite was meant to be. It's such a long road back to fitness. My Oregon trail is not paved with dysentery (or giardia) but with miles of hiking trails in the Inyo Wilderness. (Also as I'm not a millennial, I don't drive a Tesla or find man buns sexy, I am generation Oregon Trail)
I had come to this parasitic pro decision a mile into my hike and had decided I was okay with taking my chances with a giardia parasite from drinking contaminated water. I had just been thinking earlier in the week about a few years back when I ran into a hardcore hiker girl who was local to the Mammoth Lakes area. She had warned me against drinking from the local lakes as there were forty dead mule dear up on the pass somewhere over yonder.
This was many years ago before the pandemic that I ran into this hiker gal on the trail in the late spring and I remember her telling me whatever you do don't drink or even pump water from the lakes up here because backpackers have been getting sick from the contaminated lake water. I was just thinking about this story earlier on this month-long hiking/camping trip and was trying to recall, which mountain pass was she talking about?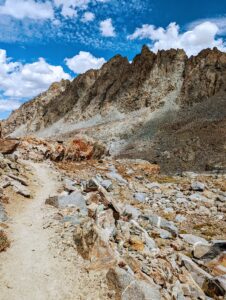 So here I was, finally many hours after the water snafu and I was a mile from the summit on Bishop Pass, wheezing, so tired and struggling up this granite peak of a pass. I ran into local retired ranger Larry and just had the intention of letting him pass me on the trail but he was a talker let me tell you (But I very much enjoyed the conversations) Which turned out amazing for me because sometimes you just have to sit back, take a break on a big ol piece of granite and listen to old ranger stories. It turns out as I sat on that old granite rock wheezing the mule deer mass grave was literally where I was sitting. I never would have even noticed if someone local had not pointed it out to me.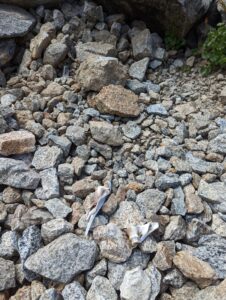 So I got off my ass and grabbed a few choice Bambi bones to bring back to my hiking business because come on, little kids are going to be too interested in this ill-fated tale of deer migration! With my hiking business, my family-friendly hike is so popular and I love having educational props to show off like owl pellets and yes, Bambi bones.
Did you know that mule deer, from the time they are little baby Bambis migrate the same route every year? So this is what happened in 2017 and all these one hundred and twenty Mule deer made a very bad decision to follow the leader down icy snow fields. They all ended up sliding into each other. This is the part of the story that is not vegetarian-friendly. Eventually, when locals down in Bishop realized what had happened on the pass with the poor broken Mule deer, they trekked up in the snowy conditions and slit the animal's throats to put them out of their misery. The dead deer graveyard sits about a mile below Bishop Pass. I guess that is just nature for you. Heavens! No one tell PETA I repeated this true story!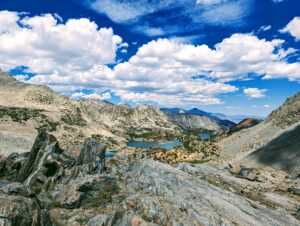 After I collected enough Bambi to share with family and friends (I must admit I grabbed a few femurs for my friend's Huskies) I was summiting that pass, refreshed from the interesting tale and enthralled with these views. The storm clouds were moving in over the Inconsolable Range and Hurd Peak and the views of the glacier-fed alpine lakes down below were just awe-inspiring. And that is when I came across some snow still on the trail! I filled my almost empty Camelbak with the snow and figured that was a bit safer than possible giardia water from the alpine lakes. I was feeling pretty good about life at this point and figured I would take maybe a mile detour back by the Chocolate Lake Loop on the way back. Then I climbed up, I swear like a thousand feet in a mile and I was so regretting that decision. But the first glacier-fed lake I met, Ruwau Lake was very beautiful and I jumped in so fast, probably disturbing all the golden trout swimming around my feet.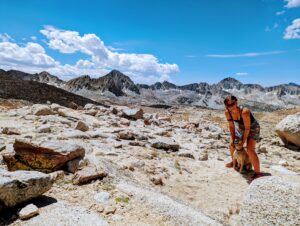 Ruwau Lake was about the time the trail I had been following went God knows where. I never wanted to hike to the top of Chocolate Peak at 11,682 feet. But the trail I was following, which seemed to be the supposedly well-maintained Chocolate Lakes Loop Trail was taking me just that way. I was literally almost at the summit of the crap-tastic peak, Chocolate Peak and I could see the first of the glacier-fed Chocolate Lakes down below me and I thought this cannot be the way. Luckily I had multiple maps with me and I rock-hoped my way back down to the shore and somehow found a slight trail leading me away from ridiculous Chocolate Peak. At this point, I was super frustrated. I wasn't expecting so much uphill on this tiny little detour I had decided to take. I mean, I had already bagged a peak this morning and I had a backpack chock full of Bambi parts! Chocolate Lakes Loop Trail is a real shit show of an unmaintained trail. The lakes were pretty but I never need to even think of doing this hike again.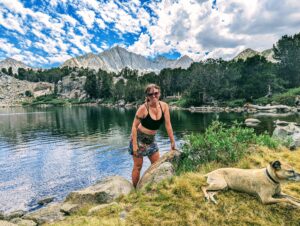 Bishop Peak adventure guide; Bambi addition
Do trek to the top of Bishop Pass, 12 miles plus. The last few miles are rocky and all in the sun.
Do keep an eye out a mile below the summit for the Bambi graveyard.
Do watch out for those cute little mischievous marmots on this trek.
Do take a break at the old ranger's cabin below the summit.
Be aware that at the top, at the pass, you do enter King's Canyon National Park and trail pups are not allowed past this point.
Do stop and fish at Long Lake. Huge Brookies here! Or stop at Ruwau Lake to try and catch a few golden trout.
Don't even try to trek the Chocolate Lakes Loop! The trail is so unmaintained for half of this trek and extremely hard to follow.
Don't forget your trekking poles on this rocky hike with lots of elevation gain.
By about three thirty in this late July afternoon, I was ready for this trek to be over. I was ready to be back in camp in Bishop and rip into all the delicious barbeque I had picked up at the Mammoth Smoke Shack. I could see the edge of Cloudripper at 13,525 which sounds like a very angry jagged mountain. By the time I reached Bull Lake which was very close to the trail junction with the Bishop Pass Trail I was just done.
Best easy after a hike camper's dinner
Russet baked potatoes, done in the microwave because yea we have hookups for our RV at Browns Town Campground.
Smoked trip tip and pulled pork from your favorite BBQ place on the 395 like Mammoth Smoke Shack or Holy Smoke BBQ in Bishop.
All the bestBBQ toppings, Sharp cheddar cheese, salted grass-fed butter and sour cream of course.
Macaroni salad because damn-it you deserve some carbs after bagging a peak!
Bull Lake is a cute 'lil lake and I ran into a few backpackers approaching it. Very few trekkers were making their way towards the Chocolate Lake Loop and I warned them all, that this trail is a pain in the ass! I literally ran the last mile back down to the car under cloudy skies and cool temperatures. I had adventures today in the alpine mountains above Bishop but I was a Hungry Mountaineer and ready for some delicious BQ dinner. Also, my boyfriend says I need to stop decorating the motorhome with old deer pieces.