Six a.m. on the sagebrush thick trails near Sherwin Creek and thunderheads were forming in the distance near Bishop, California, big time. I've never in my life as a long-distance hiker been afraid of a little thunderstorm, so of course, I just kept on hiking up the deserted mountain trail. Truth be told I simply adore hiking in this cloudy and cool, gorgeous weather.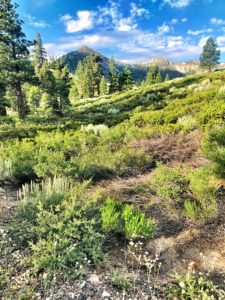 My favorite trekking buddy, my rescue pup, and I had been traveling through and camping out in the mountains of the eastern Sierras for a month at this point in late July. Normally thunderheads in the afternoon are, well, the norm this time of year from Lee Vining to the rolling hills near Bishop but this hiking season, 2019 has been nothing but normal. So instead of thunderstorms every afternoon we had wind, lots of cold seriously annoying, the wind coming down off of the still somewhat snow-covered minarets that overlook the town of Mammoth Lakes. I hate the wind. It blows dirt into my contact lens, it messes up our planed to fish high Sierras lakes and it makes kayaking on choppy lakes a real pain in the ass.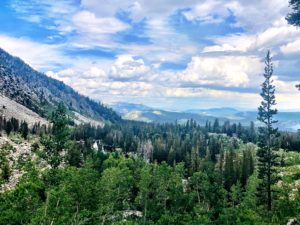 This particular morning in July I woke up to gorgeous awesome clouds as the pup and I left camp right after dawn and made our way through the sleepy but slowly awakening ski town (Seriously, we had friends snowboarding this morning. WTF?) of Mammoth Lakes, past Starbuck's, Von's and towards the wilderness and the sagebrush-covered hills. I personally feel more peaceful when I get away from the commercial buildings and retail space, loud trolleys chugging by me and the constant traffic of Mammoth Mountain employees commuting to work. Getting out into the green open spaces, the fresh air and the pine forests that surround Mammoth Lakes is great for my body and my soul. I mean how can you not have a zest for life while trekking through the mountains of the eastern Sierras for a month? Every morning when I rolled out of bed at four a.m. before the crack of dawn had even appeared on the horizon, I couldn't wait to see what trail awaited me on that day.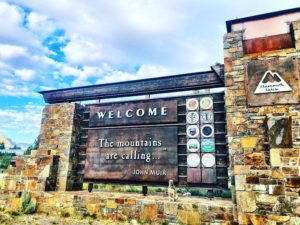 Enter natures greatest asshole
Six a.m. on this weekday found us trekking upwards in the direction of Sherwin Lakes. It only took us an hour for the pup and me to reach the Sherwin Lakes Trailhead after our walk through town. Less than an hour after that we had attacked the switchbacks with a vengeance, flying up to them, snapped a few selfies at Sherwin Lakes and were practically jogging upwards towards Valentines Lake. I had never been past Sherwin Lakes before and the trail was really pretty, wildflowers, Indian paintbrush and cornflowers absolutely everywhere and the peaks ahead of us still covered in snow.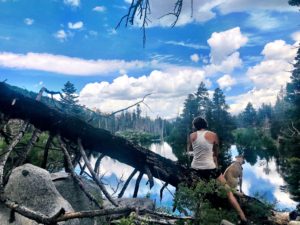 I was loving life as we approached a dense thicket of greenery on the trail. Then I smacked a mosquito. Then I had another one on me. Within a minute or to I literally had one hundred mosquitos on me, no joke. My backpack had been destroyed by a bear two days before this hike so I was using my boyfriends ultra-lite pack and literally had no extra layers with me to cover up, no mosquito net hat, nothing to protect my skin from the sudden infestation. I'm not going to lie, as much as I simply adore hiking, especially on a slightly rainy day, it was kind of a nightmare. I tried to stop and put my long sleeve t-shirt on, it had been tied to the outside of my daypack and as I tried to untie it, I must have been bitten almost twenty times. This was about a mile from Valentine Lake and literally, I was almost in tears, the mosquitoes were so intense, I could not get my long sleeve off the backpack while constantly swatting natures greatest asshole, and a part of me, said "Fuck this, I'm done with this hike" But then the other part of me said "Dude. You're a mile from the lake. Can't turn back now"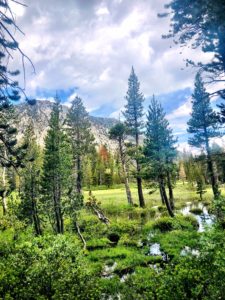 I managed to somehow, finally get my long sleeve untied and could at least cover my shoulders, which were already swelling up with bites. At this point the trail, of course, got much steeper, switchbacks and such as I raced uphill next to a raging creek that was more like a river. I literally had to run the last two miles uphill sweating, thirsty as all hell and very, very tired. I couldn't stop for even a moment because those bastard mosquitoes, all one hundred or so of them, were on. Me every moment. I must have looked like Pig Pen from those Charlie Brown cartons with a black cloud of bugs surrounding me.
Valentine's Lake, at long last
Crossing a snowfield, the only one I saw that morning, I could tell the actual lake was just up the trail. Thank God, as this mosquito hell would hopefully be over soon. I knew instantly why they call this Valentine Lake. If I had a Valentine right now I would hope and pray they would give me the gift of Deet, one hundred percent Deet, fuck my chances to get cancer. Sometimes being a hippie covered in lemongrass oil and eucalyptus oil is not helpful when trekking through the home of about a million mosquitoes.
So will I venture back to Valentine Lake, home of the mosquito?
Valentine Lake was unbelievably beautiful and so worth hiking to and I really can not wart to go back and hike this again but next time, oh boy will I be prepared for this mosquito hell. I will wear my long hiker babe pants. I will have my long sleeve t-shirt accessible and I sure as shit won't forget the mosquito net hat! And I will bring some damn Deet in my day pack, cancer be damned!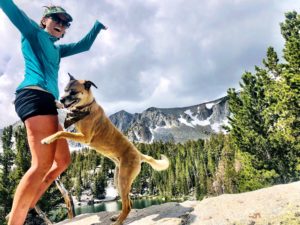 Valentine Lake is a relatively easy hike located just of Sherwin Creek Road in Mammoth Lakes, California. This hike is less than ten miles round-trip and has less than 2,000 feet elevation gain. It took me five hours to do this hike but I would have preferred at least a thirty-minute lunch break at the lake if I went back to do it again, as this lake was stunning and exploring the shores of Valentine Lake would have been pleasant if the mosquitos were not so bad.