I grew up in a mountain forest building snow forts and eight-foot-tall snowmen. When I was a kid, well no, we didn't walk to school six miles uphill both ways but we often trudge through two feet of snow in hand-me-down snow pants to get to the local bus stop. Snow play in Big Bear Lake was something fun you deserved to do after unburying the 79 Bronco from two feet of snow or helping dad split a cord of wood. Going sledding and building snow castles was what we dreamt of when we were scraping ice off the driveway in twenty-degree temperatures. That was life in the mountains when I was a kid before iPhones, Zoom school and a global pandemic. I feel so very blessed I had the kind of childhood where I grew up in the forest and my mom forced us kids to go outside to play.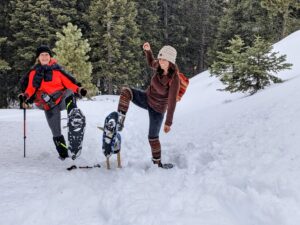 There is very little photo evidence of the amazing snow castle we built in January of 1992 when school was canceled for a week after our rural mountain town was pounded with four feet of snow in three days. It was the 90's, thank God there was very little photo evidence of our high waist jeans, flannel shirts and my giant oversized glasses. Growing up in these rural mountain towns snow play in Big Bear Lake was what we did instead of being stuck indoors playing video games. I feel blessed that was my childhood fun.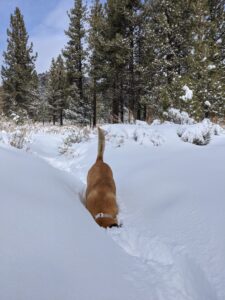 Looking to book a snow play adventure in Big Bear Lake this winter season?
Just click here for more info!
The most chill snow play in Big Bear Lake with the Hungry Mountaineer
When the pandemic first started almost two years ago now many urbanites fled the cities and the concrete jungles for bucolic areas with cabins and wifi in the San Bernardino National Forest. Here we are two snow seasons later and many mountain towns are still shockingly busy with tourism. Mountain towns like Mammoth Lakes, Lake Tahoe and Big Bear Lake are overly crowded with tourists this holiday season. As a visiting tourist, it's so hard to know where to go to play in the snow with your family. You may see lots of travelers sledding on the sides of the highways in dirty brown snow as cars honk and Miley Cyrus belts out it's beginning to look a lot like Christmas from every Telsa motoring by. Is this really the zen snow experience your family was hoping to find amongst the two-hundred-year-old pine trees? So where do you go to get away from the crowds and explore the wilderness with your family and maybe build a snowman away from the masses?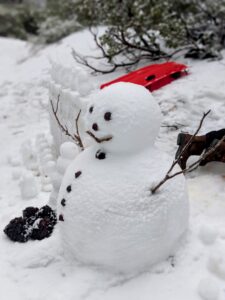 A fun day of snow play in Big Bear Lake does not take place next to a busy mountain highway. If you book a local mountain hiking guide to take your family out to the wilderness for a morning of playing in the glittering fresh snowpack expect to let your pups chase squirrels off-leash through the wilderness. Expect to listen to the woodpeckers and the bluebirds in the tall Jeffrey pine trees. You won't be listening to the sounds of traffic and Tesla's driving past on the crowded mountain highways. You will be listening to the sounds of family memories being made underneath the pines of Big Bear Lake California.
The hardest part of planning a snow play experience in Big Bear Lake is knowing where to go. The Big Bear Valley is a vast area of wilderness. Where are the best sledding hills? Which forest area has the least people? And where on earth can you park when there is so much snow and the parking areas areas are full of three-foot-tall snow berms?
Book a hiking and snow play tour in Big Bear Lake today with Big Bear Lake's outdoor expert, the Hungry Mountaineer!