I will never buy another Subaru again after the bullshit I went through in the last week at the Subaru of San Bernardino. You would expect at a dealership where you had been a steady customer for the last ten years the management would not treat their customers like utter crap, but if you think that way then you probably are not a customer of Subaru of San Bernardino.
My voyage to the Subaru dealership shouldn't have been a pain in my ass if they had fixed my car correctly the first time. I may have been less annoyed if they had not ripped me off telling me "I must buy an expensive Subaru quality battery or my heated seats won't work properly" and then I drove home with heated seats that still didn't fucking work. Good thing I spent a month pretty much riding my mountain bike everywhere, as they had also rewired my car so that my windshield wipers no longer worked properly. So I was pretty annoyed when I dropped my Crosstrek off at the dealership and the technician swore to me that he had fixed my heated seats last time I was in.
No. You fucking didn't.
I managed to complain my way into a free rental car (And a free synthetic oil change and free windshield wiper blades because I am just like dad. Meaning I am an expert at complaining when auto technicians are beyond incompetent) Then I took the free shuttle to the Enterprise rental car (The shuttle driver pretended not to recognize me when we both knew he ran a red light last time he had me in the car but I didn't complain. Because I didn't die) and that's when a very scary ethnic lady screamed at me for cutting in front of her in line (Which I did not. She was sitting on a bench, I stood in the line, how did I cut in front of her?) Luckily I was speaking to the manager of the dealership at the time and calmly ignoring the San Bernardino ghetto crazy. He told her to calm down or he would call the cops and then she stormed out and he said to me,
"I'm so sorry Miss Woodyard. Let me put you in the best car we have and feel free to use the whole tank of gas" And that's how I found myself running errands in this sweet Mustang! For a few hours I was less passed off at the Subaru dealership as I finished my errands, took my friends kids for a spin in a convertible and went to Whole Foods to buy organic purple sweet potatoes.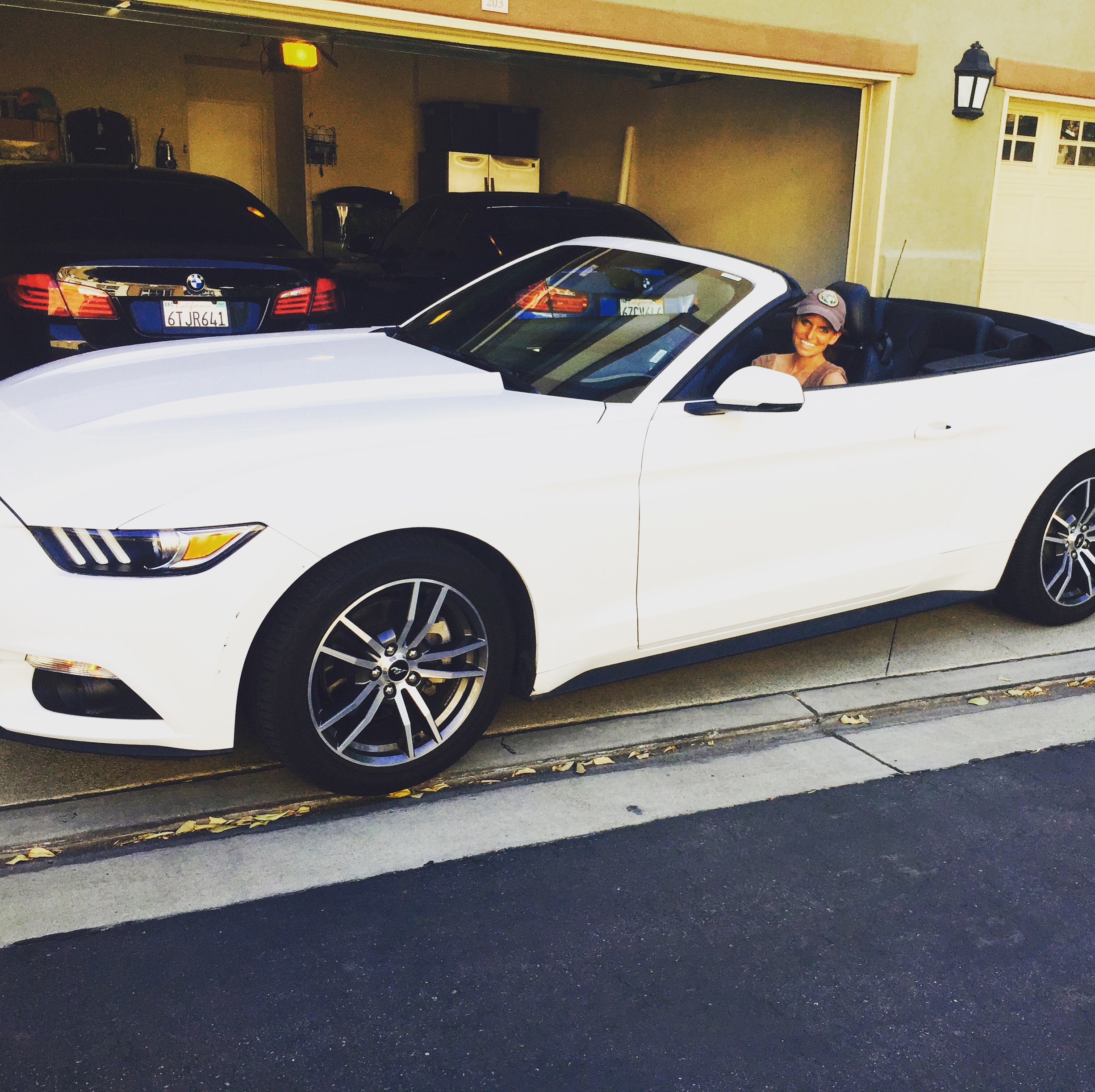 Then the dealership called me when I was deciding between an Australian Chardonnay or a Chilean Sauvignon Blanc at Trader Joe's and that Woodyard rage returned with the words,
"Well, guess what? Your heated seats do need to be replaced!" I stood in the middle of Trader Joe's staring at imported wine and rolling my eyes so hard my head hurt as Jim the technician who helped me last month told me once again how he fixed my heated seats last time I came in and how they
"They must have malfunctioned completely in the last month" Even though I have put only about 100 miles on my Subaru since the last time I came in. (Oh and like I explained to him the first time I went into Subaru, my Subaru has done this since it was new to me, 16 months ago)
Then he told me he ordered me new heated seats and they would be here in 4 days and I needed to return the rental car the next day. Not keep the car for the rest of the time it would take them to complete the work.
The work they couldn't fix the first time.
That is when I asked to speak to the manager of the dealership (Who I had already spoken to previously on the phone two times about how inept their employees are) and I argued around in circles with him for about twenty minutes getting more and more frustrated (And more and more loud and yell-y in the middle of a crowded Trader Joe's) before he told me at the end of the conversation,
"I know you are really upset about the customer experience you have encountered and I understand that when you fill out your customer satisfaction survey you are going to give us a low score, but I will just trash your online results and no one at corporate level will ever see it"
Yup. True story. I have never seen such terrible customer service in all of my life. Good thing Subaru has a corporate hotline and I woke up early the next day with time on my hands. I enjoyed our morning thunderstorms with these little dudes while I explained to Subaru's corporate office how you should treat a customer and how unbelievably ridiculous it is to pretty much tell a customer
"Your opinion does not matter. I'm throwing your survey in the trash"
And that is why, I would just like to say after being a Subaru customer for 10 years this is my last Subaru I will purchase as their employees and technicians are dumb dumbs who care very little about customer service. In two years when I buy a new car, its goodbye Subaru and hello JEEP.