Waking up in Sydney reminds me that I don't like the city.
     We spent the last four days vacationing on a tropical island off the coast of Australia. It was quiet, secluded and beautiful. Giant monitor lizards slowly walked across the hiking trails into the jungle giving us dirty looks.
      Beautiful white cockatiels with yellow tipped heads picked berries off the fruit trees right outside our patio every morning.
      Our room was just steps from the beach when we wanted to jump in the water or go snorkeling and look at the millions of amazing fish.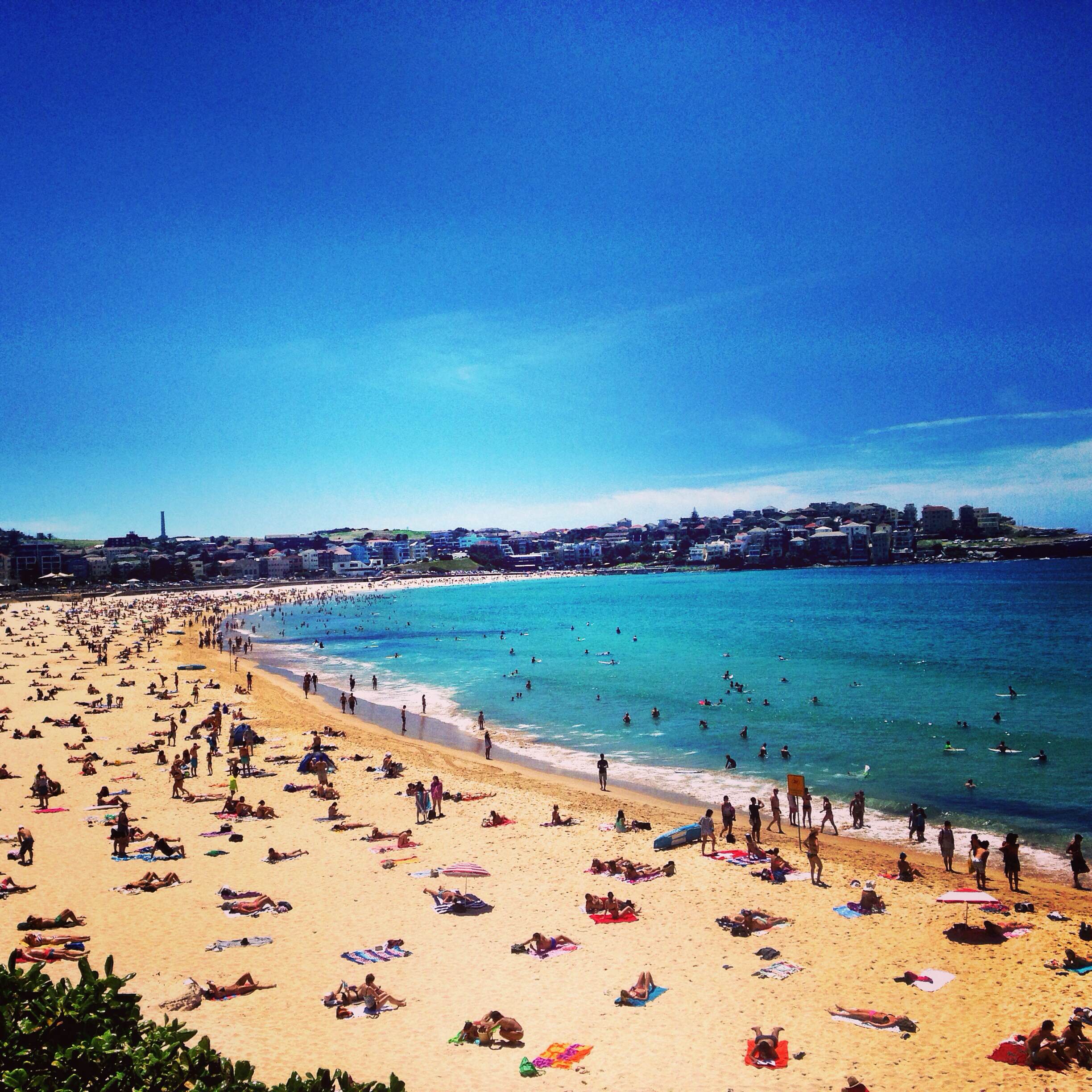 Our boutique hotel in Sydney is a third of a mile from Bondi Beach, one of the busiest beaches in the world. If you stand on your tip toes on our tiny balcony you can see the blue of the Coral Sea in the distance beyond Bondi Beach. The bustling street below our patio reminds me of a busy street in Paris; restaurants, bars and gelato shops all just feet away from our hotel. Last night we ate at Bill Grangers world famous Bill's restaurant just a few doors away from our hotel. We had been trying to get a table here for days and just randomly managed to get a walk in table today.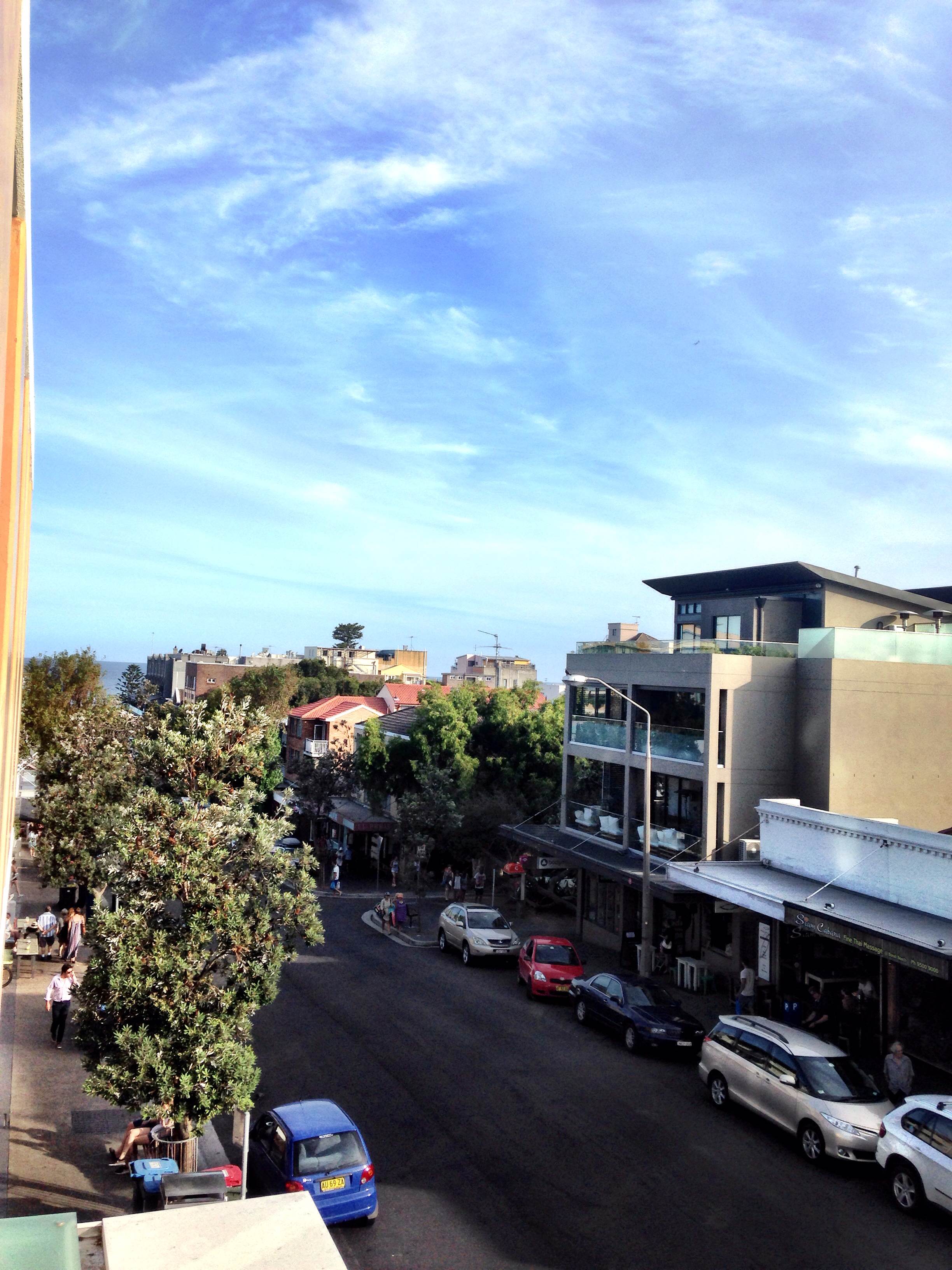 The first night we got into town we wandered down the avenue to dip our feet in the water and discovered gorgeous world famous Bondi Beach. It was a beautiful place, it's just the thought of throngs of tourists that puts me off a little.
    The beach got a little less crowded when they closed it yesterday thanks to the sighting of a five foot shark!
     This hotel seems very trendy, cosmopolitan and there is a huge organic Harris Market ( think Australia's version of Whole Foods) and shopping area just outside the car park. It's awesome to be able to just walk out the doors of the hotel if I want to buy a smoked aged cheddar or if I want to have a glass of wine and tiramisu at the awesome Ristorate we enjoyed octopus and tagliatelle at last night ( covered in a pistachio pesto and mushroom medley, yeah!)
    But I miss the quiet and small town-ness already. It's hard for me to get used to so much none stop noise and the crowded streets. I could never live any where like this but it's nice to enjoy it for a few days.
I don't have any fresh calamari to try to recreate the calamari with tagliatelle and pistachio pesto so instead I thought I would make a gnocchi with pancetta and pistachio pesto sauce.
It turned out amazing. Once we returned from summer in Australia to our snowy mountain town this is a great recipe for a snowy winters night.
Gnocci with Pancetta and Pistachio Pesto
1 package gnocchi
1/2 cup pancetta, chopped
1/4 cup heavy cream
Pesto
1/2 cup pistachios
2 cloves garlic
1/2 cup fresh basil
1/8 cup olive oil
1/2 cup Pecorino Romano cheese
Salt to taste
Red chili flakes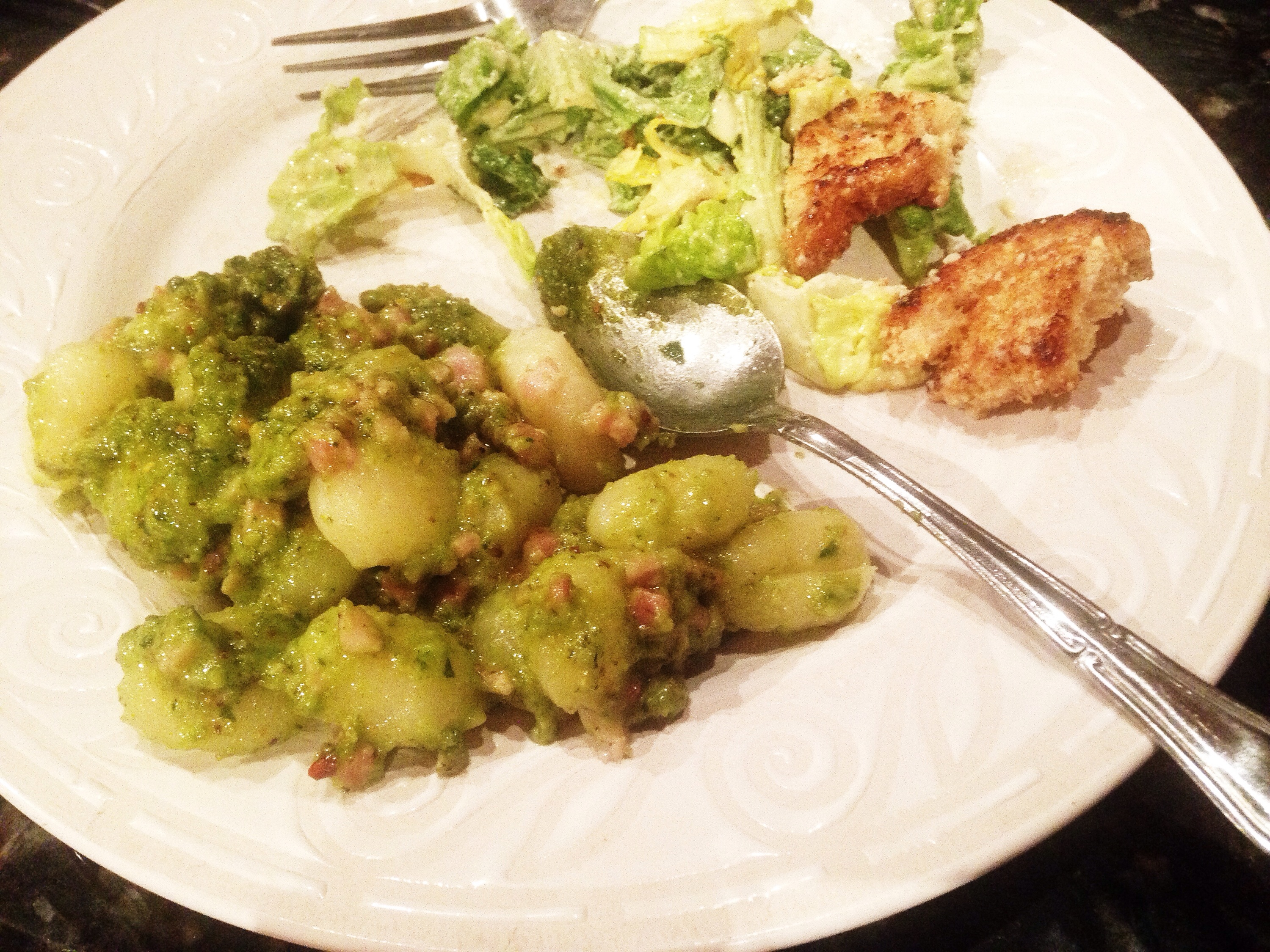 Cook the gnocchis according to the package in boiling water.
Combine the pistachios, garlic, olive oil, cheese, basil, salt and chili flakes in the food processor.
Set aside.
Cook the pancetta on a stove top until crispy. Add the cream to deglaze pan.
Drain the cooked gnocchis and add to the cream.
Mix in the pesto sauce and serve.