I don't usually act like a big shot who has a blog until you get some Chardonnay in me.
    Than all bets are off.
It was our first day of our vacation on Fitzroy Island. We had reservations for dinner at 7:30 at Zephyr, the only restaurant on the Island. ( good thing the food here was incredible… We had dinner at Zephyr every night of our stay!) we wandered from our beach front hotel down to the coral strewn beach to watch the sunset before dinner, cocktails in hand, scotch for him, Chardonnay for me. As we watched the Australian Sky turn all shades of navy blue we finished our drinks and decided we should head towards dinner. Truth be told I could use some prawns to soak up the Chardonnay.
      When we had checked in that morning some how our dinner reservation was not recorded at the right time and when we showed up at the restaurant they could not seat us right away. Which would not have been a problem but there were seriously only about seven other patrons in the entire restaurant.
    That's when drunk Amber appeared and started talking about how she had her own food blog. Luckily a table was set for us rather quickly but only after we took this picture on the pier.
     I think the wait staff was afraid if they didn't get some food in me soon I would fall in the ocean.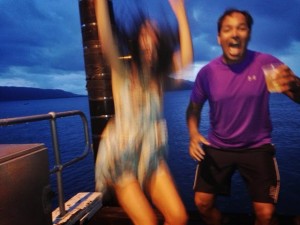 So after bragging about my blog we sat down to an absolutely delicious buffet dinner.
     The entire time we were on the island I was completely addicted to these tiger prawns scooped out of the local sea and I had a grip of those that night as well as a bunch of little potatoes I dipped in pesto sauce.
    Well, I managed to get some of the potatoes in my mouth. Maybe it was the Chardonnay but I just couldn't get the potatoes from my plate to my fork to my mouth. I must have dropped at least three or four full potatoes on the floor.
     You really can't take me anywhere. ( If Chardonnay is involved)
#fitzroyIsland
#zephyr