On days like this one where I work, I mean hike for eight hours straight, I might need a breakfast sandwich to fuel my body for the long day ahead. Sure, you could cruise through the Mcdonald's drive-through for a sodium-soaked biscuit breakfast sandwich with powdered eggs, Velvetta cheese and is that hard mealy thing a sausage patty? Or you can create your own cloud bread-like keto biscuit at home. Then layer on all those good toppings; fresh avocado, applewood smoked bacon and aged cheddar cheese. Maybe even a poached duck egg.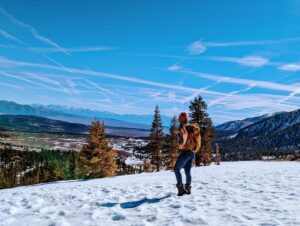 As the most sought-after hiking guide in southern California, on many winters days, I hike with my tourist guests for eight hours a day. I have to fuel my body before I hit the trail. And yes, it has to be keto. Also, I need cheese. And yes, bacon. Okay and maybe a duck egg. Did you know that duck eggs are high in Omega threes and higher in protein than chicken eggs?
Before I spend most of my day on my feet on some of the most beautiful trails in Big Bear Lake, fueling my body with a keto, gluten-free and high protein breakfast is key. When I know I have fifteen miles of trails to hike on a Saturday, I pack one of these brekkie beauties in my backpack and hit the trail fully fueled.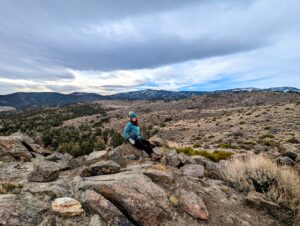 The key to creating the absolute most delicious and most keto-friendly breakfast sandwich is using good quality bacon and the most delicious sharp cheddar cheese. Secondly, you need to create one hell of a Cloud Bread. But not just any cloud bread, to make one hell of a delicious keto breakfast sandwich you want to add almond flour and just a touch of coconut flour. This will give your cloud bread a bit of a biscuit-like quality. In all the gluten-free baking I have done, I have discovered that almond flour and coconut flour combined is the magic exacta to perfect the best gluten-free flour. There is really no need to buy a twenty-dollar bag of "Gluten-free flour" from Whole Foods full of ingredients you and I can't pronounce.
Biscuit like Cloud Bread Breakfast sandwichs
2 duck eggs
6 slices sharp cheddar cheese
6 slices fancy applewood smoked bacon
Breakfast Biscuit Cloud Bread
6 cold eggs, separated
1 teaspoon cream of tarter
2 ounces cream cheese
1 teaspoon salt
1/2 teaspoon garlic powder
1/2 cup almond flour
1/4 cup coconut flour
First, preheat the oven to 300. Line baking sheets with parchment paper. Then beat the eggs with the cream of tartar until stiff peaks form. Set aside. In a clean bowl, beat the cream cheese, salt, garlic powder and egg yolks. Mix in the almond flour and coconut flour. Fold in the meringue mixture into the cream cheese. Drop spoonfuls of the mixture onto the parchment paper. Make sure you leave plenty of space between each biscuit.  Bake the keto breakfast sandwich biscuits for 15-18 minutes.
Want to make this baby even better? Use sriracha flavored bacon. You can even add avocado or goat cheese to this awesome keto breakfast sandwich! You are deep in ketosis, right? Why not throw all the cheeses on this baby!
Looking for a spicy cheesy breakfast sandwich alternative? Try this cloud bread with turkey bacon, cream cheese, a fried egg and canned Ortega chilis.