Nothing says Happy Birthday America like Gluten-Free Blueberry Muffins! Or is that apple pie? As full of patriotism as I am every day of the year, I am just not a fan of apple pie. What I absolutely can not get enough of though is these Gluten-Free Blueberry Muffins. Cookies. Wait a minute. Is it a cookie? Is it a muffin? Is it okay to even say Happy Birthday America in this day and age of 2022? If it is July 4th, 2022 one thing might be true. Your neighbors might call the sheriff if you blare Lee Greenwoods' God Bless America in your backyard while playing Trump mania cornhole with friends and family and sipping on some "merica style beers obviously. Those liberal Uncle Joe-loving neighbors of yours might roll their eyes every time they walk past your house with your MAGA 2024 flag blowing in the winds of this great country of ours. But here is the great thing about the 4th of July. We can all come together and barbeque with our friends and family, even if not all of us vote for the same candidate come November.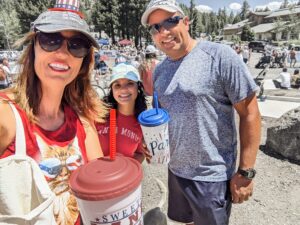 Relax folks
I mean that is if we can even afford to buy food for a great big fourth of July bash this Independence Day. I try to eat gluten-free as much as possible but that is hard in this resort town when you can't even buy wholesome ingredients like coconut flour. Just try to purchase almond flour in Big Bear Lake at a laughable price now that the cost of groceries has gone through the roof. But when life gets tough, foodies still make gluten-free goodies for friends and families (Even if some of those loved ones may have voted for Uncle Joe once upon a time)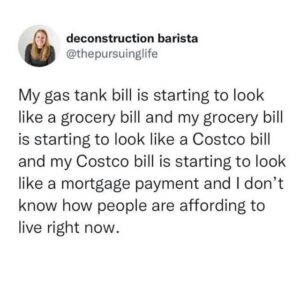 When it comes to Independence Day shenanigans here in 2022 we are all just so happy to have survived a global pandemic and be here in the land of the free to celebrate. So yes, I splurged and baked some delicious gluten-free I love "Merica cookies for our Fourth of July shenanigans.
So who needs a gluten-free cookie muffin?
On this July 4th, 2022, forget about all the stress of waiting in line for cheap gas at Costco like this is 1973. It doesn't matter what bumper sticker you have on your truck (Or your Pruis for God's sake) on July 4th, we are all Americans on this hot and humid summer's day! Perhaps we are all damn sick and tired of paying seven dollars a gallon for gas! We can all commiserate together with a big plate of these Gluten-Free Blueberry Muffin Breakfast Cookies and maybe a bloody Mary or two. On July fourth does it really matter who you voted for? We all find ourselves patriotic on this day, wearing our best red white and blue. (And maybe it is a tie-dyed shirt for those hipp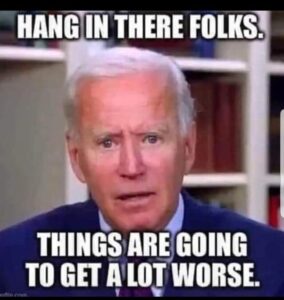 ies outback smoking weed at 10 a.m.) Be like my patriotic big ass and drown your sorrows in some Gluten-Free Blueberry Muffin Breakfast Cookies!
This fourth of July is like no other here in the good old US of A. With Roe Vs Wade being overturned CNN has friends, family and neighbors turning on each other. Do you really want to invite all your liberal friends on a tiny little speed boat to watch the fireworks over the lake when they just might bring up Build Back Better again? At this point, it's more likely Establish EBT for absolutely Every family and Enhance Biden for re-Election in 2024!
Look folks, it's the 4th of July for gosh sakes!
It's a sad state of affairs when every time I go thrift store shopping the parking lot is gridlocked like the Costco gas lines just to buy some gently used threads. I just want a few new gently used rompers for the summertime to cover my fat ass, I didn't realize I would have to practically get in a fight for a parking spot! This is Joe Biden's America folks. 
I live and work in a small ski tow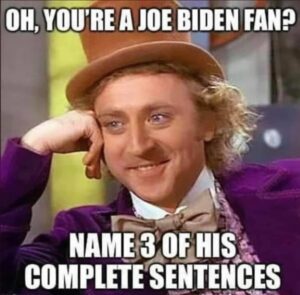 n where our local economy is tanking by the day. No one can afford to even drive from Los Angeles to our resort town when gas is almost seven dollars a gallon. Our local businesses are empty, the Airbnbs are not booked and even our local hotels are offering major discounts during what should be one of the busiest times of the year! Our tourism industry is really suffering and everyone who relies on those tourists for their income is feeling the pain at the pump and in their wallet. I've been saving all my cash tip money for the last six months to put gas in our motorhome for our upcoming annual vacation. Now, one week from the day we are leaving on our holiday, wow, is it a sad amount of cash and the sad thing is the meager two hundred dollars cash I have saved will not even fill up our motorhome tank halfway in Joe Biden's America! This is why I have to shove Gluten-Free Blueberry Muffins at my face. It helps me forget what the hell Uncle Joe is doing to this country.
Gluten-free goodness; It's what's for breakfast
We are so close to hitting the road (Highway 395 that is) to the eastern Sierras and a solid month of trekking up rugged mountain peaks, swimming in crystal-cool mountain lakes and treating my dog like she is a princess. I'm counting down the days as I mix up a batch of these muffins/cookies for our upcoming trip and throw them in the freezer. Oh yea, did I mention they freeze unbelievably well? I love to have one of these blueberry-studded breakfast cookies while out on a butt-busting morning hike above June Lake.
It doesn't matter who you voted for or if you drive a Prius or a monster truck or a thirty-four-foot motorhome; Have a great fourth of July where ever you are.
Happy bday America. Even if our president is really not sure what day it is.
Gluten-Free Blueberry Muffins Breakfast Cookies
1/2 cup Kerrygold salted butter
1/2 cup organic  white sugar
1 egg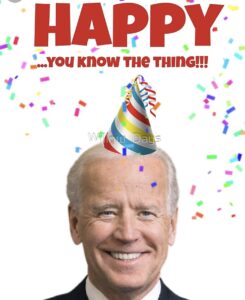 1 teaspoon vanilla
1/2 cup coconut flour
1 cup almond flour
1 tablespoon cornstarch
1/4 teaspoons baking powder
1/2 teaspoon baking soda
1/4 teaspoon salt
2 teaspoons blueberry jam
1/2 cup blueberries
Gluten-Free Blueberry Muffins Breakfast Cookie Crumble Topping
3 tablespoons salted butter, softened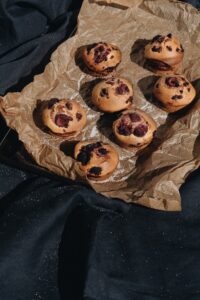 2 tablespoons brown sugar
2 tablespoons organic white sugar
1/3 cups almond flour
1/4 teaspoons salt
1/2 teaspoon cinnamon
Firstly for the muffin batter, cream the butter and sugar. Add the egg and vanilla until creamed. Mix in the dry ingredients, the almond flour, coconut flour, baking soda, baking powder, salt, and cornstarch. Stir in the blueberries gently. Pour into muffin tins, swirl in just a bit of blueberry jam. Bake at 350 for 13-15 minutes.