It's not very often that I say the words "These bugs are Alaska bad" The last time I screamed those words at a desolate wilderness was a few months ago as I ran from an angry swarm of mosquitoes straight up the hill towards Valentine Lake Trailhead. It was exhausting as I pushed my body uphill and dreamed sweet dreams about gluten-free Banana Bread, or some other summit treat.
That was just a few warm summer months ago, believe it or not, but the bugs were just unbelievable and unbearable this last summer in California, even in the tail end of the summertime! What is this the Midwest?
Welcome to mosquito hell
Every hike I did in July throughout the eastern Sierras, I felt like every time I laced up my trail runners, minutes later I would have the annoying whine of a mosquito in my ear or a black fly chomping on any bit of skin I left open to the elements. My mosquito net head dressing began to feel like a part of my wardrobe. I could not live without it as June melted into July 2019. While panting up packed dirt trails I was constantly shoving it back in my pocket, thinking the bug invasion may be over for a few miles. Then I would pull it back out seconds later when I was surrounded by mossies like Pig Pen would from the old Charlie Brown cartoons. Come August, when the bugs should be long gone, I'll admit after two miles of hiking downhill towards Crab Creek in a swarm of flies I was kind of feeling over the bugs, the net and hiking in general.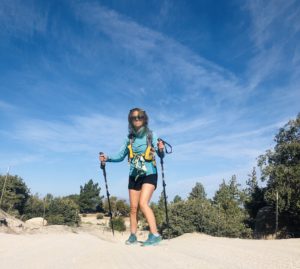 Welcome to Crab Creek; Now where is my Banana Bread?
I knew there was the best trailhead swimming hole in southern California waiting just a few miles down the trail on that eighty-two-degree morning. I just kept trekking through the forest with my new mosquito friends. A cloud of mosquitoes following me might have been the norm in Alaska or the eastern Sierras or Virginia, but I have punished my legs and my lungs with this arduous trek to Crab Creek at least twenty times over the years and never seen a bug. Rattlesnakes, yes. Oh, boy are there rattlesnakes on this hike but insects are not usually a big deal while trying to reach the best-hidden swimming hole in Southern California.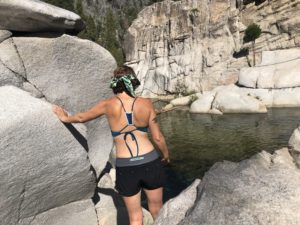 Yes, I say, the best-hidden swimming hole as it is one hell of trek off-roading down a dirt road for seven or so miles then fording a river to get to the trailhead. Once upon a time in a forest, far away my dearly beloved Subaru died in this river. As you can see, there is now a bridge here, because Amber was here. I very much enjoyed driving my Subaru over this newly built bridge and not through the river in 2019. What I really enjoyed, was not having to hike an extra two miles in the hot, hot bug-infested sunshine to get to the trailhead. PS I love hiking. And Banana Bread. Especially when it's gluten-free.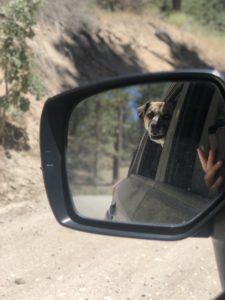 I love banana bread way more when it's gluten-free and when bugs are not swarming me as I try to inhale that banana bread.
Actually what I love is sweating enough I can order chili rellenos for dinner, Or shove a whole Banana Bread into my face without that guilt. Thank you Crab Creek for making me feel not guilty about inhaling this relatively healthy banana bread.
But back to the massive hot sweaty hike and oh yes, also those annoying bugs…Finally, after an hour and a half of sweating in the hot sun with my new bug family, I approached the headwaters of Crab Creek. And then I remembered why I put myself through this hellish hike (And not just for amazing Mexican food) This hidden swimming hole is one that only locals know and not even a lot of locals know it's here. It truly is a hidden paradise. Want to know how to get to Crab Creek Well you really need to hike with a local hiking guide. This trail is very, very difficult to find without the help of a knowledgeable local.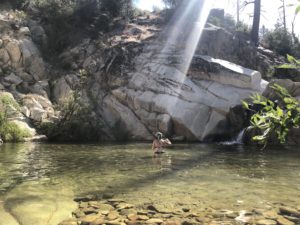 I was thrilled to finally go for a swim in the crystal clear waters of Crab Creek at last. And also because I brought homemade gluten-free Banana Bread to enjoy creekside after a swim that I so deserve in this enchanting hidden swimming hole destination.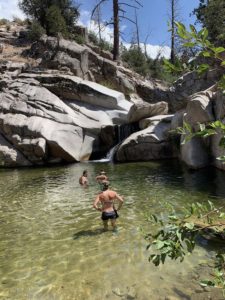 Gluten-Free Almond Banana Bread with Candied Ginger
3 ripe bananas, mashed
2 eggs
1/4 cup dates, pureed or brown sugar
2 cup almond meal
1 teaspoon baking powder

1/2 teaspoon cinnamon
1/4 cup coconut flour
pinch salt
1 teaspoon vanilla
1/2 cup coconut oil
1/2 cup walnuts
1/4 cup candied ginger, chopped
Combine the mashed banana, the eggs, coconut oil, vanilla, pureed dates or brown sugar and combine well. Mix in the almond meal, baking soda, cinnamon, coconut flour and a pinch of salt. Gently fold in the walnuts and candied ginger.
Layer the batter into a low-sided buttered baking pan.
Bake at 350 for 45-55 minutes until the top is browned.
Love this healthy recipe? Don't forget to pin it!