I've been a camper as long as I can remember.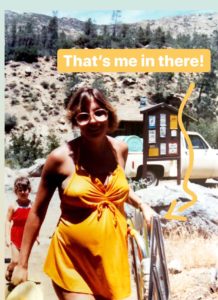 It started when I was a toddler and our family took van camping trips to the river. Yes, my parents were vanners. I've heard it was so trendy in the big hair eight-track filled eighties. My dad would pack his famous trash can punch, all his eight tracks and my very pregnant mother and join the rest of the family at the river a few hundred miles north of Los Angeles. My mom camped with me in her belly at the Kern River right before I was born in August of 1980 and I'm sure she's thrilled I'm posting this photo of her all over social media. 
When I was growing up in southern California, a very little kid living in the hot smoggy suburbs of Los Angeles, I can still remember camping trips in the big brown van to the sequoias where you could still drive through the thousand-year-old Pioneer's Cabin Tree.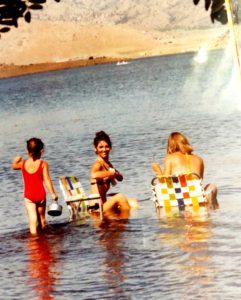 It toppled three years ago and I feel blessed that was something I got to experience on family vacations back in the day before social media, Instagram and Twitter. I think my parents have a polaroid of the van parked inside the massive sequoia somewhere.
I grew up camping not in a tent but in a camper van and the smell of campfires and well, smelly campers and showering once a week in the creek is a memory burnt into my childhood. I obviously enjoyed these childhood memories of basically living like a homeless person in a van full of expired Hostess products (Oh the eighties! Where whole stores sold expired food products to people like my dad who lived to buy cheap stuff) and my smelly hippie parents.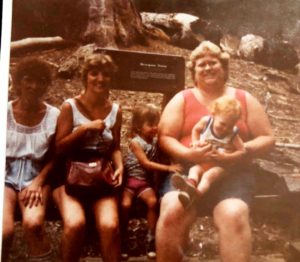 As an adult, I find any excuse I possibly can to hit the open highways of American and go camping. Obviously these childhood memories shaped my life as an adult as I've spent my whole adult life trying to get outside as much as possible.
So obviously when I learned that one of my favorite hiking buddies had never camped in all sixty-one years of her life, I said
"Donna, you really need to go camping with me."
One month later we had an awesome itinerary planned out of some of the best hikes in the eastern Sierras. My SUV was packed to the gills with a camp stove, two tents, a whole lot of beer and my famous Smoky Jalapeno Bacon Dip. I picked up my trail sister Donna from her nearby cabin (She is one of my favorite Hiker Babes I have met in the last year of hiking shenanigans) packed one stinky dog into the Subaru and this girl's road trip to the eastern Sierras was packed up and ready to drive up Highway 395.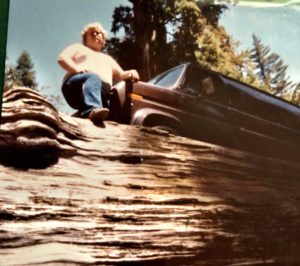 Never camped before in your life? Here are a few tips from an expert camper on how to have a great first time camping trip in any season.
So you wanna camp
Six a.m. the next early morning and first-time camper Donna was lighting the Coleman stove like a pro to start the percolator and get the morning coffee going. I crawled out of my nice warm tent and immediately realized that there had been a skunk in the area. Our campsite was very stinky. Is there any other way for a first-time camper to wake up on their first morning of camping? Donna was pouring us coffees as I took in the full glory of the early morning skunking.
"Did you hear that baby crying in the middle of the night?" She asked as I drooled over dark roast coffee soon to be coursing through my veins on this chilly mountain morning.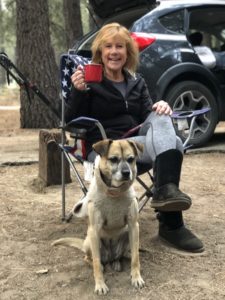 "Donna, I hate to break it to you but that was a mama bear searching for her cub all over our campground at midnight" Donna looked at me unbelievably in the smoky early morning light (She may have been clutching her bear spray) and asked me once again why I told her she shouldn't sleep with her bear spray in the tent with her.
First-time bear spray users; You have a better chance of over-spraying yourself than scaring a bear away; Especially after dark while camping. Also, you would have to be dangerously close to a bear to make it worthwhile. A far better idea is to sleep with your car keys and set off your car alarm if Yogi is trying to get into your tent at midnight. 
Our bears here in southern California are not Grizzlys. They are not exactly ferocious and if you make a loud noise, like a shrill whistle, they tend to lumber away or at least climb the nearest tree. The last thing they want is to tangle with a smelly camper. The best thing to do if approached by a bear is to yell, whistle and make yourself as big as possible. 
The best way to not get in a situation with a bear in the first place is to never, ever leave your groceries, ice chest, sunscreen, backpacks, etc out in the open at your campsite. If you turn your back on your picnic basket for a few minutes Yogi will know.
The joys of being a smelly camper
My good friend Donna is sixty-one years old and has never experienced the joys of camping. Every seasoned camper knows what I mean; Smelling like a campfire for a week and having a bear chewing on your tent at two a.m. Until yesterday, Donna had never camped out in the wilds. So we set out for the eastern Sierra mountains in the heart of southern California fire season. With the jagged peaks of Mt Whitney in between us and the ragging Creek Fire blazing through the Sierra National Forest thirty miles to the west of us, we decided to say screw it, let's not cancel our tail end of the Labor Day weekend camping trip that we have been planning for months. Let's head to the eastern Sierras anyway.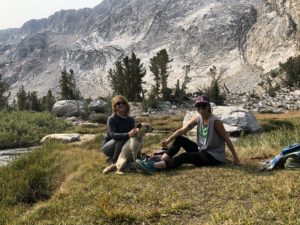 Our trip started with Donna giving me bad gas. But I'm a forgiving friend (And let's face it as a camper I have had bad gas a time or two) and I didn't let that get us down after she topped off my gas tank at the Pilot gas station along Highway 395. As my Subaru chugged its way up the Sherwin Pass with a tank of what can only be described as Mexicos finest petrol but I swear we purchased it from the Pilot Truck Stop in Kramer Junction. Our camping hijinks were only just beginning.
We decided not to drive to the top of Tioga Pass at over 10,000 feet that evening with a tank of shoddy fuel. There is no cell reception whatsoever at the top of Tioga Pass and if the crap gas had really damaged my car we would not have been able to call a tow truck.
Be aware, first-time campers, that a lot of backcountry areas will not have cell reception. 
If you are having any car issues whatsoever, choose wisely and don't drive to desolate areas with no cell reception. In the easter Sierras, I mean areas like the top of Tioga Pass, Red's Meadow and any areas near Aspendell or Lake Sabrina.
Adventures of being a smelly camper
Here's the thing with camping. Finding a campsite with a shower is hard during a normal camping trip during the times of COVID it is nearly impossible. I'm honestly fine with being a smelly camper for a few days and just rinsing off in alpine lakes but for all you campers who need to rinse the dust off every night, there are some options in the eastern Sierras.
Pine Cliff RV Resort; I was told these showers are open during COVID but because we had to cut our camping trip short, we did not have the chance to check.
Showers at Red's Meadow Resort
The Creekside Spa at the Double Eagle basically my favorite day spa in the United States.
Silver Lake Campground; They have showers. They take quarters.
Smelly sulfur dips at many of the hot springs along the 395 like Wild Willies Hot Springs.
The best option to actually get a shower while camping is to purchase an easy to use

 

camp shower.
Don't have time to go out of your way and drive to the showers at Red's Meadow? I personally have no issue being a smelly camper while out in the woodlands and washing off in rivers and alpine lakes along the way. Make sure you pack some dry shampoo if going this route; A smelly campers best friend!
Your gourmet campers kitchen
My biggest tip for a successful and none stressful camping trip is to premake and freeze as much food as you can at home in your kitchen that has everything. Pre-make burger patties, salad dressings, desserts and salsas. This will save you hours of time while camping when after a sixteen-mile hike you just want to relax at camp, have a cold beer and not make an uber complicated dinner.  Definitely know the areas you are traveling to and what they have available if you need to buy groceries. When we used to vacation to Mammoth Lakes for years and years they only had a very expensive Von's grocery store. Now in the last two years, they put in Grocery Outlet which makes grocery shopping on a budget a lot easier. A lot of small mountain towns do not have Trader Joe's, Target or Whole Foods. If you are a healthy eater like our family; Don't expect to be able to buy coconut flour, collagen or heirloom tomatoes in these mountain small towns!
Purchasing a collapsable camp sink is a great idea for an easy camp clean up after meals. I also have a collapsable five-liter water storage bag that takes up almost no space while packing the car for the camping trip but is vital to having nearby water for cleaning up your camp kitchen. Plastic wine glasses are another great camp kitchen basic for a few days in the great outdoors. I don't know how many times my excited camping dog has run full speed into a camp chair holding a wine glass and knocked the whole contraption over.
You can never have too much gas
I live in a mountain community where we always have a seasonable fire season and I know to always be prepared. One big rule of living in a fire-prone area of southern California is never to have less than a half tank of gas during the fire season. It's a good rule to remember when camping during the fire season in California.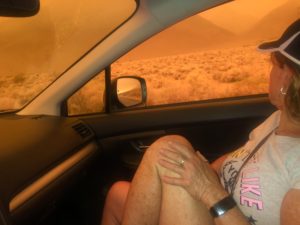 When you buy inferior gas from the Pilot in Kramer Junction you have to run that bad fuel out of your tank before refueling. And that is how Donna and I found ourselves living out every camper's worst nightmare. Our campground closed down at the last minute, a wildfire was closing in nearby and everyone in the area had to evacuate. We had no gas thanks to me trying to run the crap gas out of my tank for the welfare of my car's engine.
Don't ever have an empty tank of gas if camping in the autumn in mountain communities. A lot of mountain communities will shut off the power in the fall when it gets very windy. They do this in case of high wind gusts knocking powerlines down and so more wildfires don't start. Basically, if it starts to get windy fill up your gas tank because most gas stations along Highway 395 anyways do not have backup generators and can not pump gas if the power is shut off. If you visit the easter Sierras to camp in the fall, carry extra cash also for the same reason. If the local businesses have no power a lot of times they can only take cash, no credit cards.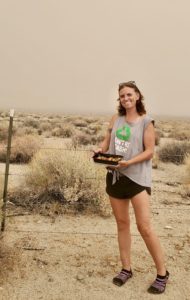 Besides running out of gas during a wildfire and having to poop in the woods (It's all in the fun of camping! Pack a shovel!) there is absolutely nothing like camping in the great outdoors. I am a lifelong camper and basically every time we get back from one camping trip, I start planning the next one. Obsessed much? I might be. 
Even when our first-time camper's trip did not go as planned and Donna and I end up driving three hundred miles up a very smoky Highway 395 just to camp one night, we still managed to make the best out of it and have an adventure. Even if you find yourself having shenanigans like us while roughing it in the great outdoors, a great first-time camper's experience comes down to building lifetime memories with friends and family. Even if those memories involve making skunk jokes for years to come!