As an outdoor adventurer, I never mind a tough hike. Before my lungs were scarred by Covid bacteria I used to actually embrace hiking seemingly straight uphill for ten miles. Here we are in the summer of 2022 and I'm definitely not the fit-in-shape hiker I was a year. Post-Covid Amber is a sad reality but I'm trying real hard to get my fat ass back in shape as we start our three weeks of adventures from Lone Pine to June Lake. It would be a hell of a lot easier though if those ass-hats on All Trails would stop lying to me. Yesterday I tried to do an easy hike to Baboon Lakes. It didn't go well. When you find an awesome-sounding hike on All Trails that only has three reviews expect the info to not be completely true. Welcome to the Baboon Lakes, I mean if you have the patience and stamina to actually find these pristine alpine lakes.
Trekking the Baboon Lakes, made me feel like an ape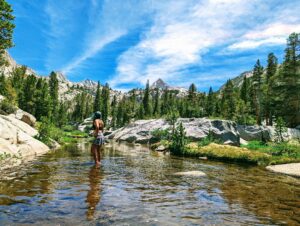 According to National geographic, Baboons are opportunistic eaters and, fond of crops. Ghee they sound just like me. This hike should be awesome, is what I thought two days ago when I made plans to trek past Blue Lake and on to Baboon Lakes. The All Trails mapping made it sound like the Baboon Lakes would be a mile past Blue Lake and quite simple to find. Now looking back, I have to think, one would have to be a stupid primate to think hiking to Baboon Lakes is a good idea. Oh boy, someone working in the zoology field or some PETA trolls are definitely going to yell at me.
Is it PC to make monkey jokes?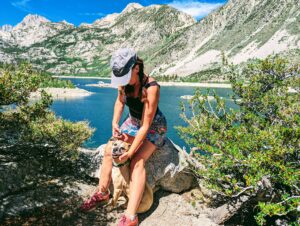 Seriously though, somebody somewhere is going to get deeply offended because I insulted a monkey. That is the world we live in today. My boyfriend said something last night about the tranny in our tow car. And I said "Babe! You can't call it that in 2022! Call it the transmition before someone goes all LBGQ? on your conservative ass. That is why I spend more time with my dog then other people.
But back to ass backwards Baboon Lakes
I started this trek up past Lake Sabrina much later than I ever like to start a hike, at eleven a.m. I can't recall the last tie I began a hike so late in the hot summertime morning. Have I mentioned that I am a big baby when it comes to heat? As much as I want to exercise, burn calories, etc I'm just not a fan of sweating. But sometimes vehicles have wardrobe malfunctions that involve a brief stop at a tire shop in hot and steamy Bishop and hikes get postponed until well after midmorning.
By the time I was lacing up my trail runners and trekking past the red Indian paintbrush, orange tiger lilies and fields of yellow dogweed on the shores of Lake Sabrina (That rhymes with a certain part of a women's anatomy, make sure you pronounce it correctly or the locals at above nine thousand feet will mock you) I was itching for a good hike. And already batting off about a million mosquitos along the trail. High above Lake Sabrina, the mosquitos were getting more and more bitey as I struggled uphill in the heat towards Blue Lake. I was expecting this as last year they were fierce until after Blue Lake and I've heard they have been out in force all over the Bishop Creek area. I had my Deet wipes and my mosquito net hat and I was very prepared. This forty percent Deet is crazy stuff; It made my fingers go numb as I applied it. Thank God I only use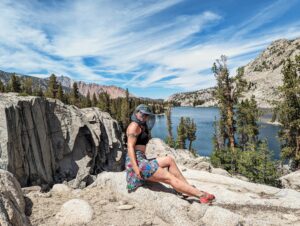 Deet a few times a year because this can not be healthy for my body. Experts say you urinate out all the Deet your body absorbs throughout the day but I still think any chemical that makes my fingers tingle can't be healthy.
Onwards and upwards towards Blue Lake as clouds, yes clouds of mosquitos buzzed in my face. That is when some friendly fishermen told me the Baboon Lakes were a honey hole for those who dream of trout! With dreams of brookies in my head, I climbed onward and upwards and upwards and upwards. I was finally past Blue Lake which drew me in with her sirens call "Swim in me on this hot, hot day" But I continued on and over boulders as big as my Suzuki tow car and over downed two-hundred-year-old bristlecone pines.
It was maybe a mile past Blue Lake when I realized those assholes on All Trails otherwise known as All Trails Hikers (ATH) lied to me. 8.7 miles my fat ass. I hiked for five and a half miles uphill and followed mul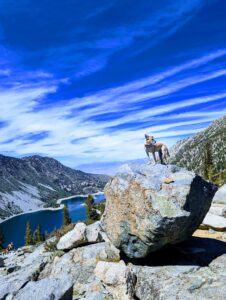 tiple cairns past trails that looked like they followed animal trails and were dead ends. I went up and over ridiculous boulders and downed trees through crazy gorgeous green meadows full of purple and pink columbines, yellow wallflowers and wild lupines and never found the Baboon Lakes.
At one point I just gave up and did the smart thing. I decided to turn around before I hurt myself and go swim in a creek. But when I did give up in frustration on top of a rocky mountain I could see where the Baboon Lakes would be just above me about another two miles of trail scrambling up there. If I had started this hike at six a.m. and I wasn't beyond hot and sweaty maybe I would have seen if there was a better trail to follow up to the Baboon Lakes but it was almost two p.m. at this point and I was over it and ready to take a creek bath with five hundred mosquitos.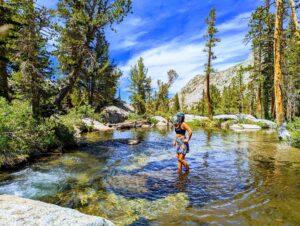 I stripped down to my hiking skirt, head net and sports bra and dunked myself in every creek and pond on the way back. I had wiped Deet all over myself and I never felt a mosquito land on me so I thought I had no bites and I had outsmarted all those mosquitos until the next day when I was wretchedly sunburnt and while putting aloe on my back, my boyfriend's daughter told me my back was completely covered in mosquito welts. This is after I spent three days in the eastern Sierras and trekked thirty-one miles of alpine trails, bragging that mosquitos don't bite me because I take Vitamin B supplements.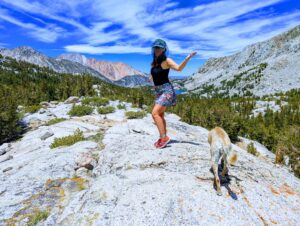 So like a very confused wilderness monkey, I never made it to the scenic Baboon Lakes but do you want to read a good book about primates? T.C. Boyles's newest book Talk To Me was so good and perfect reading around the campsite material for after you trek to your favorite alpine lakes.