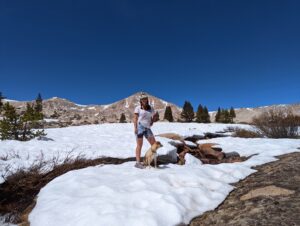 Why do I summit mountain passes? So I can consume heaping plates of fried rice of course! Except that I am consumed with being a faithful fitness fanatic and also this keto lifestyle we choose to live. So what is the keto-krazed outdoor adventurer to do? Or what on earth should she cook up for dinner after a butt-busting fifteen-mile trek? I'm sure you have heard of cauliflower fried rice, I mean everyone has. Have you ever tried Kimchi Cauliflower Rice? If not, you are so missing out on this kimchi keto concoction.
Have a great gut!
Did you know that kimchi is packed with nutrients and is also low-calorie? The way the veggies in kimchi are fermented means that it is just chock full of great for your belly and digestion probiotics.  Consuming some spicy Kimchee Cauliflower Rice can improve the balance of bacteria in your gut and doesn't that sound great? In this day and age, who does not want a happy gut? Probiotics and foods that are fermented are also full of anti-inflammatories. These days my shoulder is majorly jacked up. I've got all kinds of inflammation in m bursa sack. When your sack is inflamed that is bad news. I had to drive straight to the Asian market in the city last time I made it to Los Angeles and stock up on my favorite radish kimchi.
Lots of groceries stores carry kimchi but if you shop at Asian markets you can find more unique flavored kimchis like radish or eggplant.
Try making your own kimchi at home with homegrown organic veggies from your garden this summertime.
So much immune system strength starts in your gut and a diet rich in fermented foods like kimchi can rocket your immune health skywards. This can help your all-over immune system work properly, and who doesn't want that during a global pandemic? Kimchi can also help lower cholesterol and overall heart health. It helps reduce yeast infections and the beta carotene in Kimchi can help your eyes. What can kimchi not do for you?
What are you waiting for? Stock up on this radish kimchee superfood?
As I was trekking up mountains and beneath a canopy of two thusand-year-old fir trees in the Golden Trout Wilderness last week, I had kimchi recipes on my mind. I was also thinking about how I honestly don't understand why Yosemite National Park is such a huge tourist draw for California when it's so close to the rugged and frankly generally, ignored by tourists, wilderness of the eastern Sierras. I just came back from three days of trekking to hidden high-altitude lakes at over 10,000 feet. I spent my days relaxing by a lake I had just challenged myself to hike to, all twelve miles in the hot May sunshine, watching bald eagles fishing and listening to the sounds of the              red-wi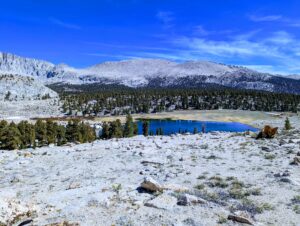 nged blackbird in the limber pines that dot this forest. It was blissful mountain solitude at its finest. It was the very early season for tourism, some of the mountain passes in the eastern Sierras were still snowed in and not even open to car traffic yet. So tourism was lighter than usual but man did I have an exquisite getaway full of zen, marmots and yes even big horned sheep in our mountains that sit so close to southern California.
Every time I drive south from Lone Pine, California after my mountain adventures I start to count down the days until I can return to the eastern Sierras (Just forty-five days and I will be back in these rugged mountains among the best of Californias mother nature once again!) If you are traveling through the eastern Sierra and searching for keto or gluten-free options there are not a lot of choices. That is exactly why I prep all my camp food ahead of time. This keto version of traditional fried rice is actually a very easy choice for a quick camp meal after a long day trekking up mountains.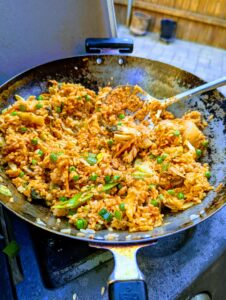 Now that it is mid-summer this is camping season at its height. As a lifelong camper and hiker, I'm always looking for an easy go-to keto dinner for after I return to camp after a butt-busting hike. This fermented red chili and soy cauliflower rice is the answer to my hungry keto question. When it comes to Asian foods there are so many delicious options for healthy noodle bowls packed with veggies and bento box lunches studded with heart-healthy Omega three rich salmon. But what if you are living the keto lifestyle and trying to keep your carb intake as low as possible? Are there healthy Asian dinners you can cook that don't involve chicken thighs coated in potato starch? Yup, there sure are and this one is an easy and healthy camp meal as well.
Kimchi Cauliflower Rice with Gochujang Sauce

1 bag frozen cauliflower rice, defrosted
1 cup kimchee with 2 tablespoons kimchi sauce. I prefer radish kimchi.
1 teaspoon minced garlic
1 teaspoon minced ginger
2 green onions, chopped fine
4 eggs, scrambled 1/4 cup pork belly, chopped
3 teaspoon soy sauce
1 teaspoon ground white pepper
2 teaspoons gochujang sauce
1 teaspoon sesame oil
Put the pork belly in the broiler and cook until crispy. Set aside. Add the pork fat to a wok and stir fry the cauliflower rice in it. Add the ginger and garlic just until cooked. Add the radish kimchi, along with the kimchi sauce.
At the same time, scramble the eggs in the sesame oil along with the white pepper. Add soy sauce and the gochujang sauce to your Kimchi Cauliflower Rice. Garnish the Kimchi Cauliflower Rice with the scrambled egg, green onions and the pork belly crumbles.