The Rim Trail in Mammoth Lakes should come with a warning for all you like me who love eastern Sierras outdoor adventures. Not a smiley face, emoji, yes come hike me, according to google maps. The Rim Trail was not a fun hike for me when I was stressed I would get hurt the whole time hiking down from the jagged granite rocks. I love eastern Sierras outdoor adventures as much as any crazy hiking guide but not when I'm worried I will break something. I'm too old for this shit.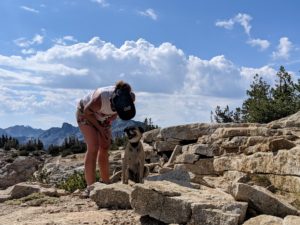 I just got back from a month of hikes and eastern Sierras outdoor adventures all over Mammoth Lakes and south Lake Tahoe and I did multiple different treks up near the Mammoth Crest. My Rim Trail adventure was just one of my many eastern Sierra outdoor adventures. It was a gorgeous day for a hike and starting at sunrise made for some epic cloudy photo ops but man did this trek get rough and dangerous once I tried to traverse down the Rim Trail.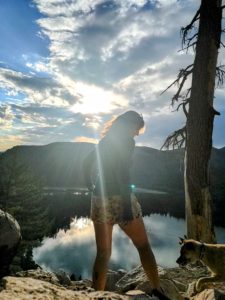 The most dangerous trek I've done in Mammoth
The Rim Trail had to be one the sketchiest treks I've ever done. No wonder there is no info whatsoever on this Mammoth Lakes trail! The Rim Trail actually shows up on Google maps so I figured it was probably pretty heavily traversed. Yeah. Right. Maybe by deer and coyote but I don't see anyone crazy as me hiking this trail anytime recently. I guess my first clue should have been that this trail, while it showed up on Google maps did not show up on the All Trails app. I'm sure because All Trails Hikers with their brand new hiking boots and never before worn Osprey backpacks would just fall straight down this last stretch of sketch trail, landing straight in crowded piss-filled Mcleod Lake
That sunrise though…
I didn't actually wake up on the wrong side of the bed when I arose from my nice warm bed in our 34 foot Fleetwood motorhome to start this sunrise hike. Yes, it was 4 a.m. and dark. Yes, there was a lot of coffee involved as the pup and I drove in the dark to the trailhead at Lake George. When we woke up in the dark it was raining but the clouds were just parting as we approached scenic Lake George ready for another one of our eastern Sierras adventures. The pup and I had an epic morning on our trek up to the Mammoth Crest even if we barely survived the journey back down from the crest along the Rim Trail.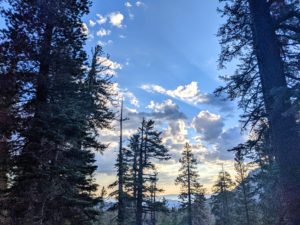 Why is the Rim Trail a nightmare?
The hike up to Mammoth Crest started out fantastic as it always does. Over the month I spent in Mammoth Lakes, I hiked up the Mammoth Crest at least five times but this day trekking up during a partly cloudy sunrise the views were just epic. Yes, I took a ridiculous amount of photos. Once the pup and I made it to the top we trekked towards Deer Lakes. Once you make it to the top of the Crest the trek towards Deer Lakes is one of the most scenic in all of Mammoth Lakes. The trail gets a lot easier and the views are out of this world. We ran into a few trail runners at the top and I ached to join them but my back hat has been aching for the entire month we have been on vacation told me that would be a bad idea. So instead I took photos of my dog in a meadow.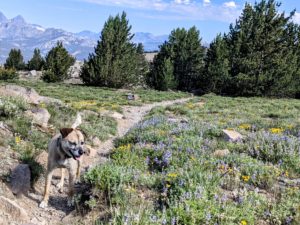 We explored about for a few miles on the top of the Mammoth Crest then slowly made our way back towards the Rim Trail. The rocky views of McLeod Lake and Horseshoe Lake from the top of the Rim Trail were just epic. I took many snaps of my dog then figured we would just skip down the easy section, a few miles of Rim Trail down to McLeod Lake. Ha. Our eastern Sierras adventures were just beginning.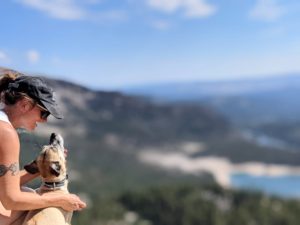 The Rim Trail basically drops you over 2,000 feet in altitude in one terrifying mile. It's nothing but a sandy descent straight downhill.  You can try to hike it at a normal pace but I had to basically run or freefall down this high Sierra mountain. I will never do this again.
I had to stop every quarter mile and dump buckets of sand out of my running shoes which also slowed me down. My pup is basically a mountain goat and she had a great time. Carly gives this hike five stars. (And three poops) But back to me, the two-legged outdoor adventure guide; I also lost the trail and followed animal tra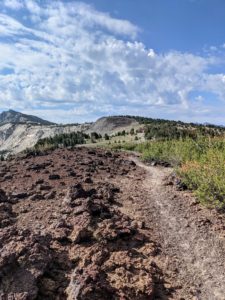 ils multiple times. Thank you Jesus for Google maps which allowed me to backtrack back to the hellish Rim Trail. By the time I finally approached crowded McLeod Lake with all the day-trippers and All Trails Hikers carrying kayaks the half-mile hike up to this scenic alpine lake I was over my day in the great outdoors. I needed a beer. Oh wait, it was barely noon.
Nope
Two days after I survived my free fall down the sand of the Rim Trail I trekked back to the summit of Mammoth Crest with two of my favorite Hiker Babes by my side. We ran into some random dude who was checking out the Rim Trail section and I warned him it was beyond sketch. I could tell he totally did not believe me. Yeah, he was from El Monte. His idea of hiking is probably near Carbon Canyon.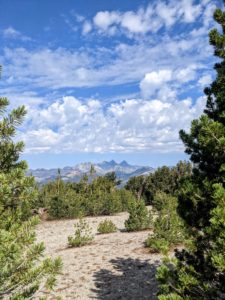 The Rim Trail Report
Holy shit don't hike down this beast of a trail
Bring bandaids
Bring hiking poles
Bring a helmet
I'm not joking