If it's March in southern California, you can probably find the Hungry Mountaineer sweating her way up a mountainside in a few feet of snow and probably shoveling keto-friendly cheese crackers in her mouth. After a two hour snowshoe up a mountainside where I just burned nearly 1,500 calories, you can bet your ass I'm going to inhale a delicious snack on a mountain peak. And if it's the year 2020, most likely it will be a delicious cheese filled, low carb keto snack.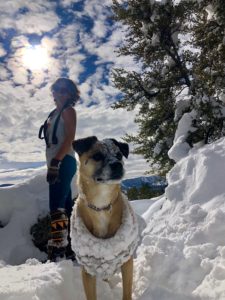 In our rural mountain town, winter began Thanksgiving weekend with two to four feet of fresh powdery snow depending on where you decided to snowshoe in the Big Bear Valley. The pup and I spent days and days snowshoeing all over the neighborhood and that left us starving for keto treats like a Jalapeno Cheese Chaffle by the time we ventured back home.
Almond Flour; Welcome to my Life
If there is one keto-friendly food I fell head over heels in love with in 2019, it was almond flour. Before almond flour, I had no idea one could bake keto and gluten-free cakes, cookies and Meyer lemon Zucchini Bread without white or wheat processed flours! One thing that changed with my diet in 2019 was that I threw away the wheat flour and really replaced it with almond flours and sometimes even made my own cashew flour.  I found the best gluten-free almond butter brownies recipe this last year not to mention my amazing keto-friendly spicy cheese crackers.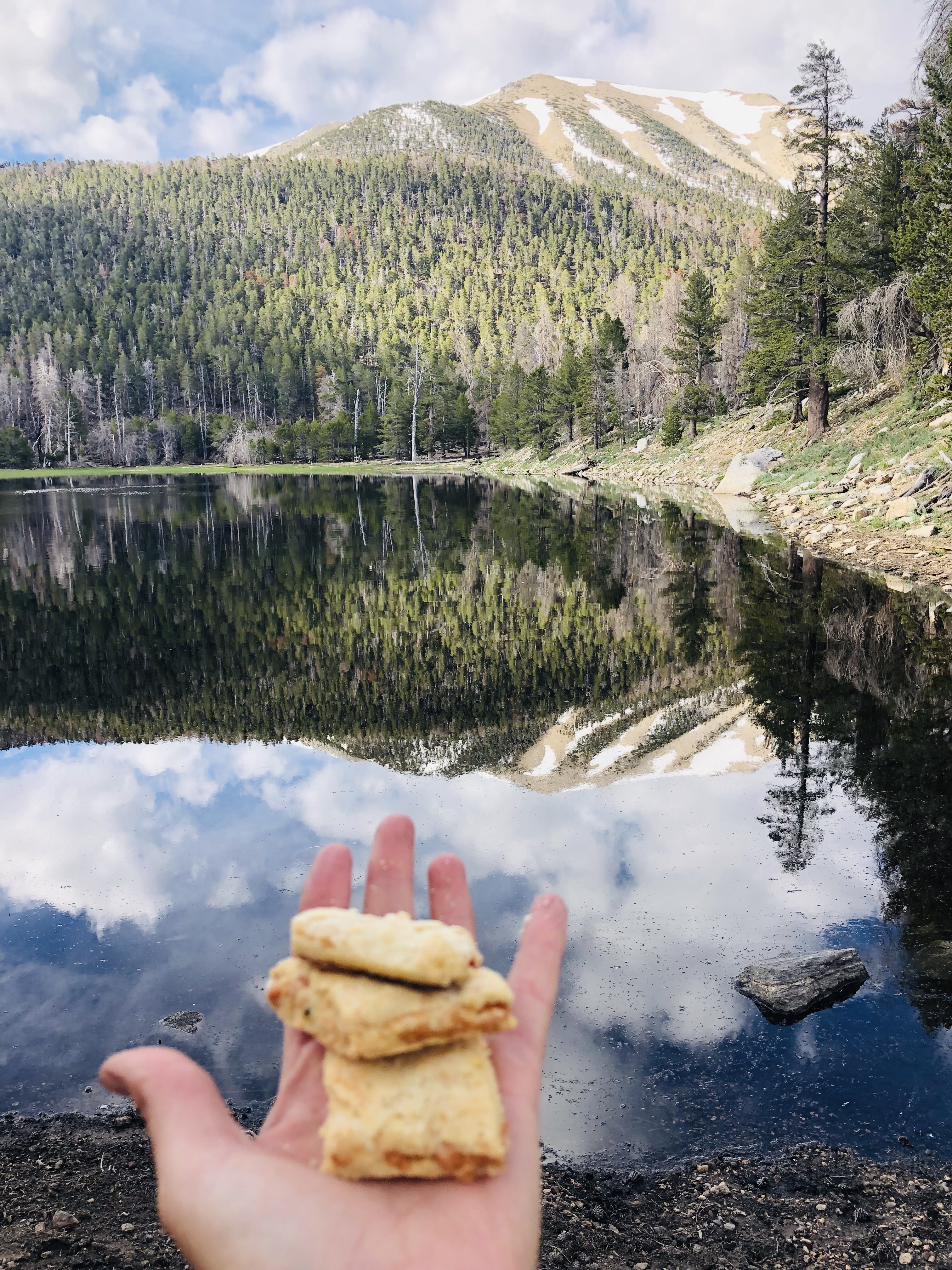 What else can you do with almond flour? Well I'm sure you have heard of the delicious chaffle cheese waffle by this point in 2020. Chaffles became our snack of choice in our mountain home this last year. I love that you can whisk up the dough up to a week ahead of time and leave it in your fridge, and even if you save a baked chaffle in the fridge, it still tastes great heated up a day later. Chaffles are even great as a trail snack, when you don't heat them up!
We eat spicy delicious treats like jalapeno poppers in our household most every day. So that means heading to India for ten days has us upping our spice content and getting ready for some seriously spicy food. We are trying to train our palettes and our stomachs, here comes curry! Chaffles are just awesome to pack and take on any hike!
My homemade Bacon Wrapped BBQ Glazed Jalapeno Poppers are unbelievable and most people can only eat one or two. Friendships have forged over these spicy BBQ glazed poppers. In the days before we flew to the spice capital of the world, we were on the keto craze, so looking for a sugar-free and BBQ sauce free popper. Aw, hell, let's just throw the entire mess of Jalapeno popper nonsense into the waffle maker, I thought. And the Jalapeno popper chaffles was born.
I did, however, almost blow up the kitchen one time attempting to make this awesome Cashew Bread but that is a story for another blog (I mean, once I'm done cleaning up cashew bread batter off the ceiling) Cashew Bread with a shmear of Kerry Gold Irish Butter is a fantastic trailside treat.
The Best Keto Cold Cut Wrap
Your favorite cold cut mixture

sharp cheddar cheese sliced
a few peppercines
Trader Joe's blue cheese mustard
Layer the blue cheese mustard on the cold cut layer. Put a row of cheddar cheese and peppercines in the middle then roll the Cold Cut Wraps up. Wrap tightly in plastic wrap.
The best store-bought keto snacks for trekking trails
There are so many great, tasty keto snacks to throw in your backpack in 2020. Love beef or turkey jerky? I love the Vermont brand of Turkey Jerky, especially the honey mustard flavor.  Costco also sells a fantastic version of a teriyaki turkey jerky (Okay, okay, it is teriyaki flavor so does have a slight amount of sugar)
Besides every random jerky, we can find at Costco, we love to pack baggies of mixed nuts for our hikes. Obviously almonds,
macadamia, pecans and Brazil nuts are the best low carb options (And I wish so hard there was a keto mixture of just these) We buy the salted mixed nuts from Costco and eat handfuls of this mixture every week. Marcona almonds are another delicious keto snack that you can buy at all kinds of different grocery stores. I love the rosemary sea salt ones.
Costco also sells this fantastic keto snack mix, full of high protein cheese balls, pecans, almonds, macadamias and pepitas. This is a great, easy pre-made keto snack, low carb and delicious.
What is your favorite keto treat for powering your long-distance hikes in 2020? Keto is such a great lifestyle for hikers, runners and snowshoers. If you are anything like us, you might be on this keto craze as 2019 merges into 2020. See you on the trails! I'll bring the snacks!
Love this healthy blog? don't forget to pin it to share with friends and family, and happy New Year from the Hungry Mountaineer!