Let me make one thing clear. I hike up mountains so I can eat brownies. And also because I love nature and mountains and okay maybe this little ding dong.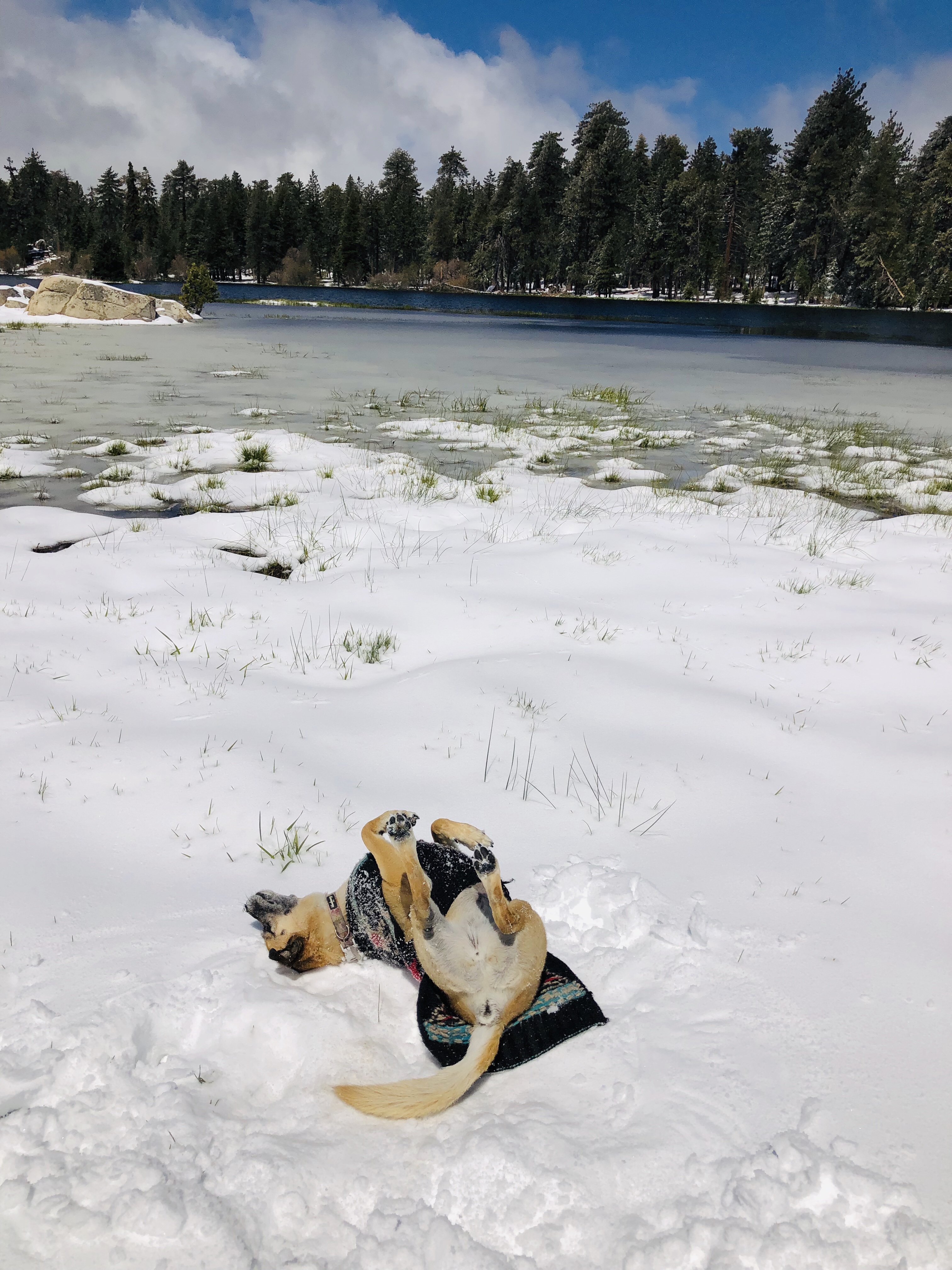 When you live in a sunny southern California resort town snow days are few and far between. I don't think I'm the only Big Bear, California resident who took full advantage of this snow day by doing all the things…
Walking the old dog around the neighborhood block on our snowy streets before they were plowed.
Taking a snowy walk through Baldwin Lake.
Walking up the neighborhood trail to a good viewpoint with the pup.
Hiking to the overlook over Baldwin Lake.
When I was an eighties kid growing up in a ski town at 6,000 feet a snowstorm meant three feet of snow, both snowblowers were probably broken again, and my brother and I were in charge of shoveling both driveways. So that usually meant I would shovel both driveways while my brother had an ADD inspired temper tantrum. No wonder I have had back problems since I was twenty-five when I have been shoveling snow since I was a twelve-year-old kid in hand me down eighties snow pants!
I wouldn't trade my snowy small-town mountain childhood for anything on earth because being out there shoveling the driveway on bluebird mornings wasn't a chore; It was a quiet morning enjoying the snow in our forest home and taking breaks to throw snowballs for my cat to attempt to "fetch" What kid these days has that kind of childhood? I mean aside from the sweatshop-like child labor. (Perfectly normal in the eighties)
After a morning of shoveling snow, hiking six miles with multiple pups and shoveling more snow, you can be damn sure I deserve some almond butter brownies. Almond butter, high in protein powers my body to shovel faster, right?
People ask me why I hike these crazy trails and I have two answers for you; chocolate and cheese. Cheese could possibly be one of my favorite food groups. If I'm going to eat chocolate you better believe it's going to be high-quality chocolate like these sensational Gluten-Free Almond Butter Brownies. I love adding almond butter to everything and they are the star of the show in these awesome flour free brownies. Who knew you could make a delicious brownie with almond meal?
I seriously love almond butter with a passion and it is so delicious in this kind of somewhat healthy brownies.
Gluten-Free Almond Butter Brownies
4 squares ( 4 ounces) dark chocolate pieces
1/4 cup coconut oil
1/3 cup sugar
1 teaspoon vanilla
1/4 cup almond butter
1 egg
1/2 teaspoon salt
1/2 cup almond flour
Melt the coconut oil in a pan and add the dark chocolate. Add the sugar and turn off the heat. Add vanilla, salt and the almond butter. Put the pan in the freezer for ten minutes. Add the egg and the almond flour. Bake at 325 for 28-36 minutes.
Love this post? Don't forget to pin it!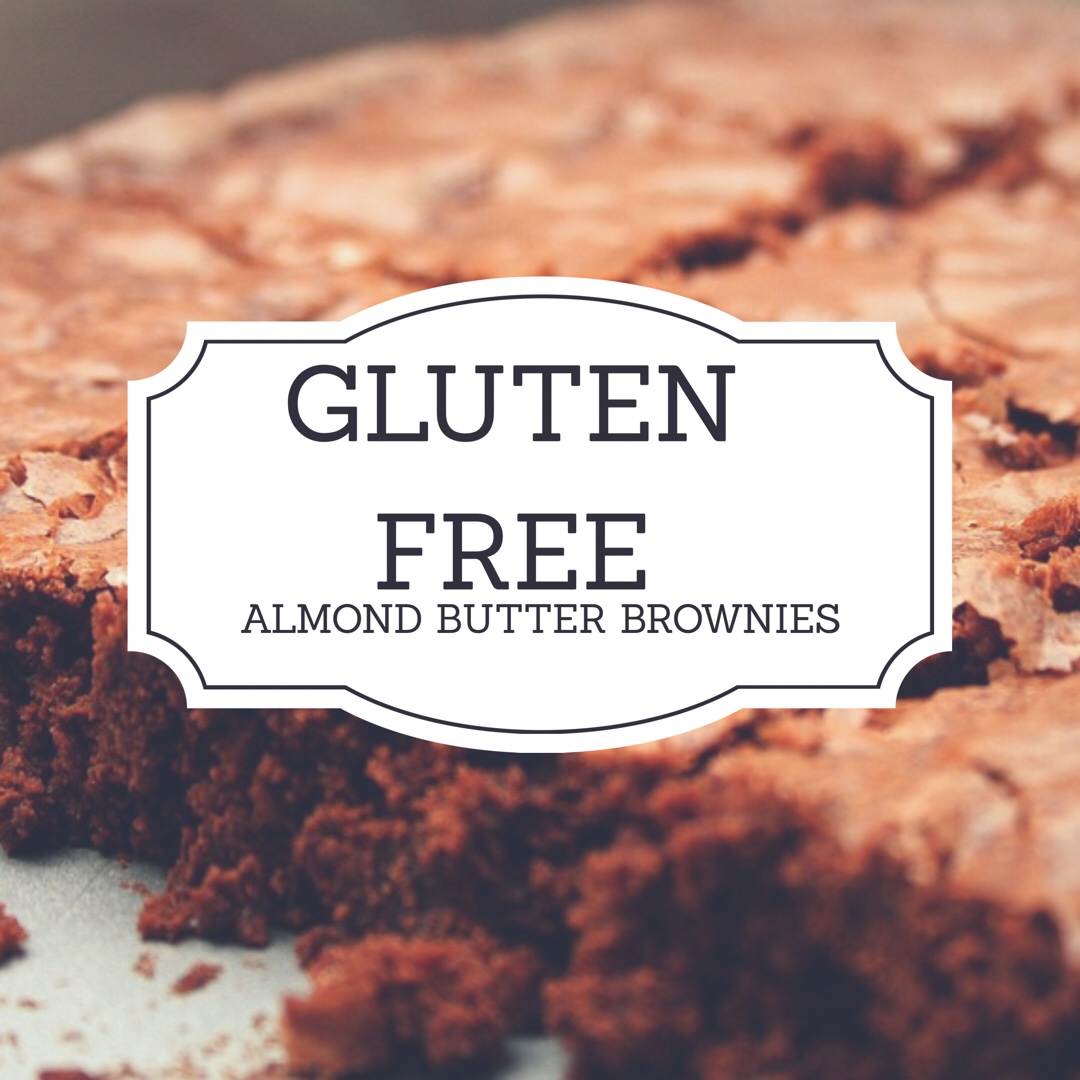 This week I am linking up once again with the following food, health and DIY blog link-ups.

http://www.makeaheadmealsforbusymoms.com
http://darlingdownsdiaries.com/good-morning-mondays-149/
http://www.marathonsandmotivation.com/chocolate-strawberry-superfood-parfait/
https://www.backtomysouthernroots.com/foodie-friday-link-party-12/
http://www.misssippipiddlin.com/
http://apriljharris.com/category/hearth-and-soul-link-party/
https://lifewithlorelai.com/category/home-matters-party/
http://www.sewhistorically.com/category/link-parties/sew-it-cook-it-craft-it/
http://confessionsofamotherrunner.com/2018/01/15/vegetable-enchilada-lasagna-meatless-monday/