The first thing I noticed when I walked into the massive ranch house was Seattle Slew's blankly.
Yes, I mean Triple Crown winner Seattle Slew. Draped over a couch ( what kind of couch? I have no idea; I was mesmerized by the most price list piece of thoroughbred horse racing history I have ever seen in my life) the old blue blanket was embedded with the info from the 1978 Hollywood Gold Cup. Absolutely amazing to think this was worn by a champion, a horse who was the picture of greatness.
This was just the first few minutes of our visit to Bonnie Acres Ranch.
And I was already impressed.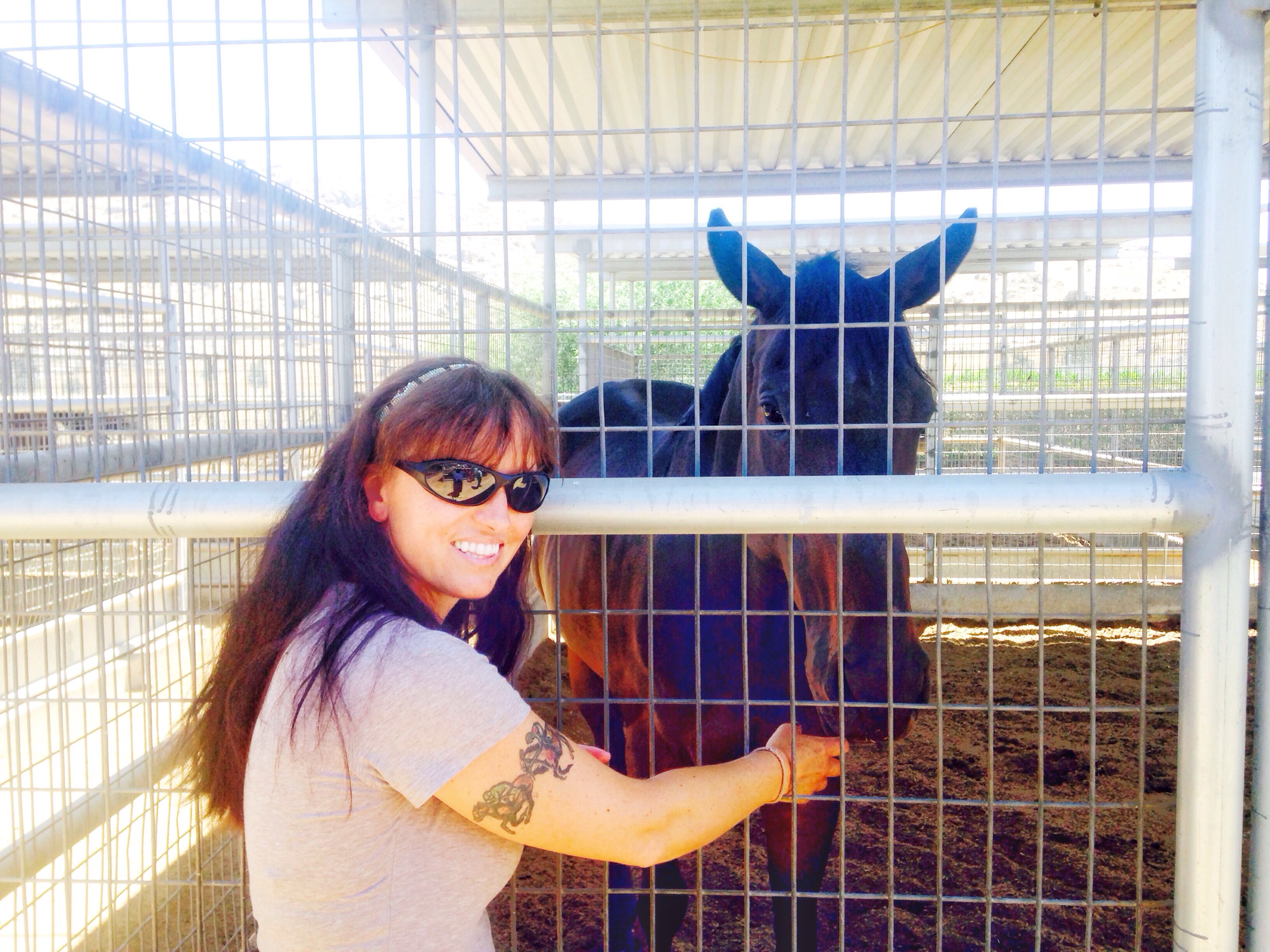 That was before I got to meet Comma to the Top, an old retired gelding who I watched race at Santa Anita Race Track and Hollywood Park for years. Comma to the Top is so beloved by his owners, they have spent hundreds of thousands of dollars to put thirteen screws and plates in this old geldings legs to keep him going! That is virtually unheard of for a male horse who is nuetered (Known as the ultimate equipment change) and is not worth money for breeding rights. It makes me really respect Peter Miller his trainer.
We had traveled from the time time share we were vacationing at in nearby Palm Springs to beautifully hot Hemet California home of farms and they have a Sizzler Restaurant now! (Seriously, in this farm town, the brand new fancy Sizzler is big news) to take a back stage tour of our Big Bear neighbor's working ranch. I am the biggest horse racing fan ever and it was so much fun for me to explore Bonnie Acres Ranch, a Thoroughbred rehabilitation center. It was even more of a treat to meet race horse trainer Jerry Fanning, as he just happened to be out at the ranch hanging out that day. (I actually did not know who I was talking to at the time, as he was telling me about the horse he ran in the Kentucky Derby in 1983 and I actually had to google him after we left and than realized just who I had been in conversation with for the last hour)
We had a fantastic time checking out the baby horses, the weanlings, grazing with their mothers the broodmares, in the pastures. It was the most fun I had ever had in Hemet, ever.
And we didn't even go to The Sizzler!