I grew up shoving Mexican Cesar with cilantro salad dressing in my face at El Torrito. I was not the kind of kid that liked cupcakes or candy bars. Give me a good salad and I was a happy camper. Of course, that was before a worldwide pandemic when our family would get fancy and drive to the nearest chain of El Torrito for the weekend brunch. Driving an hour to the nearest El Torrito was usually a way to celebrate family birthdays. And yes, even though I'm a born and raised Californian, our family loved the bland California cuisine restaurant chain, El Torrito. I may be born and raised in California but I grew up eating Mexican food that was way more California cuisine than Oaxacan.
Do you remember all you could eat brunch? Just one more thing we will tell our grandkids about, like driving a stick shift or blowing out candles on a birthday cake. Whenever our family left our mountain top home to drive to the city and all you can eat fajitas at this southern California Mexican food chain, I always loaded my plate with a big pile of Mexican Cesar salad with creamy cilantro salad dressing. Sure you can buy this cilantro salad dressing now bottled at every grocery store in California. It just does not taste even as fresh. I have been trying for the last five years to come up with a cilantro salad dressing as good or better as what they doused their romaine salad with at El Torrito. I came up with this delicious Spicy Cesar Cilantro Salad a few years ago. It's a delicious salad, don't get me wrong but not as creamy and rich in flavors as the cilantro salad dressing I was hoping to create.
Maybe it's because I grew up thinking El Torrito was good quality Mexican food but as an adult, I am pretty darn picky about what I consider a good Mexican restaurant. Here in southern California, you would think finding good Mexican food would be as easy as making a great cilantro salad dressing but it's harder than you would think. Good Mexican restaurants likeXecora Gastronomia Urbana are a diamond in the rough (And if you go there you have got to try the whole Xecora grilled shrimp. Last time I ordered two orders just for myself they were so crispy and delicious)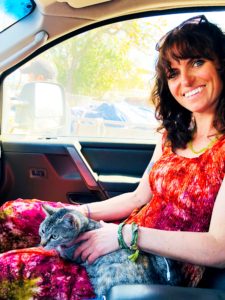 Fifteen years ago I was on holiday with friends in Salt Lake City Utah. In between trying so desperately to teach me to snowboard we visited one of the best Mexican restaurants, with lines out the door, I had ever been to in my life. Ten years later there is a Cafe Rio in nearly every town in southern California. These guys know how to make a great creamy cilantro salad dressing (But mine is still better.) If you visit any of their fine establishments I recommend getting the salad with barbacoa. Cafe Rio also has the best barbacoa I have ever tasted in my life.
I personally can not wait until this pandemic is behind us so I can go to Javier's in Newport Beach and shove a plate of lobster enchiladas in my face. I have inhaled some delicious Mexican food all over Baja California and nothing compares to the delicious seafood enchiladas Javiers has to offer. I hardly ever make it from my mountain home to the beach cities but when I do, straight to Javier's I go to order a tamarind margarita and the best fresh seafood enchiladas on earth.
Are you an authentic Mexican foodie like I am? After many trials and tribulations, this is the best homemade cilantro salad dressing to be found. It's awesome, healthy and keto with this fresh avocado (Or guacamole) and ground beef taco meat. 
Taco Salad with Creamy Jalapeno Cilantro Salad Dressing
Creamy Jalapeno Cilantro Dressing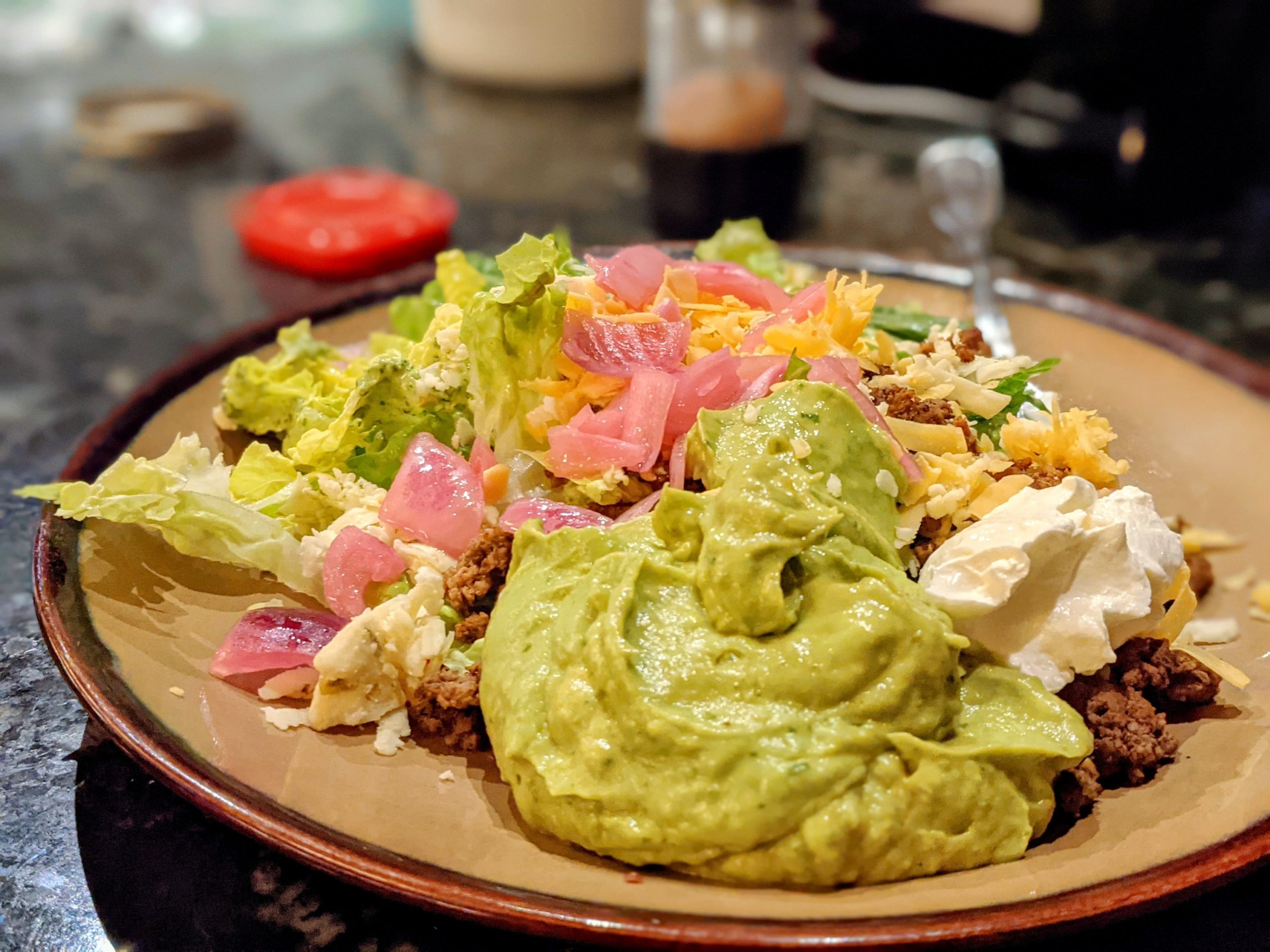 1/2 a jalapeno, roasted and deseeded, membranes removed
1 cup fresh cilantro
1/4 cup Greek yogurt
2 tablespoons mayo
1 teaspoon honey or agave
2 teaspoons lime juice
2 teaspoons chopped red onion
1/2 teaspoon salt
Combine all these ingredients in a blender to make the creamy cilantro salad dressing. Save the dressing in a mason jar in the fridge. I like to make extra to have during the week. I recommend using just half of a deseeded jalapeno pepper.
Keto-friendly taco salad
1 pound ground beef
1 teaspoon taco seasoning
1 head chopped romaine
1/2 cup shredded sharp cheddar cheese
2 ripe avocados (Or guacamole)
Pickled Red Onions
Cook the ground beef on the stovetop. Add in the taco seasoning. Layer the romaine lettuce. Top with the creamy cilantro salad dressing. Top with the ground beef, cheese, avocado pieces and pickled red onions. Your new favorite keto salad is served!