Happy holidays from the Hungry Mountaineer! It's thirty degrees outside our mountain town at almost seven thousand feet. The winds are gusting, the sky is a steel grey and there is a storm brewing on the horizon. Feet of snow are expected but not for our family, as we are leaving on a jet plane for a much warmer climate. Which means we had our Christmas celebration last night; Yes, that means steak, lobster and quite a few random Donald Trump gifts. If one thing says happy holidays 2019, it's definitely giving your loved ones a Donald Trump ugly sweater.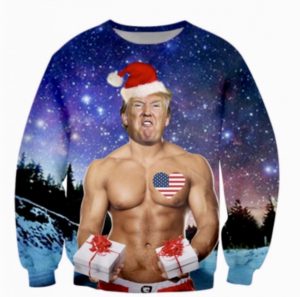 My iPhone tried to change ugly to unhygienic which basically explains this festive holiday sweater. If you don't feel dirty and want a shower after looking at the sweater, there might be something wrong with you. This could also be why I'm no longer invited to Christmas parties.
In the last few weeks since our mountain town received three feet of snow in a freak Thanksgiving storm, we have been preparing to depart the good 'old USA for Bangalore India, a country where no one appreciates our MAGA hats.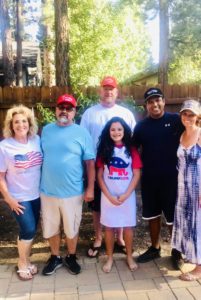 Some of us have been packing, some of us have been booking hotels and some of us have been building potus snowmen. Nothing says make America great again like this patriotic snowman!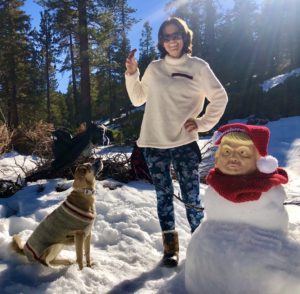 In between researching VROB's and Home Away's far, far away from our alpine hamlet, I did have a bit of time to build this patriotic snowman and then persuade my dog into taking a photo with Frosty the forty-fifth president of the United States.. If it's the third week in December I hope you are making time to build a snowman, do some caroling or just wear ugly sweaters with friends while drinking mulled wine or Baileys and coffee. If you are still looking to Christmas shop, even if you think Donald Trump is a ho-ho-horrible president, you may find these gifts for friends and family hilarious.
The Bobble Donald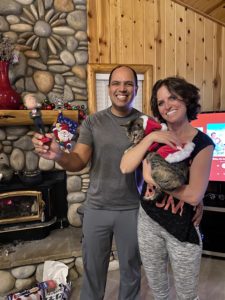 Perfect for that loved ones desktop. You can order this on Amazon faster then one can say government shutdown.
Have a holly jolly post it potus Christmas
Is your grocery list Sad! Terrific! Classy! Let these awesome post-its let you decide! They can make any grocery list just a little more patriotic.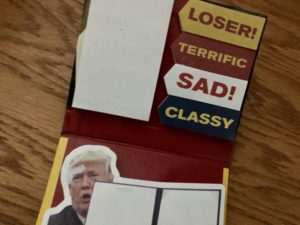 Santa baby, I need some furry socks
What can you really say about these amazing socks that showcase The Donald's mane of luxurious orange hair. Nothing, that is about it. Buy them for your sister in law!

If the shirt fits, don't impeach it
When it comes to Donald Trump shirts the possibilities are endless. It's really just a question of how much do you want to piss off your liberal friends.
This much?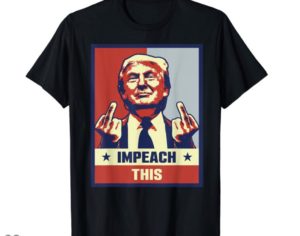 Or this much?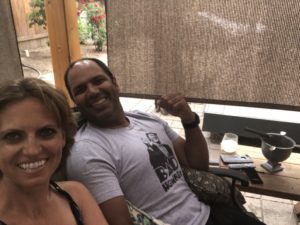 This Bad Hombre shirt is perfect for all the bad hombres in your life this holiday season.
Here kitty kitty
It turns out my kitty cat may secretly be a republican. I had a pretty good idea when she started binge watching FoxNews. There is nothing fake news about this cute Donald Trump cat toy though. My cat loves The Donald as you can see. Of course, that could be because it's full of cat nip. Odd, the dog is way more into this toy then the cat is actually.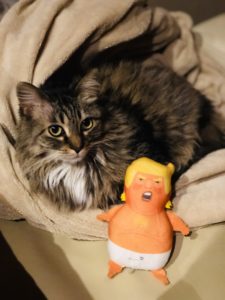 The most wonderful time of the year
To buy a Donald Trump talking pen that is! You may be expecting Santa Baby but this talking pen has some awesome Trump sound bits, and none of have anything to do with grabbing anything.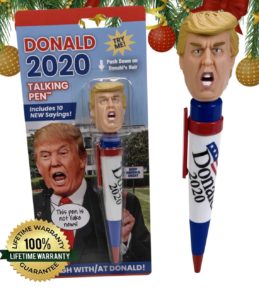 Before you head to the mall to buy a few Christmas gifts, if you have fun loving conservative family members or just want to put some laughs in someone's Christmas stocking, check out these awesome Donald Trump gifts. And make Christmas festive again!