It might already be September here in Southern California but I'm not breaking out the sweaters and Ugg boots yet. (But I might be thrift store shopping for them!) Here in Big Bear Lake, we are having a uber-sweaty heat wave. I can never remember a Labor Day weekend where the heat got to be ninety degrees. I am ready to sit back, relax, crack a beer and enjoy some quinoa salad.
As Big Bear's only hiking guide, it might be Labor Day weekend but there is no rest and relaxation for this hard-working small-time business owner. I have had three to four hikes every single day even though it's ninety degrees outside. That might not be very hot to the people who live in the cities where it's currently one hundred and ten degrees even at our southern California beaches, but to me a mountain girl ninety degrees is hotter than hell. On days like today, being a hiking guide actually feels like a job and not just traipsing through the forest and luckily getting paid for my hiking expertise. When I get home from a ninety-degree hike I'm dehydrated, sweaty and hungry for a chilled healthy quinoa salad.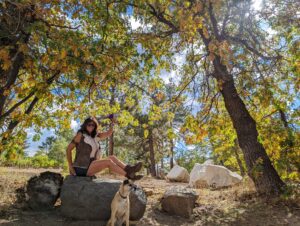 Being that it is Labor Day weekend I whipped up a batch of this delicious curried quinoa salad for my pop-up picnic experiences that I host here in Big Bear Lake. I labeled this as a vegan salad but you can feel free to add some cooked rockfish to garnish it or shredded rotisserie chicken.
Before my busy holiday weekend of being Big Bear's most sought-after hiking guide, I was lucky enough to traipse off to the eastern Sierras for a few days. It was just me and my dog and a smelly camping tent. And an ice chest full of delicious wholesome homemade snacks of course.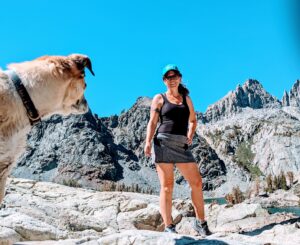 I just got back from a pre-fall still hot enough to swim in all those alpine lakes and summertime adventures in the eastern Sierras. It was a glorious good time in the backcountry and the weather could not have been any more perfect. This salad was oh so perfect to put in a plastic container and have as my lunchtime snack on the shores of Minaret Lake.
Quinoa Salad with Chickpeas & Tahini Curried Dressing
1 cup of quinoa cooked and set aside.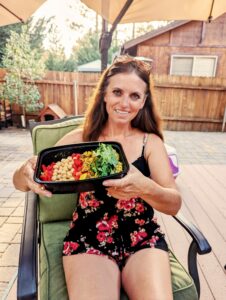 1/2 cup kale chopped into bite-sized pieces
1/2 cup of garbanzo beans
1 yellow squash, cut into bite-size pieces
1 red bell pepper, cut into bite-size pieces
Half a cup of water
For the Tahini Curried Dressing
1/4 cup tahini
1/4 cup cashews, ground
3 teaspoons olive oil
Two teaspoons of nutritional yeast
Two teaspoons of lemon juice
Half a teaspoon of salt
Half a teaspoon white pepper ground
One and a half teaspoons of homemade curry powder
One-quarter cup of water
Firstly, Cook your quinoa according to the directions and set it aside. Then in a saucepan at 1 teaspoon of olive oil and your curry powder. Let the curry powder roast for a few minutes and keep stirring constantly. Add in a little bit of water at a time as the curry paste gets dried. This is very important to roast your spices so they do not taste raw. Keep roasting the spices for a good 5 minutes, add more water so they do not burn. You will want to cook it down so it's a little bit of a paste.
At 3/4 of this curry mixture to your mixie or blender. Add 1 tsp of olive oil as well as the squash to your leftover curry paste in the pan and saute just until brown.
Now you are ready to work on the salad dressing. To the curry paste, you added in your mixie or blender. Also add the blended cashews, nutritional yeast, lemon juice, tahini paste, salt, pepper, and the one-quarter cup of water. Blend well until you have a salad dressing consistency. You might have to add a little bit more water.