The winds were howling something awful as we drove the twisting turning roads up to Mt Baldy Village. The forecast was calling for gusts of 65 mph for that night and the following day! Any other mountaineers would probably have changed the game plan for the day but we already had a cabin reserved at Mt Baldy Lodge and a whole Saturday free; my boyfriend and I thought we would just power through with the hike. I mean for one thing we had just about bought some kick ass new supplies ( Yes he was dying to use his new Black Diamond ice ax, even though I warned him in advance "baby, you are not going to need a ice ax! There is hardly any snow on the mountain!" Famous last words as we would find out the next morning.)
We had so much gear, I had already procured our summit treat ( The amazing Siracha Bacon Jerky) our cat trax and crampons were unwrapped from the new cellophane packaging and loaded into our packs. We were ready for our Mt Baldy adventure to begin and no amount of wind, or shin splits or even the flu would keep us down!
Yeah, it was going to be one of those kind of hikes.
We made it from Big Bear to Mt Baldy in about two hours, just past sunset. As we drove up the winding canyon roads towards the lodge we could see the sun setting, a red fireball in the sky above Los Angeles to the west. Upon arriving at the lodge we discovered that our cabin ( cabin number 8) was just outside the back door of the restaurant. (This would come in handy later in the night as I had to run back to our room to close all the windows, but I'll get to that story.)
Before we went to dinner, drinks and karaoke, we decided to start a fire in our cabins fire place. We did this after clearly reading the warning sign next to the fire place, which read
In case of wind do not make a fire… You will get smoked out!!!
We are mountain people, meaning we think we are smart.
So we made a fire anyways.
We filled up the whole room with smoke and the fire alarms went off none stop. At this point I was hungry (And we were both questioning why we had not brought any vodka with us) and we needed dinner and drinks ASAP.
We solved these problems by shoving the smoke detectors in my purse, opening all the windows and making a beeline for the bar… (which was right outside our cabins door! So convenient!)
We spent the next few hours shoving the most delicious sour dough rolls in our mouth holes ( This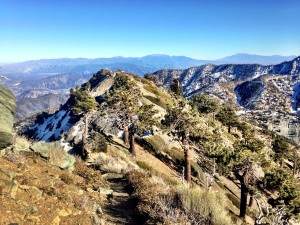 is why I love hiking; the one time I enjoy carbs with no guilt!) We enjoyed the Mt Baldy evening by having some drinks and belting out karaoke to the tunes of Garth Brooks and Gretchen Wilson.
It was a fantastic pre Mt Baldy evening and I would stay in these cute cabins again in a minute!
Well, I'm sure you are asking, did we summit, did we get the flu, did we eat tons of bacon jerky?
Find out tomorrow!