Mornings in the jungle mean the roar of a bewildered buffalo waking us up. It was like nothing I have ever heard before. After the night before when my boyfriend was accompanied home from the bar by a pack of pachyderms, the last two nights every time I felt a shutter or heard a noise in our tree house I thought the elephants were charging us.
When I heard the buffalos thunderous roar I thought it was an angry elephant
"Babe! Your elephant friend is back! He wants to know if you have more scotch!" I yelled from the balcony in between sips of fantastic BRU Indian coffee. I wondered briefly if an elephant on the resorts grounds this late in the morning (8AM, early for us guests but quite late for a tusker to be about still) meant we should wait in our treehouse until the guards brought the Jeep to take us down to breakdfast.
This was a typical morning at Jungle Retreat in Tamil Nadu State in India. In my three weeks in India the four days we spent at the Jungle Retreat were the most amazing part of our trip.
I have never been to a place where you see so many animals just out in the open, grazing. It was absolutely surreal. Not only that but the mountains near Ooty are just jaw dropingly gorgeous.
One of the coolest things that I really enjoyed about Jungle Retreat was the cats and dogs, Jungle Retreat pets who lounge around all day.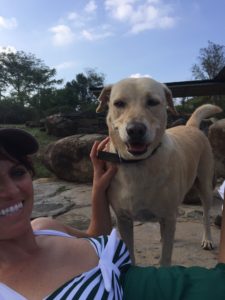 This is Spud. (I call him Spud Spivens after a popular race horse) He joined me at the pool one day.
As did a bunch of cows.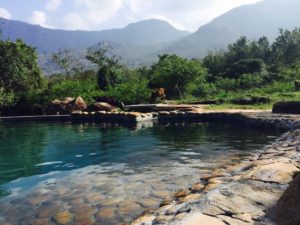 Only in India.
I can't wait until we head back to India in two years to visit this region again.