Rain! Thunder! Lightning! Snow! Does that sound like your kind of vacation? Our family usually treks to the eastern Sierras to witness mother nature in all her stunning beauty for the fall colors each October. Nothing makes me happier than leaf peeping eastern Sierras fun.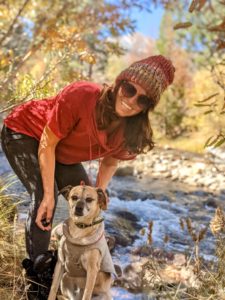 But you don't get weather in southern California, all you lucky folks on the east coast may be saying. Of course, we don't. It never rains here in California. Until the one week, we take off of our busy work schedules to go camping and we run into lows of fourteen degrees. Most smelly campers might whine about the snow showers and the hail and the thunder but we actually embrace this kind of weather that is so uncommon for southern California. We were actually looking forward to a snow day or two trapped in our motorhome with a Baileys and coffee and a snowstorm. Of course, this was our first motorhome trip since we spent days installing Pex piping throughout the rig. We hoped and prayed the Pex would stand up to the chilly nights. There might have been a few prayers and crossed fingers and toes.
Baby, it's cold outside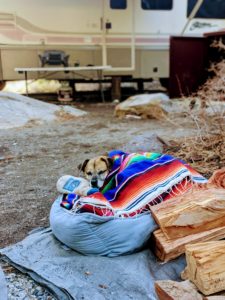 Monday evening of Columbus Day weekend our usually very popular campground was empty. I could count the number of motorhomes and fifth wheels around us on one hand. And one very sad-looking tent. The burn ban on campfires had just been lifted for Mono County literally the day we rolled into New Shady Rest Campground under the pines of Mammoth Lakes, California. We, outdoor adventurers, were so unbelievably thrilled we could relax by the campfire in the early evenings as these chilly temperatures in mid-October are just unheard of for the eastern Sierras. Our first few days in Mammoth we got out, did some ass-kicking hikes like up to Clark's Lakes at almost 10,000 feet and were back by the campfire with our exhausted vacation dog by happy hour.
We woke up on Tuesday after Columbus Day to an absolutely deserted campground and clouds moving in fast on the horizon. Then it snowed for twenty-four hours. It was epically beautiful. I have always wanted to holiday in Mammoth during the winter but don't want to deal with snowy mountain highways. This vacation gave us a chance to explore Mammoth Lakes with just a little snow on the forest floor. Well until we trekked to Valentine's Lakes in two feet of snow. Why did we not pack snowshoes again?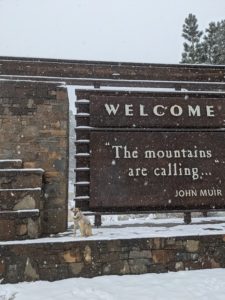 But we did have to get out and leaf peep and maybe catch some fish at alpine lakes also, just as soon as the roads were not crazy icy. We looked at buying chains for our twenty-five-year-old Suzuki tow car. The chains cost almost one hundred and seventy dollars. I don't think our Suzuki is even worth that much money so it seemed ridiculous to buy chains for that price. So we spent the day after our snow day walking all over Mammoth and it was really nice actually.
But by Wednesday we had that hikers wanderlust to hit some trails again. We just had to do it some days with way more snow than expected. We were prepared for this winter like trek to the fall colors of the eastern Sierras but looking back packing snowshoes, my good pair of snow pants, crampons for icy trails and maybe even the damn ice ax would have helped.
The best trails to trek for leaf peeping eastern Sierras good times
So you have planned leaf peeping good times trip to the eastern Sierras. Where the hell do you go to see the best of the best fall colors? There are so many great spots to see yellow trees in the eastern Sierras. Some areas like South Lake and Aspendell are just crazy with folks also wanting to leaf peep especially any weekend in October. (North Lake is a great alternative to South Lake. The dirt road to get to North Lake tends to discourage a lot of city folk. Lamarck Lakes is a easy four-mile roundtrip leaf-peeping experience close by)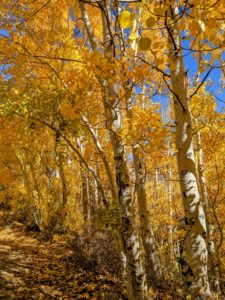 Lake Sabrina
As a construction worker told me the first time I visited the alpines at Sabrina "It rhymes with a certain part of a women's anatomy" City folk usually pronounce this mountain name incorrectly. This is how you can tell the Mono County locals.
Bishop Creek was dammed here at Sabrina at the higher elevations in 1907 to create Lake Sabrina which was then named after the wife of the general manager of the Nevada power company but why locals started pronouncing it "Sah-bry-nuh;" is unclear unless it was just to mess with visitors to the area.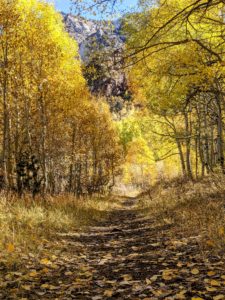 On this trek through the fall colors of the eastern Sierras, I was lucky enough to get two separate hiking days in the Sabrina Basin. On the first trek up near South Lake I did an early morning hike to the first of the Tyee Lakes. I wish I had time that day to trek the whole Tyee Lake loop (& miles round trip) but I only had four hours to adventure in the yellow leaves on this October day. The Tyee Lakes (Or Chief Lakes as the native Paiute Indians in this area named it) were a great little hike on this fall day. Even though the South Lake area was madness with cars and people on Saturday morning I spent on the trail, I saw two other people as I trekked up to the first Tyee Lake in fresh snow. A great hidden fall colors hike so close to Lake Sabrina. Looking for a great place to stay in the South Lake or Lake Sabrina area? Book a stay at the Bishop Creek Lodge.
McGee Creek and Canyon
After just a bit of the snow melted on the roadways and we could drive our twenty-five-year-old two-wheel drive, Suzuki, again, we drove straight to the McGee Creek Trailhead. We hiked way up McGee Canyon than I had ever gone before. Time strapped, we turned around about two miles below Big McGee Lake. Now I am dying to go back next fall and hike to Big McGee Lake and McGee Pass. I'll be back on a long day on the trail sometimes when I have more time on my hands.
The fresh snow on the trail and the aspen trees along the sagebrush-covered trail made for such a pretty hike up the canyon. This trail is epic in the springtime for wildflowers like mules ears, yellow arnica and wild Grape Soda lupine also.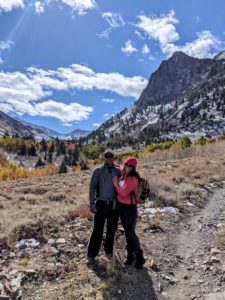 Laurel Lakes
The trek up to the Laurel Lakes is basically a jeep trail. The old historic mining road may be sketchy to drive these days but it is a fantastic hike with some glorious views over Mammoth Lakes.  Saying that you can actually catch the elusive Golden Trout (Part of the Trout Triple Crown) at the Laurel Lakes. Autumn is a great season not just for leaf peeping eastern Sierras good times but also for fall fishing opportunities. When the temperature is right, like sixty-five, not fourteen degrees, the fish are usually biting at these backcountry lakes.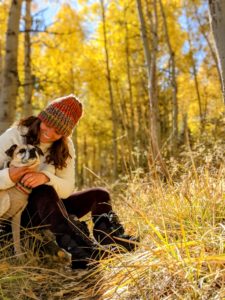 by
The trek up to Laurel Lakes takes you alongside a creek that is dotted with yellow aspens in October. You eventually reach a pretty little meadow alongside the creek and then the trail cuts way back towards the Laurel Lakes and those golden trout you may have been dreaming about.
If you really feel like a badass you can even follow the trail past the Laurel Lakes, past Lake Genivev and down to Convict Lake. Convict Lake is a rainbow of impressive fall colors. If you take a drive up Highway 395 to the eastern Sierras, Convict Lake should be one of the top priorities on your list.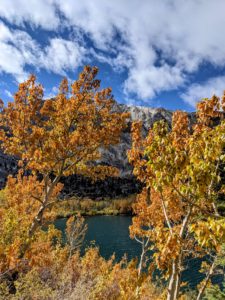 Leavitt Lake
Leavitt Lake is a hidden fall treasure in the eastern Sierras. If you can get there. On our recent early October trek to the eastern Sierras, the mountains were blanketed by an early-season fresh white snowfall. Unfortunately, a lot of the mountain passes like Sonora Pass were closed for a few days here and there with the early season snowfall.
The snow was so breathtakingly gorgeous but not the best for all the tent campers with big plans for Columbus day weekend! Luckily now that we are in our forties we do most of our camping in a 99 Fleetwood motorhome so snow, rain and sleet usually don't bother us. But it does if you have a fall colors trek planned up to one of the mountain passes like Tiago Pass or Sonora Pass.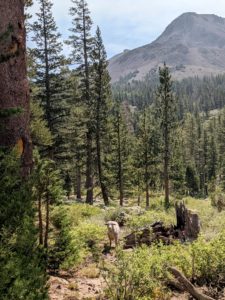 Once upon a time on a late August day, I hiked to Leavitt Lake and met a lot of sheep.  The last week in August all the bushes back along the Sonora Pass were sheep snacks and just starting to change to gorgeous fall colors. After my Oh Sheep-filled hike to Leavitt Lake in August, I knew that I had to get back to Leavitt Meadows for the fall colors in October. Unfortunately, frozen mountain highways and road closures kept us out of the Sonora Pass in October but I will be back to hike this one someday real soon.
What else can I do in the eastern Sierras in the fall besides look at yellow trees?
Looking for autumn activities other than leaf peeping eastern Sierras fun? What else can you do in the fall along the 395?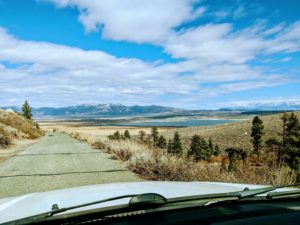 Oktoberfest Mammoth Lakes style. Sit outdoors for a pint at Mammoth Brewery. The outdoor area is dog-friendly just an FYI.
Take a soak in the natural hot springs. There are over 80 natural hot springs in the Mammoth Lakes area. A hot springs soak after a leaf peeping hike is amazing on a brisk fall day.
On the drive through Bishop make a stop at Mahogany Smoked Meats for smoked bacon for those pre-hike breakfasts or some peppered wild boar jerky for your hiker's lunch.
What essentials should you pack to really enjoy leaf peeping eastern Sierras?
Bring the best camera. The photo ops are just stunning.
Don't forget the selfie stick.
Gloves and a winter hat are essential for chilly mornings.
A thermos full of hot coffee or hot chocolate is great to have as you drive between different leaf peeping areas.
If you have never road tripped to the eastern Sierras for the fall colors, it is a must for a southern California traveler. Hikers, photographers and nature nuts love leaf peeping eastern Sierras memory making. If you are up for camping in just a little bit of cold, then a fall camping trip to the eastern Sierras is something you should book with friends or family today!