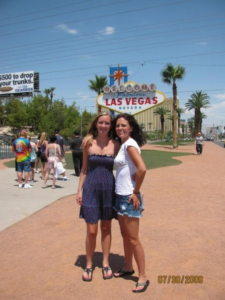 If you google cheap restaurants in Vegas you will see ten-dollar buffets off the strip that might make you sicker than the Coronavirus. You might see an ad for Denny's or In and Out pop up on your phone but come on, you drove for four hours through the hotter-than-hell desert. Do you really want to go hit up that Panda Express on the strip even if it does have a four-star Yelp review? In this post-pandemic world, the days of gorging oneself at cheap Las Vegas buffets could be behind us. Although as I write this, in September 2022, most Las Vegas buffets have officially reopened. The pandemic is over, yea! According to Las Vegas anyways. Remember back in the day when you could get an upscale Las Vegas buffet lunch at the Bellagio or the Wynn for twenty-two dollars? For all of you frugal foodies out there traveling Las Vegas food on a budget is hard to find in 2022. Here in 2022, that same weekday lunch buffet is now forty-five dollars for a gourmet lunch from Cosmoplitian's Wicked Spoon Buffet. Did you know before the pandemic there were more than 70 buffets dotting the desert town of Las Vegas?
3 a.m. buffet shenanigans; A Frugal foodie is born
When I was in my twenties I spent many desert road trips ending up after a three-hour drive in sin city, Las Vegas Nevada. My best friend one time insisted we wait until three a.m. to get another dollar discount on a cheap-ass buffet. He had found the cheapest buffet in Las Vegas for six dollars if we waited until the clock struck three in the morning. And I turned into a pumpkin if I didn't inhale some cheap breakfast foods soon. I was half-starved at this point after an evening of clubbing and dancing like twenty-somethings do. I just wanted to inhale some foods, any foods then fall into bed back at the MGM. These are obviously the kinds of things you only do in your twenties. 2022 Amber would not be caught dead at a six-dollar buffet. Or in a club here and now during the Monkeypox pandemic. Can you even find a seven-dollar buffet in Joe Biden's America? Do you even want to? I would not recommend any of those seven-dollar buffets we stumbled into at three a.m. I would never, ever eat that crap today. But the foodie in me does not want to spend thousands of dollars on food during our five-night stay in Las Vegas either. So where does the hungry foodie on a budget get a good meal in Las Vegas?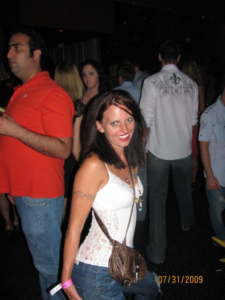 Here is the strange thing about Las Vegas food on a budget; Nobody wants to talk about it. When I was doing the research for this trip I reached out to multiple friends who travel to Las Vegas constantly or reside in Las Vegas. No one wanted to spill the (Pinto) beans about where you can get a not-so-extravagant meal in Las Vegas. I mean, I started to feel like I was asking people if they were at the White House on January sixth! Why is everybody so hush-hush about Las Vegas food on a budget? Here in the year 2022, we all want to complain about the price of gas but nobody wants to admit we all don't want to pay four hundred dollars for dinner for five nights straight in sin city. It's okay to admit you might want to be able to eat at a world-class Las Vegas steakhouse without selling a kidney. Although in Joe Biden's America, I don't think one kidney would cover your bill at T-bones Chophouse at the Red Rock's Casino.
Linq-ed in. Or not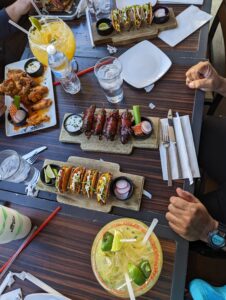 The last time we were in Las Vegas we hit up Guy Fieri's Vegas Kitchen and Bar at the Linq. This American-style menu sounded great. They had me at jalapeno pig poppers. Honestly, after walking around the Linq and sitting down in the crowded outdoor restaurant, my thinking was I make the same thing at home and mine are so much better. As for the trashcan nachos, well they tasted like trash and were served cold. Cold nachos? Yup, pretty darn gross.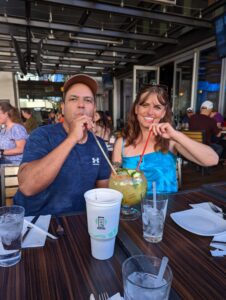 Our celebrity chef experience was not great, to say the least. They brought us out these fishbowl-sized jalapeno margaritas which looked awesome but holly hell were they spicy! And my boyfriend and I can handle spice more than most people! I don't know how we managed to drink them but we did. And that is probably the only way we got through the appetizers that we ordered as all our food came out cold. This was the only celebrity chef restaurant I have ever been to and my disappointment was fierce like those fiery jalapenos.
When I googled the best cheap restaurant in Las Vegas I saw a lot of pizza recommendations and a lot of hot dog joints. Yes, pizza and franks might be a good breakfast at noon obviously after a night of hard living on the Las Vegas Strip but that is typically not what the foodie in me wants for breakfast. I may be on the lookout for Las Vegas food on a budget but if I want a tasty hotdog I'll drive to any Costco and call it good.
Las Vegas food on a budget breakfast of champions
Everyone needs a tasty savory breakfast to cure that world-famous Las Vegas hangover but where is the hungover foodie to go? Luckily any foodie traveling through Las Vegas has so many options when it comes to an egg-centric breakfast. My favorite breakfast of Champions in Las Vegas has to be Eggworks or the Egg and I. This family-friendly chain has been a Las Vegas local's favorite since 1988. (When my parents used to stay at the Stardust and I was eight years old) The Eggworks family now has many restaurants, all off the strip sprinkled all over the Las Vegas area. Just because it's family-friendly does not mean their food is bland. Their chile relleno is my top favorite post night of drinking breakfast in all of Las Vegas. Eggworks has the best hot sauces and house-made salsa. Check out their location on Flamingo and take yourself for a walk around the Goodwill next store afterward for a little after-breakfast stroll and inexpensive retail therapy. This is my favorite of all the Goodwill's on the west coast for sustainable shopping.
District. Donuts. Sliders. Brew at the Cosmopolitan is the newest trendies breakfast place in Las Vegas. Okay, wait, every restaurant at the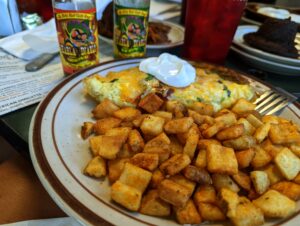 Cosmopolitan is the newest trendiest restaurant in Las Vegas. But is this donut and beer mecca really worth the hype? Let's put it this way, I wish I had tried the Fairfax, bursting with caramelized onions, cheddar cheese and sriracha mayo (And eggs of course) at Eggslut across the hallway instead. The spicy sausage kolache I ordered at District was pre-made and microwaved in front of me. I left my SUV at the valet at the Cosmo at 7:10. A little bleary-eyed from a fun first night in Las Vegas the evening before, I noticed even at this early Las Vegas hour, there was already a line in front of District. And imagine how busy this would be by 9:00! I feel like I made the wrong decision looking back when I ordered the kolache but it sounded good on paper. Honestly, the Croquet Madame on the menu sounded so much better but I wasn't that hungry after we pigged out on simply delicious all-you-can-eat sushi at It's Sushi in China Town the previous night.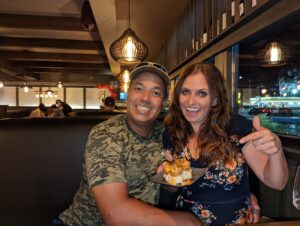 The kolache with pickled jalapenos was just okay. I mean it was pre-made and just microwaved to heat it up. The sausage had a good spicy flavor but the bun just tasted like nothing. I was pretty disappointed as this is supposed to be an amazing donut place. I expected the bun to be something fancier. It was also the candied jalapenos that called out to me and they just tasted like any pickled jalapenos you would buy in a jar anywhere. This was spicy, which I appreciate but I could have gotten a pastry just like this at any Starbucks anywhere for the quality. I was looking forward to going to Pinkbox the next morning for something more unique. I had a busy morning of thrift shopping in Las Vegas ahead of me and was ready to grab a simple breakfast take a little walk around the Cosmo and be back in my car and driving towards the Summerlin Goodwill on Flamingo by eight-thirty.
What the hell is a Pink Box mommy?
Obviously, the branding for Pink Box Donuts is pretty unique. It's the kind of thing you would only find in Las Vegas. The location I visited in Pueblo Park was just across the street from the Whole Foods, yea and was on my way out of town for a hike at Mt Charleston. Hey, I can shove a donut at my face before an early morning trek, right? Pink Box began in 2012 and was an instant Las Vegas sensation. I could see how this would be a great place to bring kids as long as you don't explain what a pink box is. All of the donuts are so full of sugar and if you are looking to break your pancreas, this is the place to go. Check out their website menu in advance so you know what is exactly the difference between the Lil Blue, blueberry glazed cake donut and the Purple Rain which is all about that purple ube. I was overwhelmed in this extremely busy donut shop and simply choose a blueberry cronut and it was just fantastic.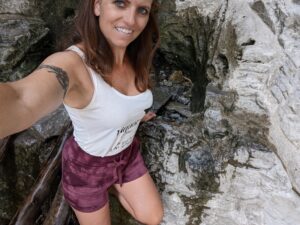 You had me at Shcmear
I had a real adventure trying to find the Pink Box yesterday morning. I tried to go to the one that I thought was near the convention center and I guess it's actually inside the convention center. Well on that little adventure I stumbled across Siegels Bagel Mania. I for one can never resist a good Jewish deli. And the prices here are fantastic, especially for Las Vegas. You have to try the Hebrew School with capers and fried eggs.
A Las Vegas steakhouse in this economy?
My boyfriend forgot his fancy pants and by that I mean his nurse pants, AKA scrubs that I swear he is obsessed with. You can buy them for your boyfriend here! The brand is Little Donkey (Try not to laugh) I swear he is obsessed with these pants. I see how they are great when you are flying. I mean they are the man version of yoga pants. But these are not good for going out to a five-star restaurant. But anyways they were left in Big Bear Lake along with our pair of fat Norwegian Forest Cats so there would be no T-Bones Chophouse in our future on this trip.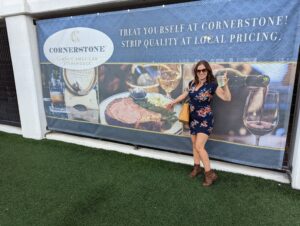 Cornerstone American Steakhouse at the Gold Coast is the steakhouse your budget-friendly wallet was searching for. It may not be on the strip but who cares when you can add on lobster mac and cheese for sixteen dollars to any order! They had me as soon as I walked in the door with their Shanghai-style fried calamari. Calamari with a chile glaze? Yes, please! I purposely did not wear my favorite thrift white lace dress because I didn't want to get sweet chile sauce on it after imbibing in the Cornerstone I Like It dirty Martini with extra Filthy Olives. How well cooked was the prime rib? Well, the petite cut was bigger than my face and very tasty. I recommend adding on a side of bacon jam.
Hola Las Vegas!
For years my good friend has raved about Taco El Gordo a Tijuana transplant since the seventies. That is so many years of cooking up some quality tacos. This Northern end of the strip has multiple interesting food options that are budget-friendly. I first drove by Tacos El Gordo earlier in the a.m. while I was on a wild goose chase looking for a Pink Box that turned out to be inside the convention center. I have always wanted to go to Tacos El Gordo and I've been told these are the best tacos anywhere. I've been known to indulge in a taco or two all over Baja California. I'm basically a taco snob. So I was very interested to see how this Tijuana ex-pat operation was.
The first thing you need to know about Tacos El Gordo is if you want to have a pleasant experience, you want to go in when they open at 10:00 a.m. Just make it a breakfast experience. Trust me you'll have a way better time. This is known to be the late-night ta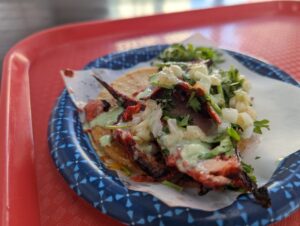 co joint in Las Vegas and it's supposed to be just crazy on the weekends or late nights. I got there right after they opened and there were only a few other people there. You have to get in different lines for every taco that you want and then go pay. It can be a little hectic. Especially when the restaurant is busy. Saying that they turn out tacos so quickly.
I got in line for the pork and got an adobe taco with everything. The tortilla was absolutely perfect and it was corn. That is the way that I prefer the taco shell. The meat they shaved off was incredibly tender and also crispy to perfection and all of the condiments served on the pork taco; crema, and cilantro onions were perfect.
It's Sushi. It's the best Sushi
If you are looking for a good sushi dinner in Las Vegas look no further than Chinatown. Don't waste your time at Yellowtail at the Bellagio. Sure the view is nice, the fountains are pretty but the fish is mediocre at best. This was our first time at this chain, It's Sushi and we will be back every trip to Las Vegas. We went for all-you-can-eat and were very impressed with everything from the yuzu yellowtail to the salmon belly with fresh grated wasabi root. The lobster rolls were fantastic, We ordered multiple different lobster rolls. I love this all-you-can-eat sushi restaurant because you could order small sizes of all the options. Every single option we ordered was fresh and tasty. Some of their nigiri was very unique and all so fresh.
Well, last but least where is the budget-friendly foodie supposed to stay when she is spending all her hard-earn cash on Pink Box donuts and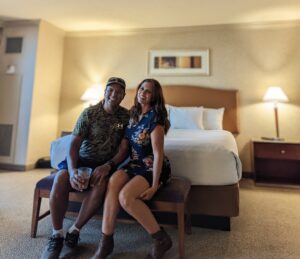 all-you-can-eat sushi bars? If you are looking for an inexpensive all-suite hotel to hang your hat and take off your fat pants in the evening after picking out in Vegas, definitely for the price, the Rio is a good option. The Rio all-suite hotel was a perfect home base for our trip. We lucked out and found a suite for just eighteen dollars a night. These prices will end very soon. The Hyatt just bought the Rio and the whole hotel will be undergoing a huge remodel this coming year.
The next time you spend all your hard-earned cash on gas to get to Las Vegas and on that posh room at the Cosmopolitan remember there are budget-friendly restaurant options even in Las Vegas.