My boyfriend and I were on a tough mountain bike ride the other day by the golf course. We powered up mountain hills, calves aching, I swear I could smell onion rings as we motored up the big, big hill in Moonridge. by the golf course restaurant. I've basically been craving onion rings ever since. As much as I love shoving pounds of bacon and pork rinds at my face,  a common occurrence when attempting to achieve ketosis, living the keto lifestyle means no fried foods and no onion rings. Sad face. What is the keto-obsessed chef to do? The quick answer is to bash some pork rinds for coating, add them to delicious high fiber and MCT's coconut flour and even if you are a gluten-free freak like me you too can enjoy onion rings!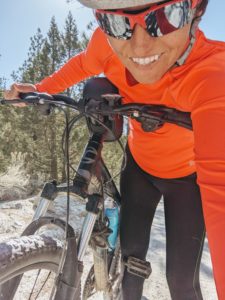 Why do Sprout's and Whole Foods not sell keto or gluten-free onion rings? (Yet) There are so many great keto and gluten-free items on the market. You would think one of these natural markets would make a gluten-free product I could just throw in my air fryer. Until they do, I just have to make my own at home.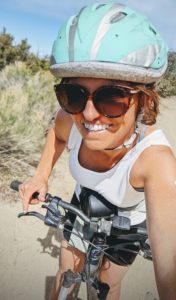 Oink oink; These are the very best!
Bacon really does make everything better, right? These may not be full of my favorite breakfast pork product but the crispy pork rinds crumbed are the next best thing. The best hint I can give you when making these is to make the pork rinds into a cloud of fine pig dust in your nutribullet. Also, use a lot of oil to lube these onion rings up. They would probably be best deep-fried honestly but I'm trying my best to get rid of this damned Covid-19-LBS so I have not given in and tried deep-frying them yet. I did try making these in the air fryer and yes, they did taste good but even spraying them thoroughly with a lot of avocado oil they just turned out too dry. So the trick is really to saturate them with oil. You can use avocado oil, canola oil or I prefer coconut oil.
Keto Piggy Onion Rings made with pork rinds
2 eggs
pork rinds, crumbled into pig dust
2 yellow sweet onions, peeled and sliced thin
1 cup almond meal
1 cup coconut flour
1/2 teaspoon salt
1/2 teaspoon paprika
1/2 teaspoon garlic powder
1/2 cup olive avocado or coconut oil
First, combine the pork rinds, almond meal, coconut flour, garlic powder, salt and paprika in a nutribullet. Grind that all up into a cloud of fine pig dust. Place the pig dust in a plastic or paper bag. Next, whisk the egg. Slice up the onions into rings and dredge in the egg.  Dredge the onion rings in the pork rinds dust and layer on a greased baking pan. Slather in the oil of your choice and bake at 400 for 15-20 minutes. Turn the onion rings over halfway through baking time.
You can also deep fry these keto-friendly onion rings in coconut oil if you are on keto and looking to ingest all the fats. As someone who is desperately seeking ketosis, I have found it very hard to get enough fat in my diet so air frying in coconut oil is the way to go for me this week. Or you can air fry them. If you do air fry these onion rings I recommend using a lot of oil so they do not dry out.