Last Christmas we did not have snowy nights and bundling up in layers to sing Christmas carols to our neighbors down our snowy streets. Nowhere was there that enchanting pine scent in the crisp and cold winter air. I didn't pull on my favorite UGG boots or my leg warmers, scarves and a hat to check out the holiday lights in our scenic hometown of Big Bear Village. And I definitely did not have a roasted duck waiting in the oven to share with family and friends.
December mornings did not find me bundled up in layers hiking with my pup into a snowy silent woods orsnowshoeingg miles into the forest as the snow flakes fell on my shoulders. Our Christmas decorations stayed packed up in bins in the shed and we didnt even think about putting up our Christmas tree as we were out of the country for most of December and a few weeks of February last holiday season.
Instead of doing the traditional United States holiday traditions, we spent our holiday season wearing as little clothing as possible (Without looking like un-modest Americans) because we were in Tamil Nadu India,, spending the holiday season in cosmopolitan (For India) Bangalore. There were no actual Fir Christmas trees to shop for. All the Christmas trees you found in the shops were tiny and made of plastic needles. There were no snowy days; Most days it was almost ninety degrees and humid. We spent a few days between Christmas and New Year's at tropical Poovar Island where it was close to 100 degrees every day with ninety percent humidity. It was so hot and unbearably humid that we spent most days swimming and having cocktails in the pool in our resort (Which was an awesome holiday memory!)
Spending the holiday season somewhere hot and humid and not at all American was such a unique and fun way to enjoy the holiday season and a memory I will never forget! We spent Christmas eve with family enjoying an amazing spread of the most delicious authentic Indian dishes, hand delivered to our third floor apartment because well, when you are in the city you can have take out delivered, even on New Year's Eve! It was a complete change from the life we were used to living in a small ski town in southern California. As awesome of a time as we had, with memories we will never, ever foget we are so looking forward to a snowy mountain Christmas season this year.
But maybe I will pay homage to our Bangalore Christmas by putting on my nicest kurti and roasting a duck. This roasted duck is one of the most magical Christmas dishes you can find anywhere outside of Tamil Nadu India. I like to save some of the duck skin from the roasted duck and also some of the meat to add to my awesome BBQ Glazed Jalapeno Poppers.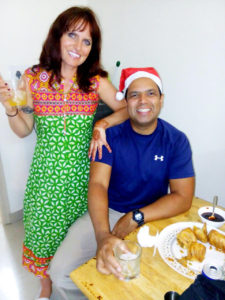 Anglo Indian Date and Tamarind Roasted Duck
1 whole duck
1 teaspoon garlic paste
1 tablespoon ginger paste
1/2 cup date tamarind chutney
1 teaspoon garam masala
salt, pepper, chili powder
ghee
2 sweet potatoes, skinned, cut into large chunks
Pat the duck down so it is dry. Score the skin of the duck with a knife. Smooth the duck carcass over with garlic, ginger, garam masala, salt, pepper and chili powder. Make sure you get some under the skin. Put a little ghee in the bottom of the pan. With a pastry brush, brush a little ghee over the duck. Place duck breast side up on a roasting rack in the oven. Roast the duck for 3 hours, turning every hour. When there is an hour left of cooking time add the sweet potatoes to the pan along with the drippings. Start basting the duck with the date tamarind chutney every 45 minutes or so of the remaining cooking time.
This roasted duck makes a great Christmas dish to serve as the main entrée for 8 or so people.
Love this recipe? Don't forget to pin it!