Summiting Mt Whitney is one of my all-time favorite treks into the eastern Sierra wilderness. It's difficult, it's rewarding and sometimes it requires you to poo in a wagbag and carry out your waste. Summiting this gorgeous fourteen hundred foot mountain is not every hiker's cup of tea (Or pouch of GU if you are speaking long-distance hiker lingo) Summiting the tallest mountain in the lower forty-eight states is nowhere near easy and every year we do it there are adventures to be had on the Mt Whitney Trail. Who will get altitude sickness this year? Who will get bit while trying to take a selfie with a marmot? Who will need more than one wagbag?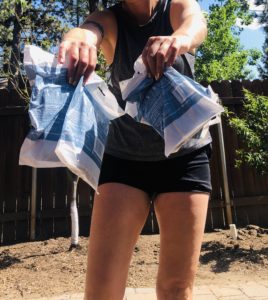 If you are like us and planning to hike twenty-three miles in one day just to stand atop what feels like the top of the world to take a selfie and then run down the skee scattered trail ahead of an eastern Sierra afternoon thunderstorm you better prep with some awesome training hikes in the weeks before your ascent. So where did I prep for my Mt Whitney adventure in 2019?
My Whitney 2919; Let's do it!
I started training in March, four months before our summit of Mt Whitney. This was an insanely snowy winter in Southern California which had its ups and downs. The ups had to be the Super Bloom that came with the insane amount of rainfall. The downs had to be the fact that some of my favorite snowy mountain peaks were just inaccessible until May as the snow above eight thousand feet was intense.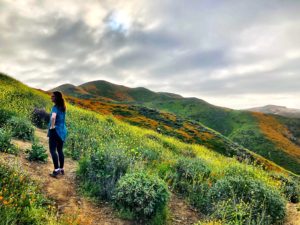 And that's how I found myself ascending Mt Baldy on a March morning before work. This was weeks after our adventure at the Super Bloom in Lake Elsinore which was more than a stroll up a gorgeous orange landscape with five hundred other people with big ass cameras then an actual hike. So by March, I was good and ready for a real mountain hike. Mt Baldy did not disappoint whatsoever. The Saturday I choose to hike Mt Baldy just happened to be epic trail conditions to hike straight up the Baldy Bowl. It was unbelievably gorgeous and super hard, hiking straight up a mountain in the snow. Thank God for cat trax.
Sometimes training for Mt Whitney in the winter months means high desert bones now hike, like the day my girl's hiking group explored the Deep Creek Hot Springs. Here was yet another ass busting hike (Are you sensing a trend here?) After the leaving the steaming hot springs to head back to your car, that first mile has a thousand-foot altitude gain and it had us sweating even in February. My Whitney training started early!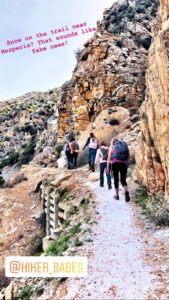 I love to climb San Gorgonio, the highest peak in southern California in the winter and it's a great training hike. The majestic white and snowy peaks of Galena Peak in the distance are just gorgeous in March when I really start to buckle down with my hikes and start day hiking twelve miles or more. Trekking up a snowy mountain with my favorite pup at my side means carrying more equipment, sometimes snowshoes, sometimes just cat trax which are like chains for your snow boots. Hiking in the snow also means hiking in clumpy heavy snow boots as opposed to running shoes; it's a pain in the butt but a good workout. Hiking in the snow is just all together harder but the snowy views of San Jacinto in the far distance over Palm Desert are worth it. On this March ascent up San Gorgonio, or Old Greyback as us locals call it, we could see high clouds over the Los Angeles basin and we could even see the high rises of Los Angeles and Catalina Island and the Pacific Ocean in the distance! That is why I adore winter hiking!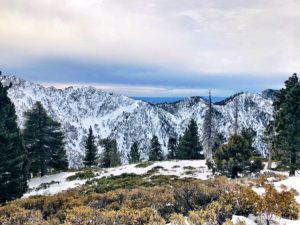 As much as I love hiking in the snow, it's a pain in the butt and as our Mt Whitney attempt was nearing and June was approaching I began hiking in less snow and more fields of wildflowers. May hiking meant twelve mile out and back treks up the wildflower-covered terrain of the Pacific Crest Trail. The Yucca was covered in delicious edible flowers and the trail was packed with serious thru-hikers headed to Canada. I shared the trail with these cheerful guys and gals, taking in the fields of wild yellow yarrow, Indian paintbrush and cactus flowers covered in red blossoms.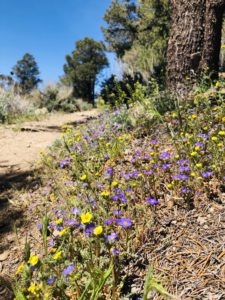 Hot June days meant trail training up South Fork Trail amid fields of yellow and purple wildflowers. The purple Penstemon that covers every inch of mountain space and the yellow yarrow is like a magical rainbow carpet over the forest floor. It makes me forget about the long miles, to the summit. Oh yeah, its twenty miles round trip to summit San Gorgonio this route but the miles don't feel that long when you are trekking through a kaleidoscope of color.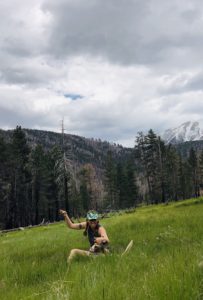 Two days before our Mt Whitney summit we were on our way to the eastern Sierras at last and off-roading for sixteen miles to reach the locked gate and begin the hike up White Mountain, the turf highest peak in California. White Mountain is an otherworldly hike high above the Owen's Valley floor. This hike starts at 11,680 feet and many hikers begin this hike with altitude sickness. Beginning a hike at over 10,000 feet is a great training hike for Mt Whitney. My favorite part of hiking here is the fuzzy marmots that great you on the trail. Don't be a hurry to summit White Mountain as you will want to take a lot of photos of these cute and cuddly White Mountain rascals. Yes, I say rascals. There is a slight chance marmots could chew through the wiring on your vehicle while you are hiking, leaving you stranded down a twenty-six mile dirt road. But don't worry about that! Enjoy the hike!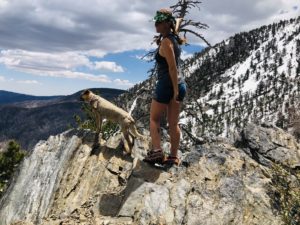 Our ascent up Mt Whitney is planned for July 9th and we can't wait! Many miles this winter and spring have been hiked in anticipation of summiting this great mountain in one crazy day. Let's get it!