Remember the first two years of the pandemic when anytime anything happened to your body you thought to yourself oh it's that damned Covid vaccine hocus pocus side effects? Then all the experts said oh there are no side effects from the vaccine. Then millions of women started bleeding for months like they were having miscarriages. As someone who has multiple let's just say reactions to the vaccine, it has not been all fun and games. But the vaccines are so safe Fauci keeps bleating. Then millions of other people started having unforeseen heart conditions. But the vaccine is so safe folks! Then millions of folks had arthritis flare-ups after being vaccinated. Me too! Remember before I was vaccinated when I had a lot less random pains and a lot less random problems? Let's go back in time to the spring just after I was vaccinated.
May 2021
There is nothing like being on a mountain bike ride under the tall Jeffrey Pines on a springtime day, powering up those deserted dusty trails. It was literally one day before the Memorial Day holiday weekend but yet there was not a trace of other outdoor enthusiasts, mountain bikers and tricked-out Jeeps, yet. It was quiet except for the winds in the pines and the chipmunks in the brush. I felt like I was alone in this peaceful forest and yes, I have no cell reception and yes, I was wondering if maybe I'm having a medical emergency. Thanks, Covid vaccine!
In a normal world, an athletic forty-year-old woman would not think, is this pain in her leg a blood clot, but the year 2021 is nothing but normal. As I just received the Moderna vaccine two weeks ago I'm basically a walking, talking mountain biking test tube and what is this mystery pain in my right leg?
It started in the of the night as I attempted to sleep with a bed full of happy purring felines. I find myself sleeping like a pretzel a lot these days as all three furry pests like to sleep next to me or on me. I often wake at two a.m. by Leo the Lion sneezing in my face or farting in my face or both at the same time (More commonly known as "Snarting") This, is the life of a cat mom. Today this cat mom woke up at six a.m. ready for a butt-busting bike ride on some dirt roads before the holiday traffic, 10,000 Snow Pigs (Holiday vacationers) arrive and take over our dirt roads and mountain trails. It's never a fun time to wake up and have a random pain in your leg or anywhere else but as an athlete who is getting older by the day, well it happens. In all my training, physical therapy sessions and the like over the years, every time I  seem to have a pain anywhere, my back, my knee etc, the physical therapist usually tells me to start out on the stationary bike so I figured going for a mountain bike ride might loosen up my muscles and actually help out whatever kind of pain I was having behind my knee.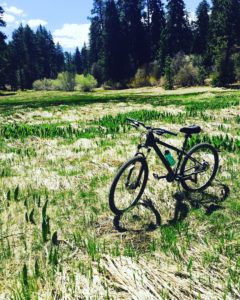 Knowing that I strapped my Cannondale mountain bike on the back of my SUV on Wednesday morning, ready to hit the dirt roads of Big Bear Lake before shit got crazy with weekenders up in the mountains for the holiday weekend. And then as I peddled and I peddled up to eight thousand feet the pain did not get better. I did not work the pain out. It seemed to just be constant. And that's when I realized, shit what if this is what a blood clot feels like? Of course, at that point, I was five miles way back in the forest near Deep Creek. I was more likely to see a beaver at the creekbed than another person and I had no cell phone reception. I could not google, Dear God, what does a blood clot feel like or does the Covid vaccine cause blood clots.
So I turned around and started peddling back to my Subaru and thought if I make it back home alive I'm so making some keto wontons full of linguica sausage. According to WebMD now that I have internet again it's probably just a tumor. You know, here we are in these wild days in the very end of a global pandemic and a regular old tumor doesn't sound so bad as long as we don't have Covid and don't lose our sense of taste. As long as I can still taste the goat cheese in these keto wontons I think I'm okay.
Goat Cheese, Honey and Linguica Sausage Keto Wontons
1 package, Linguica sausage, chopped thin
10 slices mozzarella sliced cheese
2 teaspoons raw honey or agave syrup
1/4 cups goat cheese
6 leaves of fresh basil, torn
1 lemon zested
Preheat your oven to 375. On sheets of parchment paper lay your slices of mozzarella cheese, so they are not touching.  Bake for 6 minutes until just soft and melty. While the cheese is baking in a pan, heat your sausage in a pan and cook just a few minutes. In each cheese slice add a small dollop of sausage, goat cheese, basil and lemon zest. Fold the slices over into a triangle and try to close the edges (They won't close all the way but you can close them a little. Return back to the oven and cook five more minutes. Turn your oven to broil and cook two more minutes. They should be just slightly brown when you remove them from the oven.
Let the wontons sit two minutes and you are ready to serve.