If it's July and I'm anywhere in my home state of California then I hope and pray I'm somewhere on a trail in the eastern Sierra Nevada Mountain Range. I have an unhealthy lust for the craggy mountains and the pine-filled forests. I yearn to swim in the alpine lakes, still freezing cold with snow melt-off in mid-summer, that can only be found west of Highway 395.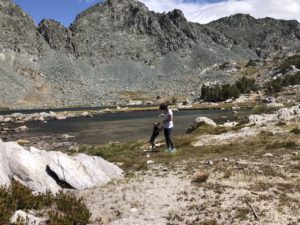 Just mutter interstate Highway 395, or say the words, Bishop or Lone Pine and any outdoor fanatic in Inyo County gets drawn in like moths to a flame. Or mosquitoes to a sweaty day hiker more likely if you are trekking your way up any trail in this scenic part of California. Outdoor lovers are easy to drag into a conversation about everything eastern Sierra; Camping, hiking or fishing.
If you are not from California maybe you think of Disneyland, Beverly Hills and Malibu beaches when you think of the southland. My travels, however, lead me up dusty dirt trails that naturalist John Muir himself explored in the late 1800s a hundred years before you had an iPhone. Just like myself, he would have rested his sore muscles, trailside by a secluded alpine lake and penned these words,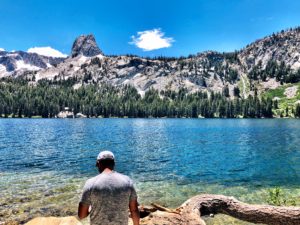 "I only went out for a walk and finally concluded to stay out till sundown, for going out, I found, was really going in."
The Mountains are calling and I must go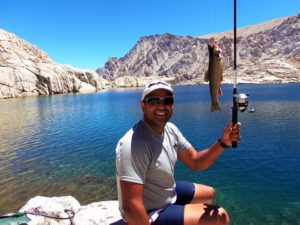 There are so many awesome trails in the eastern Sierra to explore. Every summer we journey towards Mammoth Lakes and June Lake for a month in our 34 foot RV. Our summer trip to the eastern Sierra involves a lot of planning. Some years we plan to hike to the summit of Mt Whitney, the tallest peak in the continental United States. That is twenty-two miles of hiking in one very long day to reach the summit, eventually at 14,505 feet.
If it's not a Mt Whitney peak bagging trip we have planned, then I love to do an easier hike to nearby Meysan Lakes. This hidden gem of an alpine lake has to be the best-hidden fishing hole I have ever discovered in my life. It is a twelve-mile round trip hike though. It's a brutal hike with epic views of Lone Pine down below. Meysan Lakes is one of the most challenging hikes I have done in the eastern Sierras. It's not for everyone but it is jaw-droppingly gorgeous. The backcountry fishing is out of this world. Don't forget to pack your collapsible fishing pole! It's an amazing accomplishment to actually, finally drop your line at Meysan Lake at over 11,000 feet. Yes, that is over 3,000 feet altitude gain on this killer backcountry hike!
Family-friendly hiking in the eastern Sierras
Okay so not everyone wants to spend half of their Saturday hiking up a mountain. I do get that. This summer when we journey to the eastern Sierra it will be me, my boyfriend, our rescue mutt and my boyfriend's fourteen-year-old daughter all packed into our Fleetwood motorhome. Hiking with a fourteen-year-old beginning hiker means shorter hikes with less elevation gain. You can still do an epic hike in the eastern Sierra, and even fish at a backcountry lake without breaking your body by hiking straight uphill for hours.
Little Lakes Valley is a great area for family-friendly hikes. I love to hike to Chickenfoot Lake, about seven miles round trip. There is not a lot of elevation gain on this trail and there is another lake every few miles. This keeps the hike scenic and interesting. The Little Lakes Valley area actually has two of the easiest passes to summit in all of the eastern Sierra. Just past the cut-off for Chickenfoot Lake, Morgan Pass is only a 2,116-foot elevation gain in a little less than ten miles round trip hike. Both of these hikes are easy enough to do with teenagers as a fun, yet challenging family hike. I'm excited to take my boyfriend's daughter to summit her first 10,000-foot mountain pass this summer! What a rewarding goal for a teenager!
The scenic Rock Creek area
The trail to Mono Pass starts in the same area as these other hikes, just above scenic Rock Creek Lake. These hikes all start at over 10,000 feet so make sure you hydrate, hydrate, hydrate! Mono Pass is only a nine-mile round trip hike with about 2,000-foot elevation gain.
The best thing about summiting any of these passes with the whole family is hiking back down to the Rock Creek Grill afterward for a cold local beer, house-smoked BBQ, house-made ice cream and homemade pie! As you can see, there is so much to do in the Little Lakes Valley area. If you want to stay here overnight and do a few of these hikes, there is camping for twenty-two dollars a night at nearby Rock Creek Lake.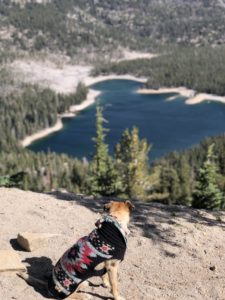 If you are looking for a family-friendly hike with epic views of the Mammoth area then you definitely need to check out the Mammoth Crest hike. I've visited the eastern Sierra area so many times and only discovered this epic hike last year! The hike is not very long, four and a half miles round trip. You do hike up just over 1,400 feet in elevation gain in that time. But the view over the minarets and the Ritter mountain range beyond are just stunning. I love this as a sunset hike also. Bring a headlamp for the hike down.
I'm sorry for what I said while we were setting up camp
My boyfriend and I love to camp and we live for those weeks in the summertime that we spend camping. Even if sometimes we do drive each other crazy, in the way one can only do while backing up a thirty-four-foot vehicle.
We live 263 miles as the crow flies south of Mammoth Lakes. We normally split the drive into two days as every drive takes longer in a thirty-four-foot motorhome towing an SUV. From our hometown of Big Bear Lake California, across the Mojave desert and up mostly isolated Highway 395 we normally take an overnight pit stop in the one-horse town of Lone Pine California. Lone Pine is well known for being a basecamp for all those Mt Whitney hikers.
Badass, I  mean Bad Water
Lone Pine is also home to the Badwater foot race, known as the world's toughest race. Yes, Badwater racers run 153 miles over multiple mountains with a vertical ascent of 13,000. This is the ultramarathon. Runners put up with temperatures around 118 degrees as they race rattlesnakes through the sand of the Mojave desert.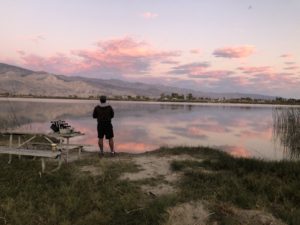 We have been in Lone Pine before, just trying to recover from our trek up Mt Whitney when the Badwater race was being run and these ultra runners are just in crazy shape. As healthy and athletic as I am, professional athletes blow me away. That is some kind of determination and will power to make you run through a 118-degree rattlesnake filled desert. Then end your race at 8,360 feet at the entrance to the Mt Whitney Trail.
Years ago before we were campers, my boyfriend and I limped our way to breakfast at the Best Western in 2017 after summiting the twenty-two miles of the Mt Whitney Trail the day before. Then we sat down for bacon and eggs at tables next to the guy who had just won the Badwater race that year. He finished in just under forty hours.
And then we became glampers
This trip to the Best Western in Lone Pine was before we became glampers (Glamping is a portmanteau of "glamorous" and "camping". It describes a style of camping with luxury amenities such as a motorhome and, in some cases, resort-style services not usually associated with "traditional" camping) We love our motorhome away from home and travel as many miles every year as our work schedules will allow.
Now that we drive our home to our next vacation destination we have a new hidden gem of a campground in Lone Pine, California. Diaz Lake was formed in 1872 by an earthquake (Quite common in this area of California with all the fault lines that run under Highway 395) The Owens Valley dropped nearly twenty feet after this earthquake and Diaz Lake quickly filled in with water, Now the lake is surrounded by a very pretty little campground and it's located right off of Highway 395. Diaz Lake is our favorite overnight pitstop on our way to the eastern Sierras in our motorhome. We love the sunsets over the lake and the pretty green scenery. We love being able to fish right from our campsite after a long day driving on the highways of America.
The best camping in the eastern Sierra
After taking an overnight break at Diaz Lake it's onwards to Mammoth Lake and June Lake and let our vacation really begin! Looking to camp near either of these alpine towns? We prefer to camp at Oh Ridge Campground or Silver Lake while staying in this area. Silver Lake Campground is our absolute favorite but this campground, located on a stunning alpine lake just below Carson Peak is first come first serve. You have to luck out to get a spot big enough for an RV here. The fishing and kayaking is awesome at Silver Lake and the Rush Creek Trailhead that leads to Thousand Island Lakes (Another of my favorite hikes ever) is located just across the street. So scenic, Oh Ridge Campground is located upon a ridgeline and is walking distance down to the pretty June Lake below.
I love camping anywhere we can walk to the lake to fish and swim in the summertime. Both of these campgrounds have abundant wildlife also. We often see bald eagles and families of deer wander through our camp at dusk and sunrise (Our vacation dog says this is the best part of the vacation)
The world is big and I want to get a good look at it… Oh, look hot springs!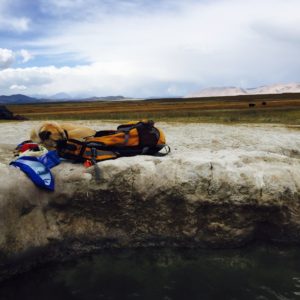 So you booked your campground and you hiked six miles yesterday, what else is there to do in the eastern Sierras? The very best thing ever after a strenuous hike is a soak in natural hot springs. Luckily the volcanic lands of the eastern Sierras are volatile and full of natural hot springs. The most famous and easy to get to is Wild Willies, located down a boardwalk and not too far from Highway 395. A lot of the hot springs are down well-graded dirt roads and you can drive there in any passenger car. There are literally hundreds of hidden hot springs in the eastern Sierras; The perfect thing for a hiker's tired muscles.  There are even hot springs you can camp at such as Benton Hot Springs near Lee Vining.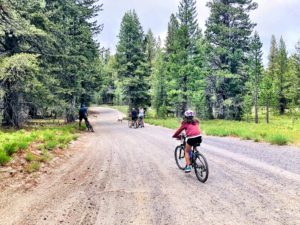 If you bring your mountain bike then biking to Inyo Crater is an awesome easy mountain bike ride for the whole family. Simply park on one of the dirt roads nearby and follow Google maps directions to the crater. This is a very scenic area near Inyo Crater with tall Jeffrey and sugar pines studding the sides of the well-maintained dirt forest roads.
Many people escape to the eastern Sierra in the summertime to get away from the heat and the concrete jungle of Los Angeles to the south. A day at any refreshing eastern Sierra lake is a refreshing breather from city life, whether you are kayaking, fishing or relaxing on the shoreline beaches with a good book. While staying in the June Lake area we love to explore Mono Lake at sunrise or sunset. Kayaking on Mono Lake is just stunning at these times of the day. You would not believe how gorgeous the sunsets can be on Mono Lake. We like to bring a cooler of beers and picnic snacks and take turns taking the kayaks out from the lakeshore during dusk. To me, this a perfect way to finish off a summer's day in the eastern Sierra. Don't own your own kayak yet? Blow-up kayaks are so inexpensive and easy to travel with!
A summer out and about in the eastern Sierra has endless possibilities when it comes to fun things to do. I have been visiting the eastern Sierra each summer for the last twenty years and I still never get bored. Each early spring we start getting excited about our big trip and planning out our summertime plans in the Mammoth Lakes vicinity. Even after all these summers spent in the eastern Sierra, I still find new epic hiking trails just waiting to be explored.