On my last night camping in the wilds of nature in California, I awoke at midnight to hysterical male voices shrieking outside my tent. Yes, there was a bear in the camp. Because bears can tell when dumb-dumbs are visiting from the cities. Why on earth would you plan a camping trip to the bear capitol of the eastern Sierras, Whitney Portal Campground and then leave all your ice chests and groceries out for Yogi? The bears of the eastern Sierras are so smart and tourists are so dumb. These amazing California black bears have learned how to break into cars over the years and that is why campsites in high bear traffic areas have bear boxes. Why do the tourists possibly think the bear boxes are provided? When I am cooking up some delicious Anglo-Indian foods while camping, you better believe my pungent masala curries and dhania jeera spice blend goes straight into the bear box after I unpack my Subaru.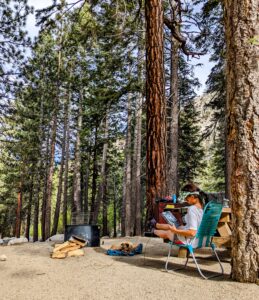 When my morning in the wilds of the eastern Sierras pisses me off I know exactly what will lift my spirits. Drowning my sorrows in freshly prepared at-home Anglo-Indian foods. I mean, come on, on this spring morning, it's Earth Day for fucks sake. You would think all these stupid hippies could clean up after themselves or at least their pups. One would expect them to not clutter the forest with bright blue bags of dog poo or not leave a buffet out for Yogi bear. It's earth day folks, let's try to be considerate, just on this one day.
Here is the thing that gets me as a world traveler and globally conscientious individual. We don't live in India. Here in this ski town, Big Bear Lake in southern California we are an hour east of Los Angeles. We live in a first-world country where we should all know better than to throw our trash on the side of the trail. What on God's green earth is the point of bagging your doggy shit if you plan to throw the bright green bag under that manzanita bush over yonder? On this Earth Day I have to ponder, how are people really this stupid?
Happy Earth Day stupid!

I'm in a much better mood on a hike when I don't pick up twenty bags of other people's discarded dog poo. This Earth Day I celebrated by trekking two of the steepest hikes in Big Bear Lake. I also helped out this planet of ours by picking up all the discarded dog waste other trekkers left behind them on the most popular trail in Big Bear Lake. I never hike at Castle Rock in Big Bear Lake. Ever. Mostly because other people's trash and graffiti on all the gigantic boulders pisses me the fuck off. I want my morning hike to be exhausting, sweaty and full of zen. As the sweat drips down my face into my sports bra, I don't want to spend half of my outdoor morning muttering to myself about how stupid the Snow Pigs are. But yet I do.
On this sunny April morning, I just hiked up one mountain past touristy Castle Rock and many discarded bags of tourists' dog poo and up and over the mountain crest to way more bubonic Bluff Lake. I mean, considering I began my trek uphill right after sunrise, it may have been a Sunday morning but there was no one but me on the trails of this tourist town. That part was awesome. Once I reached Bluff Lake it was just me, one bald eagle, a red-tailed hawk calling out above the four-hundred-year-old Lodgepole Pines and Bluff Lake's red-winged black birds unique sing-song like call echoing out over the lake.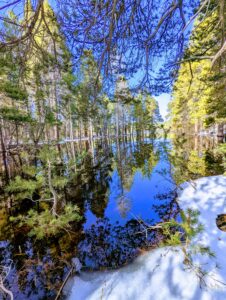 After I left the Snow Pigs, the dumb-dumbs and the crowds behind at popular Castle Rock the sun was just beginning to rise over the Big Bear Valley and I continued my trek up to the Bluff Lake Reserve. Okay, okay, I did make the very most out of my Earth Day out in the wilds of Big Bear Lake 2022. I did trek up one mountain and down another mountain and then up to the top of our local ski resort and back down to the car, completely a topsy turvy trekking loop. I might now be craving some deep-fried Anglo-Indian foods.
Now how do I create the most unique Anglo-Indian foods after my day out in nature?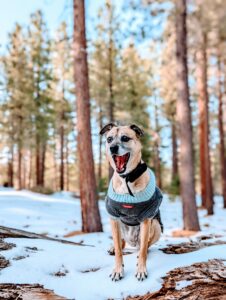 Definitely try to buy your okra fresh from the farmers market.
Make sure your spices are fresh. I grind up all my spices fresh every few months like home ground garam masala and my fragrant house-made curry powder.
When creating your own curries in your home kitchen always use homemade lamb or beef bone broth.
Always, always roast your spices long enough so they are not raw. I hate seeing recipes for authentic thirty-minute curries. A thirty-minute curry is a joke when it comes to authentic Anglo-Indian foods.
Whatever you do, don't use powdered garlic or powdered ginger in your curry. Use fresh ginger, grated and fresh grated garlic.
Anglo-Indian Spiced Okra with Turmeric and Kashmiri Chili Powder
2 cups fresh okra, chopped into bite-sized pieces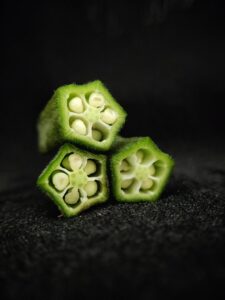 3 egg whites
1 teaspoon turmeric
1 1/2 teaspoon smoked Kashmiri chili powder
1 teaspoon kosher salt
3 tablespoons cornstarch
Really a ton of coconut oil or canola oil (At least three cups)
Dredge your okra in the whipped egg white. Mix the chili powder, salt, turmeric and cornstarch. Dredge your okra in this mixture then fry in the hot oil until very well cooked. Drain in a colander and sprinkle with more sea salt.