I Just yelled at my dog
"Either lay down or kill the bees, those are your choices"
Carly is rather frustrated that instead of driving us home (which is what I promised her three hours ago) we are now relaxing at the lake and she does not understand why on earth I keep thrashing around in the
"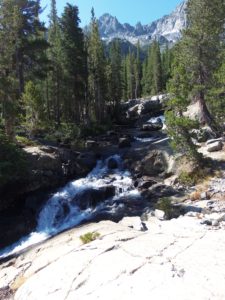 Big wet blue thing"
Thrashing around is as close as I can get to swimming after re-injuring my ankle not once but twice this week. The first time was an extremely ungraceful fall down hill on a gorgeous mountain trail.
The second time I thought I felt recovered and felt jumping off a kayak into an icy mountain lake was a good idea.
It was not, I discovered as I kicked my best friend with my bad ankle, reinjuring it AGAIN and having to have her sixteen year old French cousin tow me back to shore with the kayak because I couldn't even drag myself back into the kayak with a bad ankle and with out flashing every one.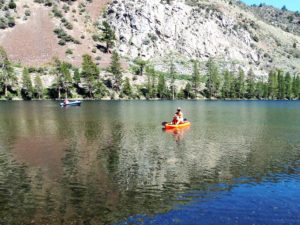 The good news is everyone was to busy laughing at me to notice my good boob hanging out of my bikini.
Perhaps it's time to make our way back down south and bring this puppy back home.
Kayaking..
Carly is done!
It's time to get back to my mountain kitchen and make some fried goodies (Well I do use coconut oil!) to make up for all that high sierras kayaking exercise!
Tempura Curried Acorn Squash with Tahini Dipping Sauce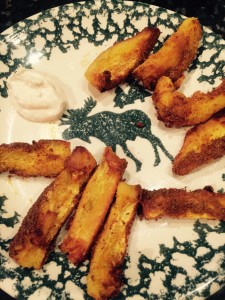 1 acorn squash
1 teaspoon madras curry powder
1/2 teaspoon chili powder
1/2 cup coconut oil
1 cup ice water
1 egg
1 cup flour
I slice my squash in half, wrap it in plastic wrap than I microwave my squash for six minutes. Let the squash cool and cut off as much of the skin as you can. Cut into bite size pieces. Roll the pieces in the mixture of curry powder and chili powder.
Mix the egg into the very cold water (let the ice melt first. Whisk in the flour vigorously. It's okay if there are lumps in the batter.
Dredge the squash in the flour egg mixture and deep fry in the coconut oil.
Tahini Dipping Sauce
1/2 cup tahini
1/2 cup Greek Yogurt
2 roasted garlic cloves
1/2 teaspoon chili powder
Juice of half a lemon
Combine all tahini sauce ingredients in a blender.