In 2014 I tried to make homemade authentic Thai food for the first time. Now making authentic Thai Panang curry and heating up some Trader Joe's pad that from the freezer section are two completely different things. For authentic Thai food, you have to hunt down ethnic ingredients like lemongrass, galangal root and kaffir lime leaves. In 2014 that meant going to the only ethnic grocer in all of southern California. Yes, it was in the absolute worst area of San Bernardino, of course. Back in the day in 2014, creating an authentic Thai meal was nothing but easy. Here we are in 2021 and websites like 3 Aunties Market make buying traditional Thai items so much easier no matter where you reside in the U.S, or abroad.
Making authentic Thai Panang curry from scratch started out as a zen-like experience.  The lime leaves smelled fresh and zestful. The bright lemongrass scent filled my home with an aroma like my favorite day spa but with less naked old Korean women. Here we are living through a global pandemic in the year 2021 and zen is getting harder and harder to find (Although my favorite day spa chain Imperial Day Spa is open to the public again!) As I unwrapped the lemongrass stalks and removed all the outer layers the most intoxicating lemon flower-like aroma filled my kitchen. I was so ready this time to create a Thai Panang curry! I thought, yes, I can do this. I can make Thai food. I chopped up the inner layer of the lemongrass stalk, threw it into my nutri-bullet with a flourish, cranked up some Enya and my Thai lunch would be on the stove in no time at all!
Arm-wrestling with root vegetables
And then I unwrapped the galangal root, aka the root veggie from hell. Chopping up galangal root is the ultimate arm workout. I'm pretty sure the cute little ladies at the Asian market thought, "Oh you have no idea what you are in for" When they saw me paying four dollars for my tiny little chunk of wanna be ginger.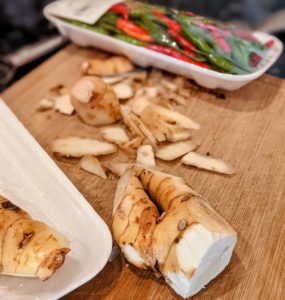 Once upon a time back in 2014, I had tried making authentic Thai food. I think it's taken me seven years to repress the experience and try again. I attempted to take the skin off the galangal root with a potato peeler. I honestly removed more of my fingers with the peeler than I did the skin of this hardy root vegetable. But a little bodily fluids never hurt anyone right? Was I crying out of pain or frustration as I threw the bloody galangal root on my kitchen counter and attacked it with my sharpest butcher knife. I still was getting nowhere. I looked fondly at the ax over by the fireplace but then remembered my finger was still heeling from when I attempted to chop wood a few weeks back and we were almost out of super glue.
I decided to try very hard to try and chop pieces off with the knife and also not break my knife. Yes, trying to chop the galangal root into pieces after somehow skinning it was so rough that I actually worried I would break my good kitchen knife. What kind of SOB root is this? At this point, my arms were aching. I was pretty sure that my biceps would be so in shape after making a batch of this Thai Panang curry that my coworkers would start asking me if I exercise racehorses again. (Which has not happened in two years. Now I just look like a fat ass degenerate gambler)
After I finally arm-wrestled the galangal root into my nutri-bullet (The recipe said stab it to death with a mortar and pestle for twenty-five minutes. Seriously? My arms can not take that right now!) I was ready to start step two of this soup from hell.
The Thai curry paste was at least complete. I also want to add this homemade Thai curry paste to an Asian-inspired noodle salad but that recipe will be coming later when my arms stop hurting.
Any blogger on Buzzfeed can tell you how to make a curry in thirty minutes or less. Do it, if you are the kind of foodie that needs to get right back to watching the Bachelorette or is rushing out the door to get a pedicure.  Real authentic Thai or Indian food takes time, and yes, sometimes is full of blood sweat and tears. If you are interested in a curry that tastes like dirt, feel free to try those thirty-minute Buzzfeed curries. The number one tip to making great-tasting Thai or Indian food; Roast those spices!
Thai curry paste for Thai Panang Curry
1 bunch of lemongrass, stems removed, bottom two inches cut off and just use the very inner layers. Slice very thin.
1 two-inch section of galangal root, try your best to peel it and slice it thin
1 nub of nutmeg
1 teaspoon white peppercorns
1 teaspoon cumin seeds
2 teaspoons coriander seeds
3 cloves garlic
2 teaspoons peanuts
1/2 teaspoon turmeric
1 shallot, peeled
Combine all in a food processor with 1/4 cup of water. Or you could bash this all up in a rotor and pestle for twenty-five minutes if you feel like being a badass and need a good arm workout.
For the authentic Anglo Indian Panag Curry
2 cups fish or shrimp stock
2 cups water
1/2 a red onion
2 teaspoons coconut oil
Kaffir Lime leaves
fish sauce
coconut milk
2 teaspoons brown sugar
1 teaspoon lime juice
2 large oyster mushrooms, chopped
1/4 cup cherry tomatoes, halved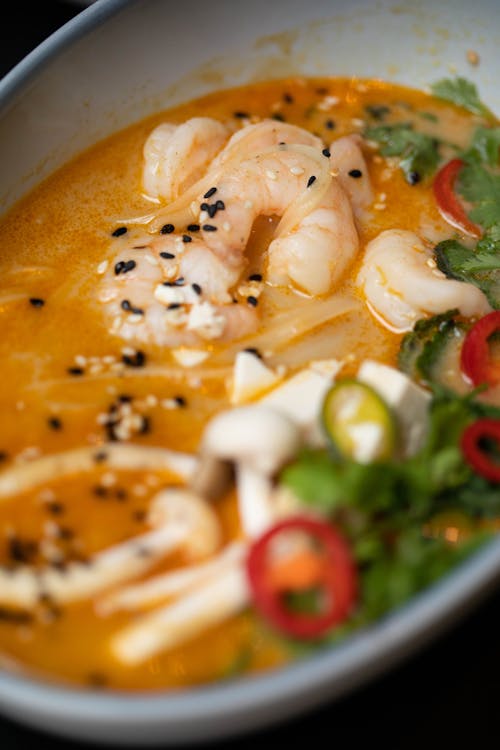 1 cup bean sprouts
2 cups shrimp, peeled and deveined
Garnish with slices of fresh lime juice and cilantro leaves
You made it to step two! Congrats! I'm sure your arm hurts and you are starving at this point; An authentic Thai Panang curry is just hours away! Cook the red onion in the coconut oil for fifteen minutes. When the red onions are nice and roasted, let cool and then blend this mixture up in your Nutri-bullet. Return to the pan and add in your curry paste. Keep stirring even though your arms are sore as the spices roast. Add in water a half cup at a time as the spices roast down.
This is the most important part of making an authentic Thai Panang curry! Keep roasting those spices, adding water for at least thirty minutes until the spices are no longer raw. Don't let your spice layer dry out too much. It should resemble a very thick stew. Add in the oyster mushrooms, the fish sauce and the stock. Add the tomatoes and the kaffir lime leaves. Let cook for fifteen minutes. Add in the shrimp and the coconut milk. Let cook for ten minutes and add in the bean sprouts, brown sugar and one teaspoon lime juice at the very end. Garnish with fresh torn cilantro leaves. You can stop sobbing into your soup now; The Thai Panang curry is ready to devour!