I love, love, love my new Merrell Salada boots! These hiking boots are completely comfortable! To be fair, the longest hike I have done in them is a fifteen miler to this point (and in deep snow at that) but they made my feet happy the whole time.
I wore them las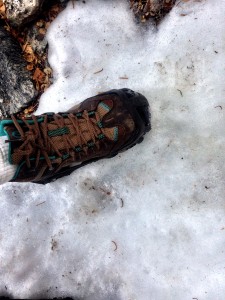 t week hiking up San Gorgonio in the snow and wow, what a difference from my last boots! My last Merrell's hurt me all the way from Whitney Portal Base camp to Trail Crest and back! That was a nearly twenty mile hike in pain the whole way! This years boot is way better!
Can't wait to hike Mt Whitney in these babies in July!
After I do a five, ten or fifteen miler hike this puff pastry pizza tastes like an amazing cheesy and fennel covered reward!
It's super quick to throw together after a long day on the mountain too!
Fennel, Goat Cheese and Pesto Pizza on Puff Pastry
1/2 cup pesto
1 tab bacon grease
1/4 cup goat cheese
1 bulb fennel, sliced into bite size chunks
1/4 cup pine nuts
1/4 cup pancetta, cooked
2 tab parsley sliced
2 sheets puff pastry
1/3 cup Pecorino romano cheese
Defrost the puff pastry.
In the bacon day cook the fennel for five minutes, season with salt and set aside.
Toast the pine nuts in a clean sauce pan.
On the puff pastry spread a thin layer of pesto. Add the goat cheese and Pecorino Romano to this. Add the pancetta, parsley and fennel.
Bake at 375 for 20 minutes. Top with parsley.