I hate when life gets in the way of snowshoeing. What I really want to do is spend my days out trekking trails deep in the woods with man's best friend and a delicious keto lunch packed in my backpack. While keto lasagna is not convenient to pack for a hiking trail lunch, it is one of my favorite easy dinner casseroles to prepare ahead of time. Then I just have to stick it in the oven after my fifteen-mile snowshoe trek. If it's my day off, I want to snowshoe to some of the highest peaks in southern California on a snowy February morning and sip on some sweet and hot Baileys and coffee at the summit. Having dinner pre-prepped ahead of time back at home in my mountain kitchen is a huge step in the right direction to keep my day stress-free.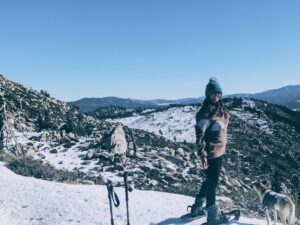 Trekking up a mountain peak in fresh powder sounds ideal but sometimes it's hard to accomplish. Reality usually kicks in and no I don't have time to hike fifteen miles up a mountain on a Monday because this crazy thing called work gets in the way. Again.
Just another manic Monday
I'll admit some days it can be frustrating to be the most sought-after hiking guide in southern California. Me time does not exist these days. The few free moments I have I usually spend picking up discarded trash, facemasks and empty Corona bottles along the trails I trek each day with my hiking patrons. That is the life of a hiking guide in this toilet of a state, California. I remember when southern California was a beautiful place, our mountain peaks crested with feet of snow and there were not discarded facemasks and soiled diapers tossed in every turnout. This used to be a nice place. Is it any wonder that I have to drown my sorrows in three different types of cheese in this keto lasagna?
The more time I spend amongst other people the more I just want to be out in the forest and with nature. I was so very blessed today to be able to take my first day off in almost two months and actually go for a snowy trek, just my pup and me! I was so happy to be out amongst the pines with just the wind in the trees, and a few of San Gorgonios wild mountain big horned sheep my only companions on this breezy winter's morning.
Some girls like to go shopping on their days off or maybe binge-watch Game of Housewives or whatever chicks watch these days but for me, a relaxing day off means being one with nature. If I'm not sweating and breathing heavily while struggling up a trail and yelling at my dog not to chase the big horned sheep then I'm just not having a good time. Having a delicious keto lasagna good to go ahead of time definitely helps my stress level post-hike when I am a sweaty tired mess by the late afternoon.
How to create the best keto lasagna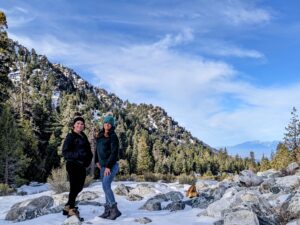 I really love to create this keto lasagna casserole with veal but the liberal hippies in this state have decided we can't have nice delicious things like baby cows. The veal apocalypse is already upon us here in southern California. Thanks to all the Gavin Newsom-loving liberals Prop 12 passed in California and now we lucky Californians aside from paying for the most expensive gas in the nation, are also paying nearly double for eggs, pork and delicious veal. I mean if you can even find veal in California when most smart ranchers are leaving this good forsaken dirty diaper-strewn state. I have not been able to find veal in months at our tiny market in our ski town so grass-fed beef is the next best thing in this keto lasagna casserole.
2022; Like a Stephen King novel but without cream cheese
Only here in crazy 2022 is there a cream cheese shortage because of a cyber attack. Sounds like fake news right? Is this why I can't buy mayonnaise also? Who knew by the time this shitty global pandemic came to a close, buying items like veal, cream cheese and mayonnaise would be a thing of the past.
That is exactly why I trek up 10,000-foot mountains. I have to get away from this post-pandemic reality. It could also be why I shove grass-fed keto lasagna at my face after a fourteen-mile ass-kicking snow hike. Or it could be because this keto lasagna is just so damn cheesy and delicious.
Bell Pepper Spinach Keto Lasagna with Grass-fed Beef
1 pound grass-fed ground beef
3 cups spinach, blanched and drained
2 large oyster mushrooms, chopped
1 teaspoon olive oil
1/2 teaspoon salt
3 green bell peppers, roasted, chopped into bite-sized pieces
2 cups mozzarella cheese, grated
1 cup ricotta cheese
1/2 cup pecorino romano cheese
3 eggs
1/4 cup fresh basil
1/4 cup fresh parsley
2 cloves roasted garlic
grated rind of 1 lemon
2 cups your favorite tomato-based pasta sauce
Firstly, in a saucepan grill the mushrooms in the olive oil. Salt the mushrooms and add the ground beef until cooked. In a casserole dish layer the bell peppers, spinach and mushrooms. Next in a nutribullet combine the ricotta cheese, eggs, basil, parsley, lemon rind, pecorino romano cheese. Put this layer on top of the veggies then add the grass-fed beef layer. Add your favorite storebought pasta sauce and then the mozzarella on top. Bake at 375 for 35-45 minutes.