"Can I have the Vegan Beet Burger with kidney beans and extra goat cheese please?" Try, just try to request this delicious vegan lunch at any restaurant in this mountain hamlet in southern California. Big Bear Lake is a scenic alpine landscape full of small-town charm not usually found in the Suburbia of southern California but one delectable thing is missing. Big Bear Lake restaurants are so low quality, tasteless and unoriginal. And not healthy whatsoever. What is the healthy hiker to do? Obviously, roast a lot of beets in my quest to create the best gluten-free Vegan Beet Burger in Big Bear Lake. Luckily this healthy, Hungry Mountaineer was up to the challenge to create the best vegan Beet Burger in Big Bear Lake. Okay, the actual only vegan Beet Burger in Big Bear Lake.
I usually try to dine mainly keto but I have a love affair with beets. Unfortunately, the ski town I reside in, Big Bear Lake California is not well known for our restaurants. Unless you like steak, which I do not. Try to order anything vegan in this town and you will be served a plain salad, just lettuce, and it will probably be upwards of seventeen dollars. Big Bear Lake is not a great vacation destination if you are a vegan foodie. With my newest Airbnb experience my rustic pop-up picnic I'm attempting to change all of that. Because vegans deserve delectable foodie options too!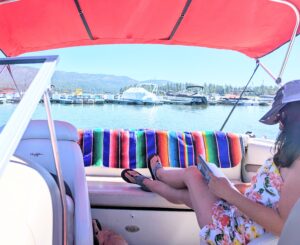 This experience features my absolutely delicious and chock full of kale, garbanzo beans, walnuts and Persian cucumbers ultimate vegan salad. And bonus! On a hot and humid Big Bear mountain afternoon, I also offer this outdoor lover's experience on my boat harbored on scenic Big Bear Lake.
After a wildflower-filled trek up a mountain pass, I could totally destroy these beet burgers, even if it means falling out of ketosis. Sometimes you just need some beets in your life. I may be chock full of energy these days while being in ketosis but did you know that beets also give you natural energy? At least that is what FoxNews told me and they wouldn't lie to me, right?
The Best Vegan Beet Burger in Big Bear Lake
4 beets, roasted and peeled
3/4 cup almond meal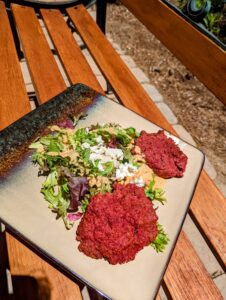 1 teaspoon paprika
1 teaspoon white pepper
1 and a half teaspoon apple cider vinegar
1 teaspoon Worcestershire sauce
1/4 cup walnuts
1/2 cup kidney beans, drained and rinsed
1 teaspoon cumin seeds
1/2 a red onion
1/2 teaspoon salt
1 teaspoon avocado oil
1 teaspoon coconut oil
To form your beet burgers, roast the onions in the avocado oil until very well cooked, at least ten minutes. Add the cumin seeds just until toasted. Let this mixture cool then add the beans, beets, onions, cumin seeds, apple cider vinegar, Worcestershire, white pepper, salt and paprika to a nutri bullet. Grind well. Mix in the almond meal by hand. Form the Beet Burgers. Grease the tray of your air fryer with the coconut oil and add the Beet Burgers at 370 for twenty minutes. When cooked layer in the lettuce leaves with the goat cheese and drizzle with the Coconut Curry Dressing.
To garnish your beet burgers
12 red leaf lettuce leaves
1/4 cup goat cheese (Have you tried Morrocan goat cheese?. They sell it at Whole Foods and it is fantastic especially with Beet Burgers)