During a global pandemic, how can you possibly go on a vacation without stepping on a plane? Owning an RV has given our family the chance to actually take a few different vacations during this pandemic because we can travel in our 34 foot Fleetwood motorhome and be fully sustainable. A springtime Palm Desert vacation was just what we needed after a long, hard mountain winter. As much as we love our home in the forest of southern California at above seven thousand feet we were tired of shoveling snow. We needed a break from snowstorms, frigid daytime highs in the 30's and repairing snowblowers.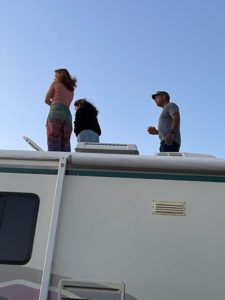 This RV trip to Palm Desert was a bit different for us. A dog-free vacation? What is that? We decided to leave the pup at home as the Palm Desert area is a hot and not fun place to hike with your pup. (Even as early in the springtime as April) As much as I love hiking, I hate snakes and any hiking trails that are full of snakes spell a disaster for my favorite trail dog. Also, I planned to turn into a raisin at the most relaxing retreat with natural hot springs in Palm Desert. Day spas and dogs don't mix. My dog would be a maniac while left alone in the RV while I have a relaxing spa day.
As much as we usually are fully sustainable and cook every meal in our motorhomes kitchen, when on holiday in Palm Desert I did give in and order sushi to go one time. I have not had sushi in a year! I mean besides sushi I made myself with my Sushi Bazooka in our mountain kitchen. A sushi-free year is just ridiculous; Please don't judge me! It's bad enough not be able to see family across the globe and not being able to hug my grandma but also no sushi? How can one individual stand what 2020 had in store for us? An entire year of being apart from friends and family was just too long! At least being able to get away from home for a few days has given our family a much-needed refreshing holiday.
Off on our Palm Desert vacation, we go
April 2021 dawned with our family wanting to get the hell out of our mountain hometown. We had spent the majority of the last thirteen months being safe, lonely and bored at home in our resort town. Friends and family being off-limits for the most part for the last 13 months has been rough for us. Also, this winter of 2020 had been a long chilly one and we were ready to sit in the sunshine, maybe drink a beer poolside and soak in that sweet hot desert sunshine; Vitamin D. We loaded the RV with a weeks worth of groceries, swimwear and golf gear and were soon on our journey down Highway 247 past Joshua Tress National Park and on our way to Sky Valley RV Resort.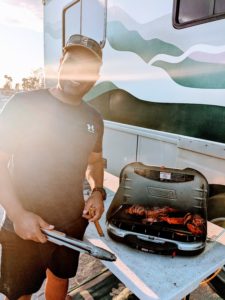 The best of the best hiking trails in Palm Desert
So your springtime RV vacation is all planned out, now the question is just where should you hike? Early spring is a great time to hike in Palm Desert before the weather gets too warm. Take my advice, it is the desert. Hike at either dawn or dusk. April is a great time of year in the desert to explore trails covered in wildflowers. Check out this current wildflower report when you plan your daily hikes. Ready for a springtime hike full of a rainbow of desert wildflowers? Make sure you pack the Clairton for springtime allergies. Springtime comes early to the high and low deserts of southern California. That means a rainbow of wildflowers in all colors, lots of bugs and early season crazy allergies if you are anything like me. (It's so much fun to be sneezing constantly during a global pandemic while wearing a mask, let me tell you)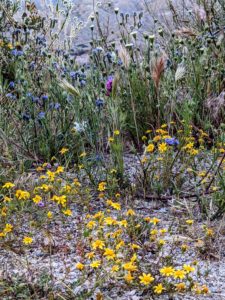 When packing your RV for springtime hiking, don't forget to pack the natural bug repellent and a bug net hat. Although strangely, everywhere I went wearing my bug net in the Whitewater Reserve area, everyone asked me if I was bee-keeping. No, I just am annoyed by springtime bugs!
Joshua Tree National Park is well known in this neck of the woods for its winter hiking trails and majestic desert sunsets. I personally am not a fan of Joshua Tree. It's a bit too desert for me and the trails are far too snaky. Besides that, the drive to get to Joshua Tree has absolutely been ruined by the graffiti all over all the boulders. It's absolutely sickening. I actually won a free national park pass right before the pandemic began, and because of the pandemic did not get a chance to visit Sequoia or Yosemite as I had hoped. But since I had a free pass, I was hoping to at least get to Joshua Tree a few times in the dead of winter when I hoped maybe the snakes would be asleep. Honestly, I never felt like driving two hours to get there (Even with all my pandemic free time!) Because the drive is just so spoiled by the way the wilderness has been trash and graffitied. The once pristine limestone boulders that shoulder highway 247 are just awash in trashy graffiti and you would have to be high or an influencer (Or both!) to consider taking Insta worthy photos here worth anyone's time.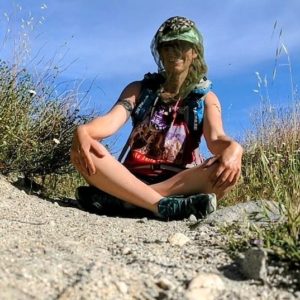 Shoots and Ladders. And snakes.
I've heard about the ladder hike for years. The issue with the ladder hike through the slot canyons of the Mecca Hills Wilderness is that it's all the way out in Mecca. It is literally in the middle of nowhere. The ladder hike had been on my bucket list for a long time and this April, Donna and I finally had a chance to climb those desert ladders.
So what do you need to know about the Ladder Painted Canyon hike?
The hike is 6.5 miles round trip
Bring lots of H20; The desert gets hot fast!
Starting this hike at sunrise is the very best.
Vehicles are well known to be broken into here. Don't leave valuables in your vehicle.
Some hippie in a Prius said you need a 4×4 to make it to the trailhead. That's fake news. Any car can make it up the well-graded dirt road. Just drive slow in your Tesla and you will make it no problem.
After a hike through the hot, hot desert and up multiple ladders I do recommend baking some Bacon, Jalapeno and Every Cheese Dip in your RV oven. This dip is delicious with freshly baked tortilla chips. Or just shovel it into your mouth by the spoonful after a sweaty desert hike. I mean that is the keto thing to do.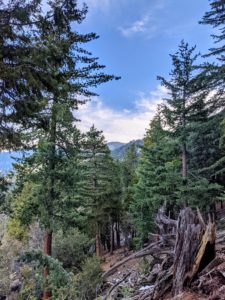 San Jacinto via the tram
The last time I summited San Jacinto I went the much harder route via the Idyllwild route. This route is over a fifteen-mile trek. I was training for my first summit up Mt Whitney at the time and needed to get in as many uphill miles as possible. This April when I decided to summit San Jacinto with a good friend we would go the easier way; Taking the tram up to 8,516 feet and walking the shorter version through San Jacinto State Park, which is only 10.5 miles roundtrip. San Jacinto is one of the highest peaks in southern California at 10,834 feet. The views over Palm Desert from the peak are truly outstanding. The altitude gain via the tramway is much easier at only just over 2,600 feet. That is a piece of cake compared to the Deer Springs Trail version through Idylwild.
During the pandemic, it is highly recommended to purchase tickets two weeks prior to your trip up the Palm Springs Aerial Tramway. Trying to purchase tickets for the Palm Springs Aerial Tramway might actually be harder than hiking San Jacinto. The tramway website is outdated and the dates to purchase tickets do not update. I did reach out to their customer service center and was just told that tickets are sold out (Which doesn't make sense as they were not available in the first place.) The only way I was personally able to buy tram tickets was by checking their website four times a day for two weeks straight and there just happened to be a cancellation on the date I was hoping to hike San Jacinto. All in all the Palm Springs Aerial Tramway may have epic views but it's quite a hassle to use during a global pandemic.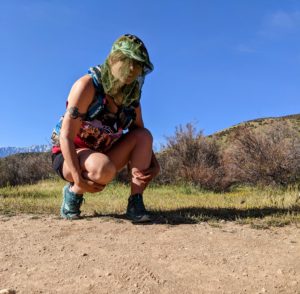 Keep in mind it is $25 to take the tram round trip if you are actually able to somehow purchase tickets in advance. During the pandemic, reservations must be made to take the Palm Springs Aerial Tram up to the alpine level. When planning a trip up the San Jacinto Aerial Tram keep in mind they are closed Tuesday and Wednesday.
Donna and I had a hell of a time buying tram tickets (For a Thursday of all days) ahead of time so we decided to just go mountaineering up through Idylwild up the Marion Mountain route instead. This hike was just so gorgeous and very steep. I think it had to be one of the steepest routes up to the top of San Jacinto. The whole hike is only 11.3 miles roundtrip but it's basically all uphill. Unfortunately trying to do this hike in April, the trail was just too snowy so we did about five miles roundtrip and then did a little hike up nearby Black Mountain which was way less snowy but just so gorgeous with all the cedar and sugar pine trees everywhere.
After a full day of mountaineering up San Jacinto, what exactly are we stuffing in our faces back in the RV? When we go camping, I like to make these woodfired pizza crusts on the BBQ ahead of time. Wrap them in foil back at home. When ready to bake a BBQ Chicken Pizza with Pineapple and Cilantro back at camp, just add your toppings, rewrap in the foil and finish these pizzas over the campfire.
If you don't feel like dealing with the hassle of trying to get tickets for the Palm Springs Aerial Tram and then struggling up a 10,000-foot mountain maybe try an easier hike at sea level, such as a wildflower hike at Anzo Borrego State Park. In April of 2021, the Beavertail and Strawberry Cactus flowers were just starting to blossom and were so beautiful.
If you are planning on doing any hiking in these desert areas, I recommend trying to start your hike at dawn. It's the most stunning time to check out that desert sunrise and it's a few hours before the desert gets unbearable hot. For whatever reason, a lot of the best and most scenic desert places to hike don't open their parking lots until 8 a.m. This makes no sense to me as wouldn't you want to start your desert hike at 6 a.m. as the sun is just coming up beyond San Jacinto?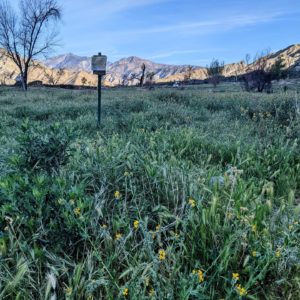 The most beautiful hike for your Palm Desert vacation
You wouldn't expect to find the lushest fields of wildflowers just outside of Palm Desert of all places ut trust me. It's a desert hidden secret. I drove into the Whitewater Preserve lot right at 8 a.m. when they opened and was trekking past fields of wildflowers just five minutes later. This trail meets up with the Pacific Crest Trail or you can do the Whitewater Canyon View Loop and hike back up the paved road (I don't recommend it. Just not as scenic) The wildflowers at the Whitewater Preserve were just so lovely and colorful the first week in April. By far the best wildflowers I have seen this year in southern California.
Did the dog just fart or are we kayaking?
If you get tired of hiking past fields of wildflowers you can always check out the sites and smells of the Salton Sea. Did you pack your kayak for this Palm Desert vacation? You can actually go kayaking on the nearby Salton Sea! This shallow landlocked body of water has a high concentration of salts. This can lead to a high concentration of hydrogen sulfide which basically makes the area smell like dog farts. But there is kayaking! The Salton Sea is actually a beautiful area to kayak in the springtime and the sunrise and sunset photo ops are just epic.
Whenever we plan a kick-ass Palm Desert vacation we always try to stay at a place with awesome sunset views. Kick-ass sunset views and happy hour go hand in hand. Before we recently went on holiday to Palm Desert we had been stuck on a cold snowy mountain for the last three months of winter. By April first, I was ready to sit outdoors in the evening with some wine and watch gorgeous desert sunsets and not be wearing my warmest winter coat. It might be the first week of April, but damn it I was going to act like it was spring break! (With fewer boobs and beads and more hikes)
So you are planning your Pam Desert spring vacation. Where the hell should you park your rig? If you are bringing sand toys then Fountain Of Youth RV Park and Spa is the RV park for you. This RV park in Desert Hot Springs backs up to the desert but still has some awesome mountain views.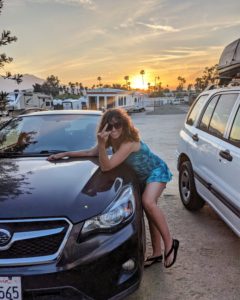 One very important thing to know about spring break in the Palm Springs area is the Desert Hot Springs area can get very, very windy. No one told us this when we booked our trip to Sky Valley. The area that Sky Valley and Sam's RV Resort are located in can easily get sand storms and days of 45 miles an hour winds. Our family would obviously never stay here again in the month of April because of these winds. But while we were facing 45 miles an hour winds, across the freeway in Palm Springs there was hardly a breeze. If you are booking a Palm Desert vacation for April, I highly recommend booking at Emerald Desert RV instead. It's much less windy in this area of Palm Desert and this resort is located in a very nice area.
We had such a fantastic spring getaway to Palm Desert that we are looking forward to making a Palm Desert vacation our go-to spring getaway every year. April and May are really the best months weather-wise to enjoy the Palm Desert area, especially if you are in a motorhome.