I heard a rumor that today was supposed to be winter. I checked both weather web pages I use and both said eighty percent chance of snow today and rain and snow all week. Yea, I thought to myself, we may just get a week of winter!
And then the sun came out. Stupid sunshine ruining all my foggy, cold snowy fun.
You know what, I don't give a freezing cold damn if it's not really winter today. I'm going to make Hot and Sour Soup anyways.
You can add your favorite protein to this soup, whether it be chicken, shrimp or tofu but I prefer to add leftover rotisserie chicken, like this one I am completely addicted to from Sprout's. No joke, last week when I was driving home up our winding mountain highways and was stuck behind a rock slide, I inhaled like half a rotisserie chicken while stuck in traffic, for my dinner and it was beyond delicious and super healthy! If you do buy the rotisserie chicken then there is an extra step to this soup.
*After peeling all the meat off the chicken carcass, let the chicken carcass simmer in hot water for twenty minutes, adding all the drippings from the plastic container, to make your own chicken broth.
Hot and Sour Soup
1 teaspoon chili oil
1 teaspoon sesame oil
2 teaspoons chopped ginger
1 teaspoon chopped garlic
4 cups chicken broth
4 teaspoons soy sauce
2-4 teaspoons sriracha
4 teaspoons balsamic vinegar
4 teaspoons red wine vinegar
1 teaspoon honey
1 can bamboo shoots
1/2 cup mushrooms (I prefer oyster mushrooms, but any will do)
2 green onions, chopped thin
1 teaspoon arrowroot powder
6 eggs, beaten
Heat both oils and then add the garlic and ginger, cooking over medium heat. When cooked, add the chicken broth. Mix in the vinegar, soy sauce, sriracha and honey. Let simmer at least twenty minutes. Add the protein, if any, the mushrooms and the bamboo shoots. Let cook another five minutes. Mix the arrowroot powder with 1/4 cup water and mix in. Let cook five minutes and stir in the eggs. Keep stirring for two minutes. Cook an additional five minutes. Top with the green onions and serve.
Love this recipe? Don't forget to pin it!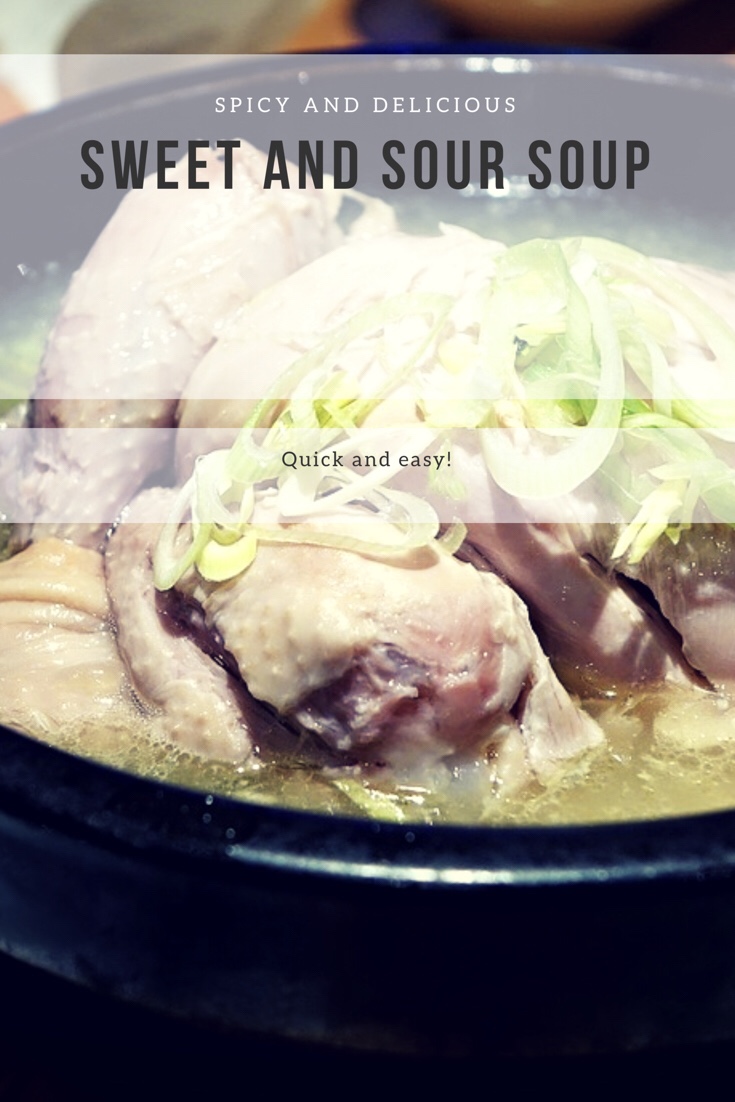 This week I am linking up once again with the following food, health and DIY blog link ups.
http://darlingdownsdiaries.com/good-morning-mondays-149/
http://www.marathonsandmotivation.com/chocolate-strawberry-superfood-parfait/
https://www.backtomysouthernroots.com/foodie-friday-link-party-12/
http://www.misssippipiddlin.com/
http://apriljharris.com/category/hearth-and-soul-link-party/
http://www.sewhistorically.com/category/link-parties/sew-it-cook-it-craft-it/
http://www.marciashealthyslice.com/
http://www.abountifullove.com/
http://kahakaikitchen.blogspot.com/2018/04/giadas-asparagus-soup-with-herbed-goat.html