Happy St Patrick's Day 2022 from the Hungry Mountaineer and this silly Norwegian Forest Cat. I'm not the type to drink green beer or anything chock full of artificial food coloring but here are some slightly green oh so healthy muffins. Feel free to add a few drops of green food coloring if that is really your thing. Or just enjoy them for what they are, a healthy breakfast pastry full of fiber, veggies and not very much sugar. They are a scrumdiddlyumptious pastry treat in this ski town where baked goods usually mean store-bought or Starbucks mass-produced crap. That is it. I mean unless you attend one of the Hungry Mountaineer's pop up picnics, here in Big Bear Lake.
The Hungry Mountaineer's healthy pop up picnics to the rescue!

This ski town at over six thousand feet may be full of adorable Norwegian Forest Cat's (And not much snow during a southwest drought that seems like it may never end) But one thing this ski town is absolutely not full of is gluten-free baked goods. Unless you come to my house.
Lack of delicious baked goods chock full of coconut flour and almond flour is one reason I began hosting healthy lifestyle pop up picnics. Also, I kind of miss being that foodie who cooks and creates for other people. Don't get me wrong, I never ever want to go back to working in the food industry. I love running my own hiking business and as tempting as it is when friends reach out to me about designing a menu for ski town restaurants they are thinking about opening, my days in the restaurant business are far behind me. But I do have this indulgent urge to bake tasty things, usually low in sugar, sometimes vegan and usually gluten-free. I mean have you truly have not lived until you have inhaled a loaf of my gluten-free blueberry coffee cake.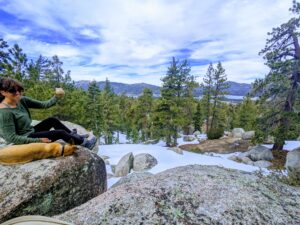 As this St Patricks Day dawned and I shared a tasty green juice with hikers on my hosted scenic sunrise hike overlooking the Big Bear Valley I took a chilly breath of fresh mountain air into my lungs and felt thankful for my life in this beautiful place. Yes, it might have been eighteen degrees on the top of this mountain as I sipped on a homemade green juice made from celery, cucumber, lettuce, oranges and ginger. As I watched the precip from my lungs floating on the chilly wind on this cold winter's morning I have to thank God I live here in this very safe place, a world away, it seems from the war we see broadcast on the news here in California every night. When the events unfurling around the world fill our minds with disconcerting images, I find so much zen in being outdoors. And sipping on a healthy neon juice full of celery, cucumbers, ginger, lemon and green apples really does help.
Snowshoeing and hiking have always been my way to relax and not stress out. Some friends call it a tree bath, I just call it being one with nature, I mean besides when I call my dog an asshole. That kind of curtails the calm I find in the forest. I designed my pop up picnics to share a few of my favorite hidden secret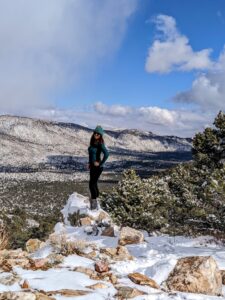 places in the Big Bear Valley with others who also need some peace and quite in their lives. And maybe some green juice. Or a gluten-free muffin.
What exactly is a pop up picnic?
So you may be asking just what exactly is a pop up picnic? I designed my pop up picnics to bring a foodie-friendly adventure to the Big Bear Valley for our visiting tourists. My pop up picnic is full of trendy bright props to take those Inta-worthy photos. Brightly woven picnic blankets, vases of colorful flowers and one of the most scenic hidden areas in the Big Bear Valley will help you get those perfect snaps to share on your blog or social media. These pop up picnics do include transport to these secret hidden that are set well back in our mountain wilderness away from places most tourists usually visit. My pop up picnics were designed to show off just what a scenic place these alpine mountains are.  Especially with a gluten-free Snickerdoodle Zucchini Muffin in your hand. Looking for a fantastic foodie-friendly vacation experience? Check out my sunrise pop up picnic which includes healthy gluten-free pastries, homemade green juice and or Baileys and coffee. You can book my awesome pop up picnic here! Yes, Virginia, it is possible in a ski town to find gluten-free delicious baked goods. Let the Hungry Mountaineers be your sunrise popup picnic guide.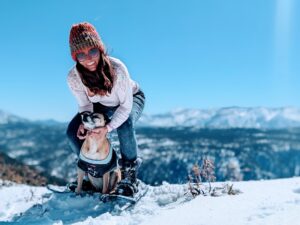 What really drove me to design popup picnics for the Big Bear Valley was the need for quality healthy food for our mountain communities. Am I the only one at seven thousand feet who wants a gluten-free yet delicious muffin? My selection of Banana Nut, Zucchini Bran or Cheesy Corn Jalapeno muffins are better tasting than any muffin you will find from any pâtisserie from Crestline to Big Bear Lake. Plus they are gluten-free and not full of sugar and trans fats. These delicious muffins are also not full of fake ingredients I can't even pronounce and artificial flavors.
I never really in my life enjoyed muffins. Maybe that is because I grew up in a house where cheap trays of Costco muffins showed up every week. So processed. So gross. Even when I was seventeen years old I would not go near the tray of processed baked goods from Costco. It wasn't until a few years ago that I became obsessed with gluten-free baking. Just a few years ago the hungry from climbing mountains mountaineer discovered the holy trinity of gluten-free baking ingredients; Coconut flour, Almond flour and millet. And my baking adventures went from simply delicious to delicious and a bit healthier.
Zucchini Snickerdoodle Bran Muffins
2 cups zucchini, grated
2 eggs
1/2 cup coconut oil, melted
1/2 cup brown sugar
1/2 teaspoon cream of tarter
1 teaspoon baking soda
1/2 teaspoon salt
1 teaspoon ground cloves
1 teaspoon cinnamon
1 teaspoon ground ginger
1/2 cup bran
1/4 cup millet
Firstly, combine the oil, eggs and sugar until just mixed. Add in the zucchini. Mix all the dry ingredients together and then mix into the wet. Pour into muffin tins. Bake the gluten-free muffins for 55 minutes. Turn off the oven and let the muffins cool in the oven. One thing with baking gluten-free items; They take much longer to finish cooking than you would think! The secret is to bake these muffins completely without burning them. That is why leaving the muffins in the oven to cool is so important.