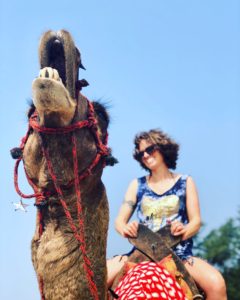 When it comes to travels to India nothing can ever be easy. So why should creating an authentic Indian meal here at home in the United States be effortless? Any thirty-minute recipe food blogger can throw together an "Indian Burger" with store-bought curry powder Rachael Ray circa the year 2000 style. I guess that is fine if you don't mind raw spices and expired curry taste. However, when I make authentic Indian eats I expect my spices to be fresh, my flavors to be vibrant, my patty to be grass-fed beef and for my burger to not taste like a Big Mac with Trader Joe's cheap curry spice mixed in. So how can you create your own authentic Garam Masala Burger no matter how far away from India you live?
So where's the beef?
Grass-fed beef that is. The first step to creating the best Garam Masala Burger is using the best quality meat. Wagyu grass-fed beef is preferred for this delicious Indian accented burger. Did you know that grass-fed beef is so much better for the planet than all those feed lots full of cows farting up a stinky storm and destroying the planet? Also grass-fed beef is better for your body especially if you are a keto eater like we are in our household. Grass-fed beef has fewer calories and yet more omega-threes and conjugated linoleic acid or CLA. I've been a fan of grass-fed beef for two years now and I honestly just think it tastes better than cheap farm-raised beef. And of course I always love to try and curb my carbon footprint as well.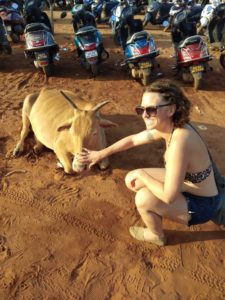 Welcome to the south Indian style Garam Masala Burger. You may never go back to farm-raised and cheap beef American double-doubles again. This Indian spice-inspired grass-fed garam masala burger will take you straight to the kind of paved streets of Bangalore. These patties are bursting with all the flavors of a good curry house and are full of hefty (Or heifer) tastes like garlic, ginger, cloves, pepper and cardamon.
God bless 'Merica
Besides cheap ground beef chuck full of hormones another crap food most Americans love is ketchup. I have never understood in my entire life what Americans like about ketchup. It tastes like tomatoes with sugar added. Take a healthy fruit like the meaty beefsteak tomatoes and make it into a diabetic coma just waiting to happen by mixing in a bunch of sugar. A diabetes burger, sounds very American, right? This is one-way Indian foodies create more unique flavors than you can find here on the grocery shelves in the U.S. I am a very patriotic American but American ketchup is just God-awful in my opinion. Indian garlic ketchup tastes like a spicy tomatoey nectar of the Gods. Seriously if you are a spice fan, I challenge you to buy one jar of Mother's Hot and Sweet Indian Ketchup and you will never go back to Heinz again. You have to try it on meatloaf Homemade naan leftover sandwich? Yes, please!
You had me at masala
Besides the secret ingredient of grass-fed beef, these juicy patties also call for garam masala. Garam masala may be an ingredient most Indian home chefs are not familiar with. Garam masala is a Hindi word that translates to warm spices. My garam masala blend is chock full of fresh diabetic-friendly Ceylon cinnamon sticks, white cardamon seeds and black peppercorns. My version has a bit of a Bengali twist with the added cloves and white cardamon pods. It also gives my garam masala the most addictive scent. I grind my own garam masala with fresh spices every few months but you can also find garam masala at ethnic markets or on Amazon.
How to Garam Masala?
The simplest Garam masala blends are coriander seeds, cumin seeds, whole black pepper, cloves and cinnamon. That is like garam masala for dummies right there. Toast those spices, throw them in your nutri-bullet or mixie and bing bang boom, you are ready to form a delicious Garam Masala Burger! But the more discerning Indian chef might throw even more toasted spices at this curried spice blend such as white poppy seeds, bay leaves, star anise, cardamom and nutmeg.
So just what can you do with garam masala besides throwing it in a delicious grass-fed burger? Basically, garam masala is fantastic in so many traditional Indian dishes like Goan Lamb Vindaloo or Muttar (Peas) with Tofu and Paneer but you can also try it in a way more American way such as braised with short ribs and a pistachio crust.
This Labor Day we may be spending the holiday in sunny Big Bear Lake California and not Bangalore, India but we are still grilling up some great burgers. They are slightly Indian flavored with garam masala and keto-friendly patties with lettuce we grew from our garden.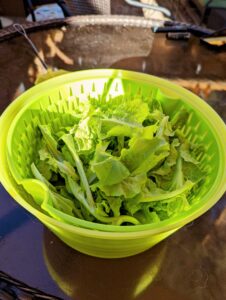 Garam Masala Burger with Goat Cheese & Indian Hot Garlic Ketchup
1 pound grass-fed ground beef
1 teaspoon grated garlic
1 teaspoon grated ginger
1 teaspoon white pepper powder
1 teaspoon garam masala powder, freshly ground
1/4 cup goat cheese
1 cup red leaf or green leaf lettuce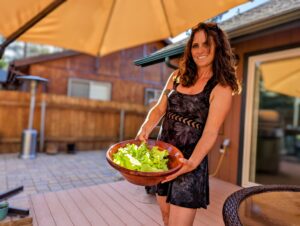 1/4 cup hot garlic Indian ketchup
1/2 cup Mayonaise
Mix the grass-fed ground beef, the garlic, the ginger, white pepper and garam masala. Have your sexy Indian boyfriend grill the burgers up outside on the Barbeque so as not to make your house hot like southern India. Layer these delicious garam masala patties in your green leaf lettuce (Shown here is the green leaf lettuce we grew in our organic garden) and dress with the Indian ketchup/ mayonnaise mix.