After a month on the roads and in the jungles of India I'm missing fiber, juices and vegetables like curried cauliflower.
But those India sunsets! Smog and pollution from millions of rickshaws and motorbikes just makes the best colorful India sunsets!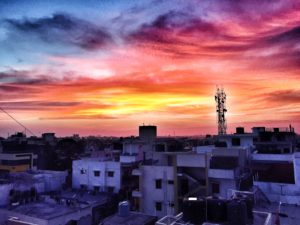 India is the most amazing orange and hot pink sunsets watched from the roof top of buildings as the sun sets behind mosques and church steeples in the distance. India is listen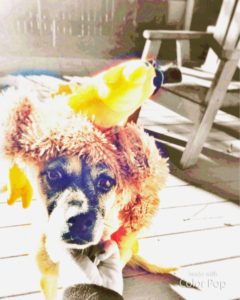 ing to the evening call to prayer reflecting off the buildings and you can always hear it reflecting off the plain cement buildings amid the honking horns of thousands of impatient lawless Indian drivers.
After a month, yes thirty days, away from our snowy mountain town of Big Bear California we are ready to come home to the good old U.S. of A! It has been a very fun adventure that had it's frustrations at times (Trying to use Uber outside of the United States, traveling in countries where English is not exactly understood and trying to eat healthy in the land of ghee and butter chicken.) As much as I love the life of a world traveler and travel blogger, as Dorothy put it "There's no place like home."
Even if you are coming home to this idiot.
I can't wait to take my pup for a run, eat some veggies like curried cauliflower hash browns and start juicing again.
I know, I'm a little late for New Year's resolutions and eating healthy for the New Year but I can't wait to get back to my healthy lifestyle, multiple workouts a day and eating a whole food whole grain veggie filled diet.
Sitting here waiting for our delayed 747 and enjoying a lovely smoggy final morning in Hong Kong I just yearn for my southern California mountain town above six thousand feet. I can't wait to go back to a winter snow storm and the pine trees of our ski town.
It was a fun last week exploring the crowded streets of Hong Kong but I'm over my steady diet of Hong Kong's favorite fish balls and ready to make my favorite green juice with pears, pineapple and spinach when I get home.
I miss my nutribullet and cooking in our Big Bear kitchen while the dogs stare at me plaintively!
As soon as we get back to Big Bear I'm planning to whip up this delicious and healthy for the new year Curried Cauliflower Hash Browns. These are fantastic for breakfast with a poached egg or two.
Curried Cauliflower Hash Browns
1teaspoon coconut oil
1 teaspoon diced ginger
1 teaspoon garlic
1 teaspoon curry powder
1/2 teaspoon turmeric
1/2 a head of cauliflower, riced
1 green onion, diced
In 1/2 teaspoon coconut oil cook the garlic and ginger. Add the curry spice just until fragrant. Add this mixture to the diced cauliflower, green onions and turmeric in a blender. Blend just a bit and form into patties.
Fry both sides in the remaining half teaspoon coconut oil.
This curried cauliflower hash browns is just delicious served with eggs fried in coconut oil.
Love this recipe? Don't forget to pin it!