A fish-less offseason trek through Sorrento Italy leads us to the best pizzeria on the Amalfi Coast.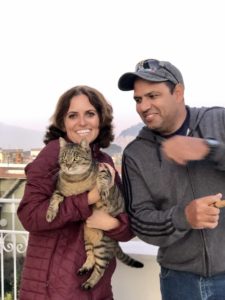 Four months ago I stood on a rooftop in Sorrento Italy sipping a very dry and delicious pinot grigio with our vacation cat, Freddie. Flavors of lemon and pear exploded in my mouth from this lovely somewhat local vintage we purchased at a wine shop in Rome just a few days earlier. Freddie purred around my legs and I watched the sun setting behind the hills of the Amalfi Coast. Life couldn't have seemed more perfect, mainly because I kept the receipt for the wine so the Polizia di Stato, the civil national police wouldn't come to hunt me down in the ghetto graffiti-filled streets of Roma.
Fun fact about Rome, that I never knew; It's kind of a dump besides the ancient ruins, the forum and the crumbling colosseum. And if you buy alcohol, the Polizia di Stato can search you on the cobblestone streets to make sure you have a receipt for your vino.
Of course, if you ignore the graffiti and just concentrate on the history hidden in the ancient travertine limestone you can almost hear gladiators swords clanging before 80,000 smelly spectators. (Showering was not a thing in AD 80) Of course, I was told later, Russell Crowe may not have been leading our tour through the ancient Colosseum and Roman ruins. I may have still been delusional from the flu from hell that invaded my body while we were in Europe. When it comes to worldwide travel nothing will stop me; Not disgusting toilets in India, not sleeping in the middle of a swamp in Munich, and certainly not the most terrible illness I have ever met in my lifetime.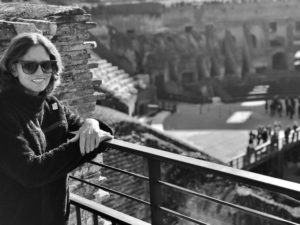 Maximus:

 Brothers, what we do in life echoes in eternity.
Like puking at a historical monument. Don't do that. Please don't puke in the colosseum. I can't read Italian, but I'm pretty sure one of the signs I saw outside the ancient ruins said that.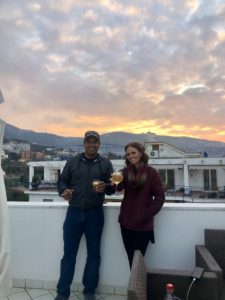 During the eight days, we traveled around Italy life was pretty damn fantastic. As I sipped a local vintage and watched the sunset above the cliffs of Amalfi life couldn't get much better. I mean, unless maybe an Italian cheese platter had just been set in front of me. This was how every day we were in Sorrento Italy would end, crisp white wine, friendly vacation feline and not a care in the world. (Besides the fact, I could use some Italian cheese)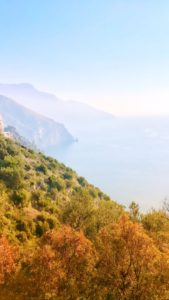 Now that it's April 2020, I keep finding myself asking, can I just please go back in time four months to a simpler time full of Italian wine, wood-fired pizzas and the best dark chocolate gelato I have ever tasted in my life?
Four months ago our biggest worry was driving a huge, in Italian standards, sedan around the tight corners and sheer drop off cliffs of the Amalfi Coast. And could we find a restaurant with amazing seafood open for dinner in the wintertime in this summer resort town where everything was closed down in January? As we zipped around cobbled stone streets and around blind corners just inches from sheer drop-offs into the Salerno Gulf on the Tyrrhenian Sea, below I held onto the edge of my seat and tried to enjoy the awe-inspiring views of the sea down below. And I kept my eyes peeled for an open ristorante.
While on holiday for four days in Sorrento we ate some absolutely delicious Italian food. And most of it was from the same family-run restaurant, Il Ruttino. The Amalfi Coast is so well known for local fresh-caught seafood. We had great plans to eat fresh-caught lobster and local fish galore. What we were not prepared for was the fact that visiting the Amalfi Coast in the off-season nearly every restaurant along the coast was closed for the season. Freshly caught seafood was harder to find then a clean toilet in India.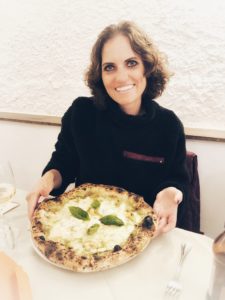 Thank God for the Neapolitan street food of Il Ruttino, which just happened to be located downstairs from our amazing rooftop VRBO in Sorrento. And thank God by day five in Italy, I could actually taste all the delicious Italian foods again. The fresh ricotta, pesto and fresh-caught red shrimp pizza I tried at this family-run trattoria had to be the best pizza I have ever had in my entire life. Of course, the ricotta was freshly made that morning in house, and the red shrimp were just brought in from the harbor a quarter-mile away that a.m. So how do I turn this delicious Italian pizza into a fresh healthy fish dinner?
Now tell me how do I make this delicious keto Italian fish dinner?
Sole is known to be a European fish so it's a bit fitting that I use this mild white fish in this Italian inspired recipe. Dover Sole just happens to be one of my favorite mild white fish choices. We never had any amazing fresh fish while traveling on the Amalfi Coast although I did find multiple ristorantes that had marinated anchovies on their limited menus. Marinated anchovies just happen to be one of my favorite fish appetizers. The briny marinated anchovies we had for dinner at a ristorante in the back alleys of Venice in the beginning of January 2020 had to satisfy my craving for fish while in Italy.
Now that we are back home in Big Bear, California 10,304 kilometers away from Sorrento Italy we are both quarantined at home and craving delicious Italian food. But living a keto and gluten-free lifestyle means no woodfired pizza for us. The great thing about being stuck at home for almost fifty days now of #SafeAtHome good times, is we have a refrigerator full of cheese, a freezer full of fish and a hell of a lot of time on our hands. With all this time on my hands, and trying to survive the sheer boredom of this COVID-19 early spring, I perfected the perfect Italian inspired pesto fish dinner.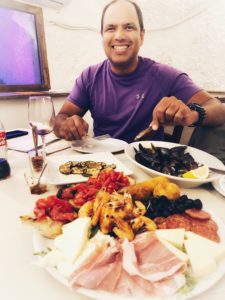 Almond Crusted Pistachio Cream Pesto Dover Sole with Ricotta
4 fillets of Dover sole
1/2 cup crushed almonds
1/2 teaspoon salt
1/2 teaspoon paprika
2 teaspoons butter, melted
Mix the almond meal, salt and paprika. Dredge the fish fillets in this. Preheat oven to 375. Spread the melted butter in the bottom of a glass pan. Put the breaded fish in the pan and bake for 20-25 minutes. I love to serve this on a bed of my Garlic Cauliflower Mash.
Pistachio Cream Pesto
1/2 cup pistachio nut meat
1/4 cup pecorino romano cheese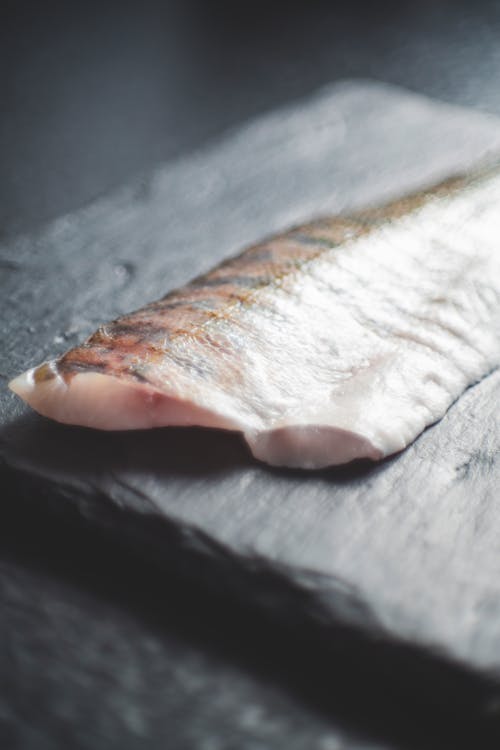 2 teaspoons roasted garlic
1/4 cup olive oil
1/2 cup fresh basil leaves
3 tablespoons heavy cream
Combine all the pesto ingredients in a food processor until smooth. Serve as a side with the fish.