Its week two and I'm still highly addicted to protein bowls. Yes, hello, my name is Amber, the Hungry Mountaineer, climber of mountains, inhaler of goat cheese, and I'm crazy for a healthy veggie filled protein bowl of goodness.
Do you like healthy, easy breakfasts, lunches and dinners chock full of brown rice, black beans, avocado, Spicy Cauliflower Riceand dosed with your favorite brand of hot sauce? Well, then you need to check out this easy crock pot recipe.
Barbacoa made the traditional way calls for lamb and if you can get your hands on a lamb chuck roast I would encourage you to try this easy crock pot barbacoa the traditional way. Here in our resort town, we don't have a meat market or a wholesome health food store so my butcher shop choices are few and far between. Because of the lack of meat choices, I do this with the easier to find beef chuck roast. Adobe Chiles give the meat the most amazing spicy, smoky flavor. This is a great easy crock pot meal to start in the morning and inhale after a busy workday on a cold winters night. Leftovers are delicious with your morning eggs or in a breakfast protein bowl.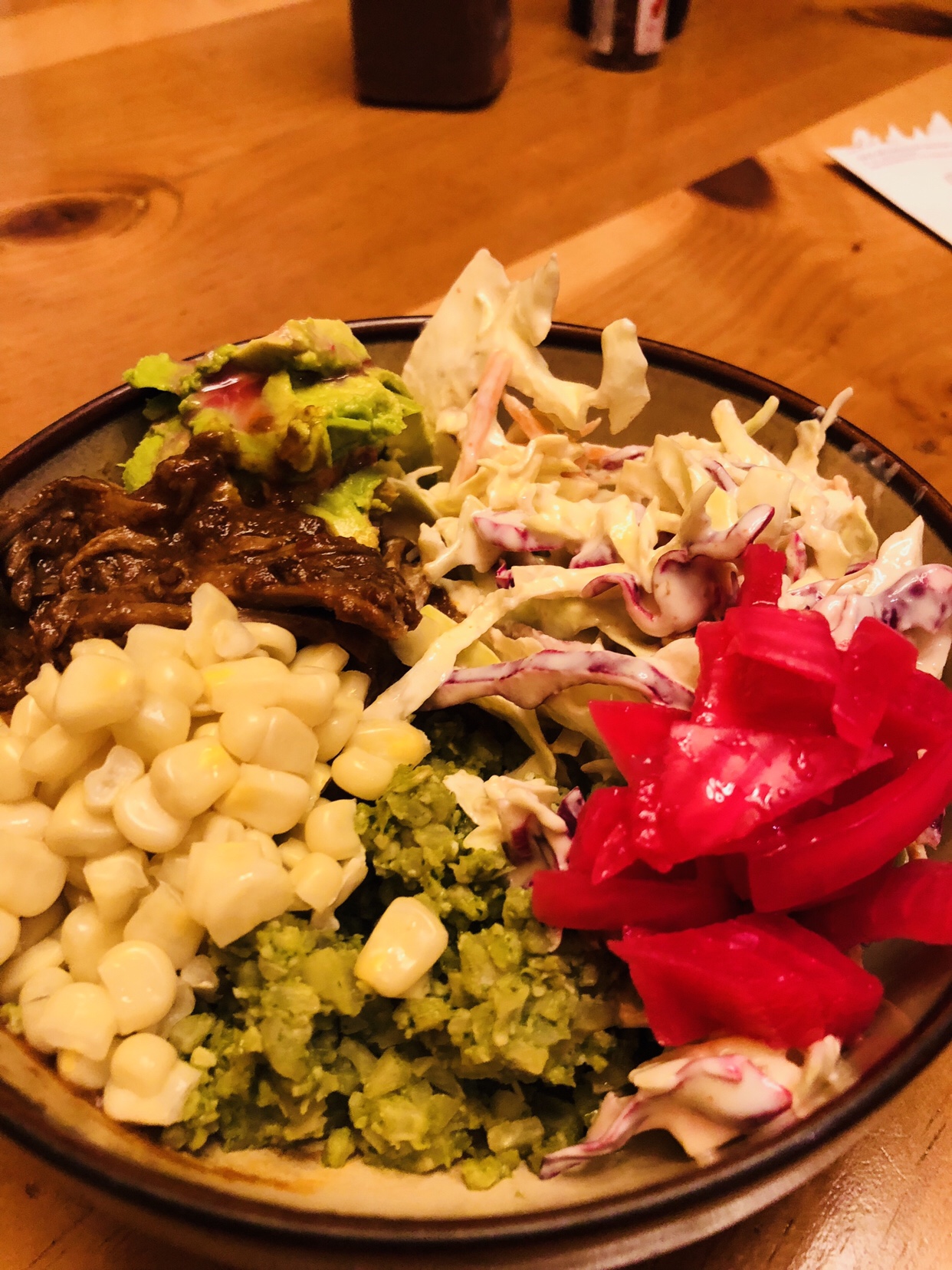 Adobe Chili Beef Barbacoa
1 chuck roast, cut in half
1/2 cup beef stock
1/4 cup tomatoes paste
3 cloves garlic
1/2 cup apple cider vinegar
1 small onion
1/2 cup adobe chilis in a can, sauce included
1 teaspoon cumin powder
1 teaspoon honey
2 bay leaves
1 cup water
Combine the chilis, onion, tomato paste, garlic, cumin, apple cider vinegar and honey in a food processor. Put the beef in a crockpot. Add the adobe chili sauce, the beef stock and the water. Stir well. Add the bay leaves. Cook on low at least eight hours. Serve Spicy Cauliflower Rice with, avocado, black beans, pickled red onion and coleslaw for a healthy and delicious protein bowl.
Love this post? Don't forget to pin it!
This week I am linking up once again with the following food, health and DIY blog link ups.

http://www.makeaheadmealsforbusymoms.com
http://darlingdownsdiaries.com/good-morning-mondays-149/
http://www.marathonsandmotivation.com/chocolate-strawberry-superfood-parfait/
https://www.backtomysouthernroots.com/foodie-friday-link-party-12/
http://www.misssippipiddlin.com/
http://apriljharris.com/category/hearth-and-soul-link-party/
https://lifewithlorelai.com/category/home-matters-party/
http://www.sewhistorically.com/category/link-parties/sew-it-cook-it-craft-it/
https://www.recipesthatcrock.com/category/whatcha-crockin/
http://confessionsofamotherrunner.com/2018/01/15/vegetable-enchilada-lasagna-meatless-monday/