I probably love the holidays way too much. I admit it. Have you seen that meme saying whoever is playing Christmas music in October, you are the reason we got snow in November? Well, I'm not saying that it was my fault we got six inches of snow the first week in November but I'm not sorry. I said what I said. I am that person who is frantically pulling the Christmas tree out from under the guest bed the minute our last Thanksgiving guest walks out the door. And I may have been sneaking eggnog into my lattes for the last two weeks. Now that it is finally dawning on December it's time to start baking the best Christmas cookies in my mountain kitchen!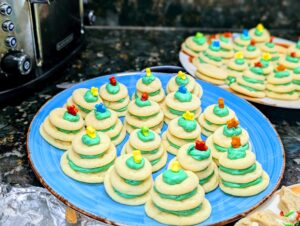 Some peeps in our mountain resort town may not be enjoying thirty-degree highs while it's still the first week in November but these chilly late autumn temps allow me to start snowshoeing a whole month early! Snowshoeing in November is simply epic, let me tell you!  And it makes me feel oh so much better when after snowshoeing I go back to my rustic kitchen and start throwing white flour and organic sugar into my Cuisinart to mix up the best Christmas cookies this side of Big Bear Lake.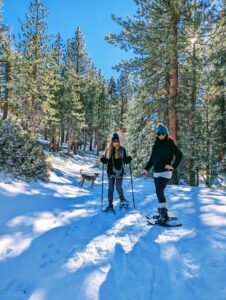 Somebodies got a case of the Mondays!
Well, until your dogs get attacked by a pack of coyotes. That was how my Monday started. Our new rescue pup learned this week that smelly forest dogs are not her friends. Also our old deaf tried to go straight to that rainbow bridge as she ran up nose to nose with the head snarling pack leader as I screamed bloody murder running through two feet of icy snow behind her.
It was a pre-Thanksgiving miracle that I didn't lose one of our dogs to a coyote attack this last Monday. The only thing that saved old Carly's life was my screaming like an absolute lunatic. This is actually a technic I learned as a child because I grew up in the woods of California and my best friend's parents were hippies who owned wolves and peacocks. These are two pet combinations that do not really mix; Until they do and my friend's dad is yelling belligerently at Cheyenne the head wolf. We call this tactic "Hey Cheyenne!" As a young teenager, my best friend and I would go out in the woods and scream bloody murder like we were her dad yelling at the wolves. Yup, that is what we did for fun in a small mountain town in 1996. And teenagers have a lot of angst, especially in a day and age before smartphones and Instagram. And that life lesson taught me what to do when your dog is swarmed by a pack of coyotes. I've used this tactic more times than I should be admitting when it comes to coyo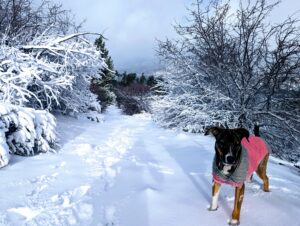 tes stalking my dogs but this time was by far the scariest.
Sometimes the holidays can be just chock free of stress; Family drama, purchasing the perfect Christmas gifts or wild animals gone… well wild. It seems like the holidays are well known for all those life stresses to just build up, especially here in 2022 at the edge of a global recession. Can your family even afford Christmas gifts? Times may be tough now but they seemed a lot tougher growing up in the 80s. My dad had to commute off of our mountain, two hours to the city for a well-paying job. Our family time together seemed very precious when Dad wasn't always home. All through the 80s and early 90s, it seemed like my parents worked their assess off to put food on the table and to buy the perfect Christmas gifts for three kids. Us kids wanted to do our part to help our hard-working parents have a merry Christmas as well. Thank God my dad had one of his brilliant ideas to start the Woodyard Family Mistletoe Sweatshop!
My first job; A family mistletoe sweatshop
It all started when I was about twelve years old. I was an employee at Dad's Mistletoe Sweatshop. I mean it was my first official job. Dad would take all of us kids out into the forest in the morning to collect mistletoe, which grows like a parasite in our black oak trees here in the San Bernardino National Forest. Eradicating the mistletoe from the oaks actually helps the trees. Back home, we kids would cut the mistletoe into bunches, place it in plastic bags and tie it up with red ribbon. In the evening, dad would bundle us kids up for the thirty-degree cold and we would set up our mistletoe business in front of the local market. My mom never seemed to question where my dad had taken us off to in the early evening. She probably just enjoyed the quiet!
So after a morning of defending my dog's honor from coyotes, and then collecting mistletoe to bag up for my holiday guests, I was ready to bake up some Christmas cookies. This Monday feels like a Monday and maybe I need to stress-eat some of the best Christmas cookies now. And maybe also a eggnog and brandy. I mean, I never had lunch and that is basically a smoothie, right?
White Chocolate dipped Meyer Lemon Butter Cookies
1

 

cup

 

butter

 

softened

1 

1/2 cup organic sugar for cookies 

1/2

 

teaspoon

 

sea salt

2

 

eggs

1 teaspoon Meyer lemon zest
1 teaspoon Meyer lemon juice

1 1/2

 

teaspoons

 

vanilla extract

4 

cups

 

all-purpose flour

1/3

 

cup

 

cornstarch

 

can lower to 1/4 cup for a slightly softer cookies

1/2 cup white chocolate, melted

2 teaspoons fancy sprinkle
Cream the butter and sugar. Add the vanilla and then the eggs. Stir well then add the lemon juice and zest. Stir in the dry ingredients. Bake at 375 for 8-10 minutes. Do not overbake.
Set aside to cool. When the cookies are cool, drizzle on the white chocolate and then add the fancy sprinkle.
This Christmas season for the first ever, the Hungry Mountaineer is freshly baking holiday cookies! The holiday cookies I have available are my Nutmeg Spiced Sugar Cookies ($15)  my White Chocolate dipped Meyer Lemon Butter Cookies with Sprinkles. ($18) My Sugar Cookie Chistmas Tree Towers($15) My Cranberry Orange Shortbread Cookies or my Meyer Lemon Butter Spritz Cookies ($15)