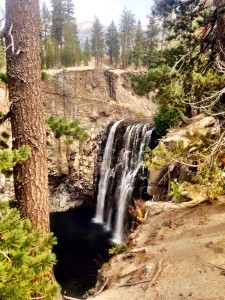 Today I am thankful for water shoes and cameras that don't have dead batteries.
I'm also thankful for GPS and the joys of getting lost in the forest.
If we hadn't gotten completely lost in Reds Meadow Carly Dog and I would not have wandered to the top of The Devil's Post pile.
We than would not have wandered around Red's Meadow for the next hour trying desperately to find my Subaru and eventually coming face to face with a doe.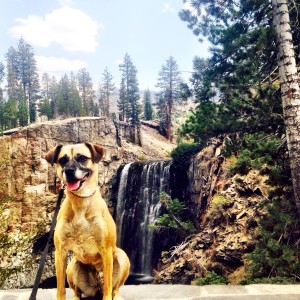 Carly and this doe stared at each other for a good ten minutes.
I'm not sure who was more confused.
What with getting lost this afternoon and hiking to almost the top of Duck's pass this morning,  we hiked over sixteen miles today.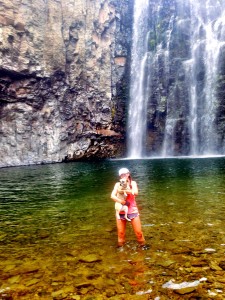 The best part of our day was finally making it to Rainbow Falls, a 101 foot waterfall that was just unbelievably beautiful.
And very cold.
Normally you have to take a shuttle into Rainbow Falls and I've heard it can be a madhouse in the summer months.
They just stopped the shuttle service yesterday and we were able to drive all the way in.
Because it's after Labor Day weekend Rainbow Falls was not busy at all! It was so great!
And even though the fall colors are in full swing here in the Eastern Sierras it was still warm enough to swim in the chilly waters!
Before finding oneself lost in the woods and then found again, this is the kind of protein packed snack you need for the journey!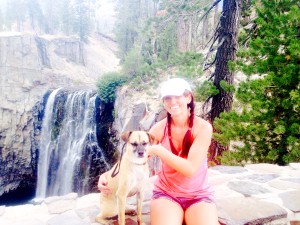 Walnut Dark Chocolate Breakfast Balls
1 cup walnuts
2 teaspoons coconut oil
2 tablespoons honey
1/2 teaspoon sea salt
1/4 cup dark chocolate, chopped
In a food processor or Nutri Bullet combine the walnuts, honey, coconut oil and salt until it resembles course almond butter. Add the chocolate and just pulse a few times to chop and combine.
Roll into bite size balls and refrigerate.